Alan Chats To "Friend" Writer Alison Carter
---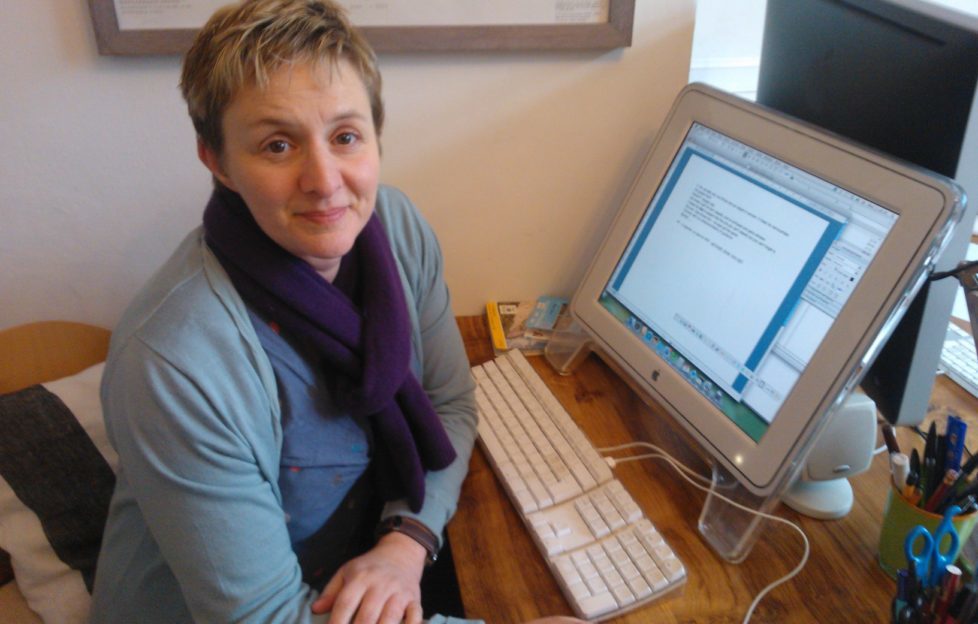 Photograph courtesy of Alison Carter.
"Friend" writer Alison Carter is a name associated with diverse, page-turning fiction. Here I ask Alison about her short story and serial writing.
You have one of the best approval strike rates in the magazine. Why do you think you are such a good fit for the "Friend"?
I have learned that the "Friend" is constantly on the lookout for something fresh. It doesn't like to stand still, despite the magazine's image as a "trusted old friend". So, I steer away from well-worn themes. It's a fiction cliché, but a writer ignores it at her peril.
I read the magazine so that I understand its readers and its requirements, but I try hard not to copy anything I read there. A writer has to offer something more. That can be an oddball topic (I've written stories about the first ATM, or about Spaghetti Junction), or it can be an extraordinary character. Anything to prevent a yawn emanating from an editor!
Also, I throw away any piece of fiction that is not absorbing me as I write, because if I don't care about the progress of the characters, I know the editor won't either, and that's a sure-fire way of getting that yawn.
When coming up with story ideas, is it plot or characters first – or are they interchangeable?
I hardly ever begin with a character. I need the "when and the where" before I can make a start. But as soon as I have a plot outline, and place the story in a setting (historical or contemporary), then characters burst into life.
The "Friend" recently published a story of mine about a typist in the 1950s, and her boss. The idea of a typing pool, where efficiency is valued, gave me my female lead. She is a brisk, unimaginative and dedicated young woman puzzled by sloppiness in other people. Her personality matches the job she chose. It seemed natural to make her love interest (her young boss) in the same mould.
He asks my heroine to type love letters to his high-maintenance fiancée, and both he and the typist are astonished when the fiancée is affronted that they're not handwritten. You can see immediately how they might fall for each other.
As a writer, are there characters that you are particularly fond of – even if it's a story you wrote years before?
Oh, yes. One of my first stories for the "PF" involved Gloria, a blousy dancer in scarlet lipstick and a too-short skirt who marries a man just released from a Japanese POW camp. To him, she's water after a drought.
His family disapprove, but Gloria proves her worth when the chips are down. I adore Gloria. She's an aunt of mine who was disgraceful. Regularly, I consider using her in another story, but she's sort of sacred, and I am not confident that I could do her justice twice.
I will also never forget Lou, a Glasgow café owner about whom I wrote a long series of stories, way back. I sometimes think he's real and still toasting panini.
You are accomplished at both

short stories and serials

. What advice would you give short story writers who wish to tackle a "Friend" serial?
Don't write a single sentence before you know what is going to happen in each episode. You cannot busk a serial.
Follow every word of advice that the magazine provides. The basic (though malleable) concept of "scenes" – four or five in an episode, told from a couple of viewpoints, back and forth, may sound dry, but it's never dry once you've written it, and serials must have structure. Once you know where you're going, you can shrink and stretch that structure to make the serial fun and gripping. But have a plan.
Change your short story mindset. A short story demands a single arc for one important character. Serials need two or more important characters, all with hopes, dreams and obstacles. Take your time. Think about each one when you're on the bus or washing up, and their individual trajectories will come to you. Bounce them off each other, too. What happens when Character A comes into conflict with Character C, and can Character B help . . .?
Are good storytellers born or made?
Made. In every "Friend" workshop that I have helped deliver, there are participants with wonderful stories just waiting to be told. I always itch to have more time with them to teach the craft of writing, because it is totally a craft.
It's like cooking. You can have a stab at a risotto, but make twelve risottos and you will find that you can make a perfect, creamy one with just the right amount of parsley. You have to practice, a lot, because unless you practice you can never observe your own failings and inadequacies, and never improve.
What type of storylines do you prefer to write?
I do find historical drama more straightforward than anything else. I said earlier that I begin with setting, and I find that people in history arrive in my story with their own distinct limitations, opinions, prejudices and vulnerabilities.
Place your heroine in a Hampshire manor house in the 1820s and you know what she's expected to do, and how she might suffer frustration, or push boundaries.
Contemporary characters are harder to make distinct, because they think and behave very much more like you and I do.
If you weren't a writer, what would you be?
That's tricky. I've been a lot of things – a radio sound effects maker, a senior librarian, a ghost-writer. I try to live in the "now" and not wish for something else. But actually, my kitchen is my sanctuary and I love to cook, so maybe I'd be in a restaurant making all that risotto . . .