Knitting A Cardigan: April 30, 2022 Preview
---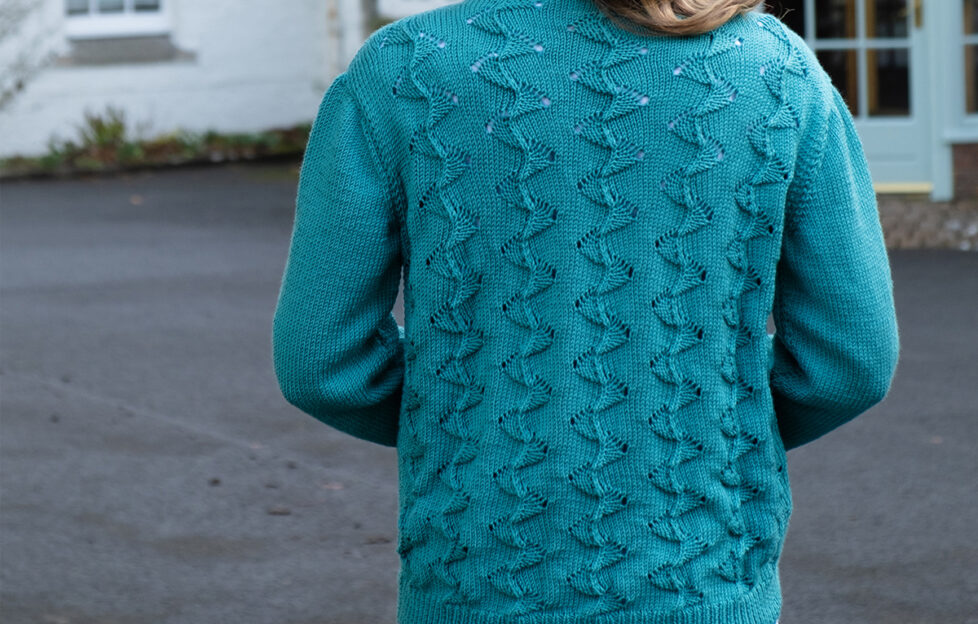 Photograph by Ally Stuart.
Knitting A Cardigan: How To
Difficulty: Intermediate
We have given the classic cardigan a fresh look this week.
---
Our round-neck cardigan features lace patterning in a wave design across the fronts and back. This is created by working a 14-row pattern repeat throughout on either side of the front bands and right across the back to create a striking effect.
Instructions come for eight sizes ranging from 91 cm (32 ins) to 117 (46 ins). Actual size is around 10 cm (4 ins) larger so we would recommend you work to your usual size.
Also, in addition to the yarn, you will need 2 cm buttons; 9 for the first three sizes, 10 for the middle sizes and 11 for the two largest sizes.
The yarn used is Rico Creative Silky Touch DK in Aquamarine (025).  It has a beautiful glossy look with a soft touch against the skin. It is 100% vegan friendly and is made of premium micro acrylic fibres.
Though, there are over 20 shades available if you prefer not to use Aquamarine.
We have graded this as Intermediate. So, if you haven't worked lace panels before, we would recommend practising the 14-row repeat before commencing the main cardigan.
Many readers have been in touch asking for more cardigans, we feel sure this will fit the bill.
Send it in!
The People's Friend team would love to see your creations. You can send them to peoplesfriend@dctmedia.co.uk for a chance to be shared on social media or in the magazine!
---
Find the full cardigan knitting pattern in our April 30, 2022 issue of "The People's Friend". On sale this Wednesday!
For more crafts, visit our Craft section. Or you can subscribe to "The People's Friend" here, to make sure you'll never miss another one of our great patterns and projects.