Soft Boiled Eggs with Spinach, Bacon and Walnut Salad Recipe
---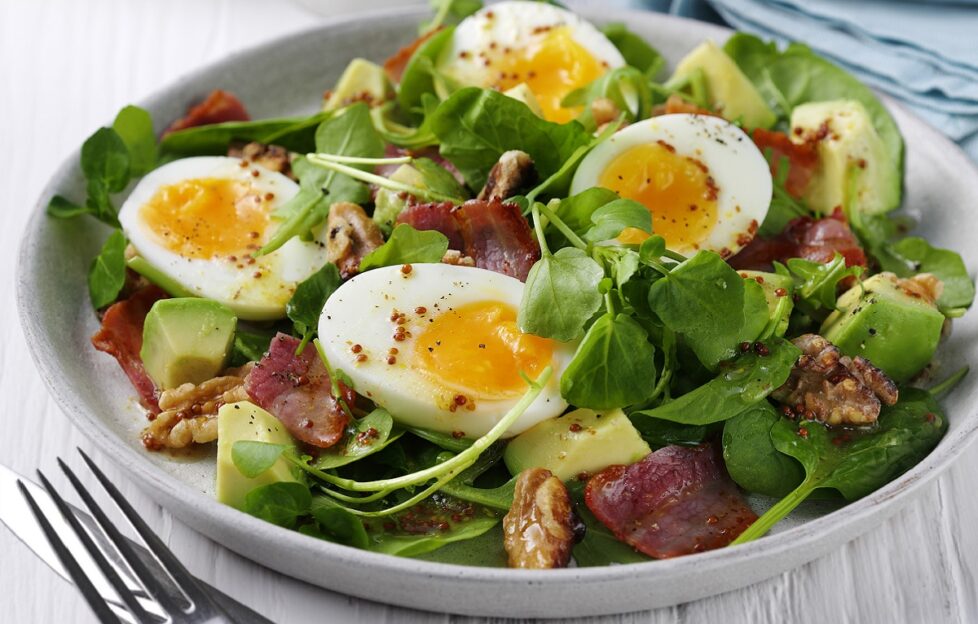 By Steph Houghton for British Lion eggs.
Ingredients
3 rashers lean streaky bacon
25 g (1 oz) walnut pieces
2 large British Lion eggs
75 g (2¾ oz) spinach, watercress and rocket salad leaves
½ avocado, peeled and diced
2 tbs olive oil
1 tbs white wine or cider vinegar
1 tsp wholegrain mustard
1 tsp honey
Salt and freshly ground black pepper, to taste
By Steph Houghton for British Lion eggs.
As we're getting well into Spring and thinking about Summer days approaching, our cookery writer Marion has a lovely fresh salad recipe to try from British Lion eggs!
---
Serves: 1
Method:
Grill the bacon for about 5 minutes, turning until it is crisp and golden. Drain on kitchen paper, then cut into bite-sized pieces.
Toast the walnut pieces under the grill until pale golden.
Place the eggs in a small pan, cover with 2½ cm (1 cm) of boiling water and place on a high heat. Gently stir the eggs and set the timer for 5 minutes (longer if you want firmer yolks).
Meanwhile, arrange the salad leaves in a bowl. Add the avocado, bacon and walnuts.
Drain the eggs, and rinse in cold running water. When cool enough to handle, tap the shells all over and peel away. Cut in half and leave to cool slightly.
In a small bowl, whisk the oil, vinegar, mustard and honey together with seasoning. Pour over the salad and toss well until coated.
Top with the eggs and serve.
The People's Friend team would love to see your creations. You can send them to peoplesfriend@dctmedia.co.uk for a chance to be shared on social media or in the magazine!
---
For more recipes, visit our Cookery section. Or you can subscribe to "The People's Friend" here, to make sure you'll never miss another one of our great patterns and projects.