Knitting An Aran Sweater: May 14, 2022 Preview
---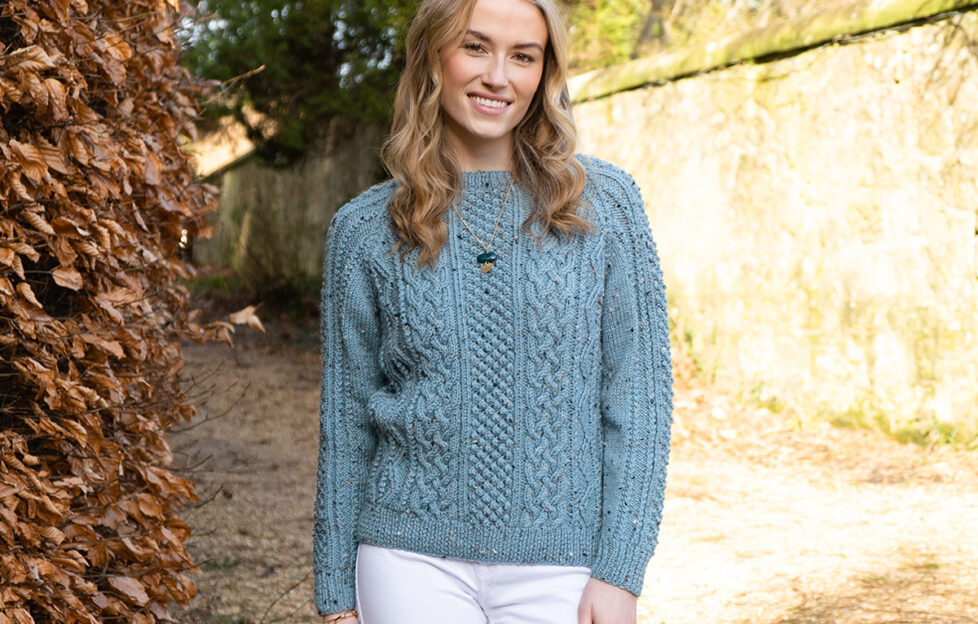 Photograph by Ally Stuart.
Knitting An Aran Sweater: How To
Difficulty: Intermediate
We have a classic knitting preview for you this week! The Aran sweater is more popular than ever and our design is worked in a lovely flecked yarn.
---
Classic knits are everywhere this year, one of the reasons we are sure this sweater will be a winner.
The yarn used is King Cole Fashion Aran in the shade Duck Egg (3502). This wool-blend yarn is soft, comfortable, and easy to care for. The range includes a mix of solid shades and tweed mixes.
Instructions are for five sizes ranging from 86/91 cm (34/36 INS) to 127/132 cm (50/52 INS). Actual size is around 18/13 cm (7/5 ins) larger giving you a comfortable fit.
We have graded this as an intermediate knit. The design features three pattern panels, all worked over 18 stitches, which together create the stunning mix of cable and twist patterning that forms the back and front of the sweater.
Raglan shaping continues the traditional styling.
This is a timeless unisex design that will appeal to all ages.
Send it in!
The People's Friend team would love to see your creations. You can send them to peoplesfriend@dctmedia.co.uk for a chance to be shared on social media or in the magazine!
---
Find the full Aran sweater knitting pattern in our May 14, 2022 issue of "The People's Friend". On sale this Wednesday!
For more crafts, visit our Craft section. Or you can subscribe to "The People's Friend" here, to make sure you'll never miss another one of our great patterns and projects.