Jubilee Recipe Ideas: Raspberry Fondant Fancies
---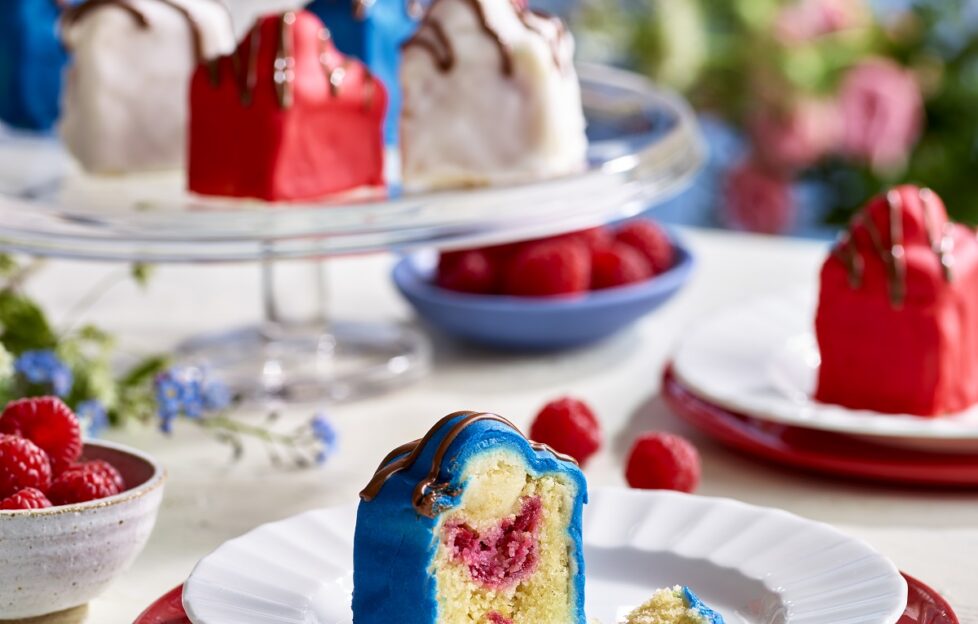 Provided by Love Fresh Berries.
Ingredients
For the Sponge:
175 g (6 oz) softened butter or margarine
3 eggs, beaten
175 g (6 oz) self-raising flour, 2 tsp reserved
1 tsp finely grated lemon zest
150 g (5¼ oz) raspberries
For the Coating:
150 g (5¼ oz) marzipan
400 g (14 oz) ready-made vanilla or lemon butter cream at room temperature
1 kg (2 lb 4 oz) fondant icing
Red and blue food colouring
50 g (2 oz) milk chocolate, melted
Recipe and image courtesy of Love Fresh Berries.
If you're looking for some Jubilee recipe ideas for a garden party, add these Raspberry Fondant Fancies from Love Fresh Berries to your list!
---
Makes: 25 | Prep: 1 hour (plus freezing time) | Cook: 30 minutes
Pre-heat the oven to 180°C/350°F/Gas Mark 4. Line a 20cm (8in) square cake tin with parchment.
To make the sponge, put all the sponge ingredients except the raspberries and reserved flour in a mixer and beat until well combined. Toss the raspberries in the reserved flour and fold into the mix.
Spoon the sponge mix into the tin and bake in the pre-heated oven for around 30 minutes until golden, springy and just pulling away from the edges. Place on a wire rack to cool, then remove the parchment and freeze the cake for 20 minutes.
Roll out the marzipan thinly.
Remove the cake from the freezer and spread a thin layer of buttercream over it. Top with the marzipan, trimming away any overhang.
Cut the cake into 25 even pieces. Spread four sides of each cube with buttercream and pipe a small blob on top, then return to the freezer for at least 10 minutes.
Chop the fondant into pieces and place in a food mixer. Starting it gently, beat until it breaks down, adding 150ml (5 fl oz) water in small amounts of until you get an almost pouring consistency.
Divide the fondant into 3 different bowls. Leave one white, add red colouring to one and blue to another, mixing to the desired shade.
Spear the base of a cake cube with a fork and dip it into a bowl of icing. Lift it up, twisting as you go, and repeat to cover the whole cube, then transfer to a wire rack to set. Repeat with the rest of the cubes to create a mix of red, white and blue fondant fancies.
Once softly set, drizzle all the cakes with milk chocolate; it's easiest to do this using a piping bag. Leave to set for a few minutes before serving. Store in an airtight container for up to two days.
Keep an eye out for more Jubilee recipe ideas over the next few days.
Send it in!
The People's Friend team would love to see your creations. You can send them to peoplesfriend@dctmedia.co.uk for a chance to be shared on social media or in the magazine!
---
For more recipes, visit our Cookery section. Or you can subscribe to "The People's Friend" here, to make sure you'll never miss another one of our great patterns and projects.