Knit A Cardigan: June 4, 2022 Preview
---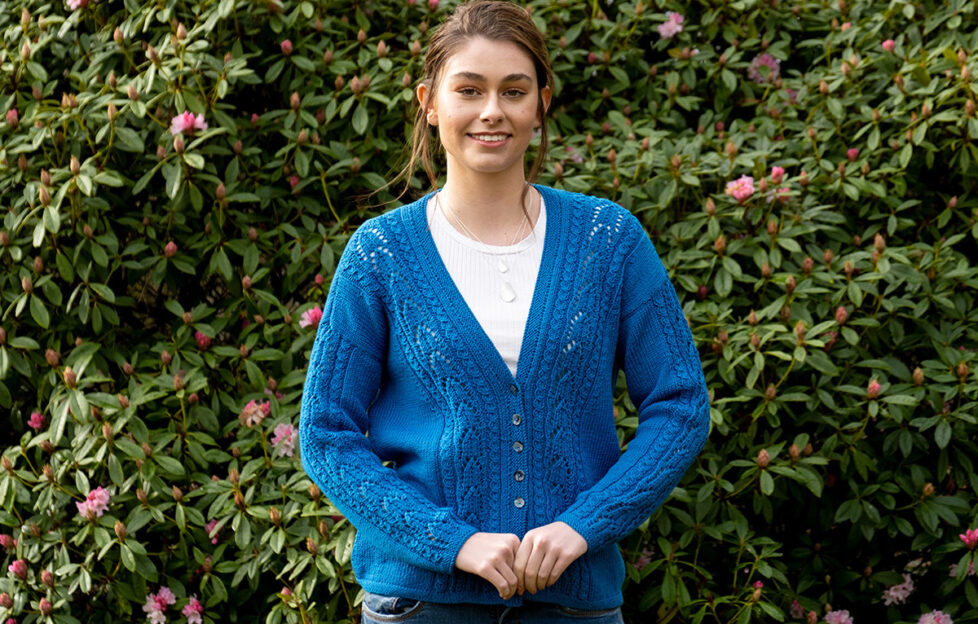 Photography by Ally Stuart.
Knit A Cardigan: How To
Difficulty: Intermediate
Many of you have asked to knit a cardigan and we are happy to oblige.
---
Our pure wool cardigan combines practicality with style as lace and twist borders add the finishing touches.
This cardigan is worked in Rico Essentials Merino DK in the shade Cobalt Blue (029), and there are many other shades available if you would prefer an alternative.
Sizes range from 76/81 cm (30/32 ins) with the actual size being around 18/13 cm (7/5 ins) bigger offering a comfortable fit with room for clothes underneath.
The lace and twist panels are worked over a 12-row repeat and 23 stitches. We use the usual lace and eyelet stitches.
If you are new to lace or eyelet stitches, we would recommend knitting up the panel with spare yarn to get a feel for it.
Also, the set in sleeve means there no armhole shaping to worry about.
Now, every cardigan needs to be finished off with nice buttons and ours came from www.duttonsforbuttons.co.uk who have a huge range for you to peruse.
So, for all of you looking for a versatile cardigan to knit, we hope this fits the bill!
Send in yours!
The People's Friend team want to see your creations. Send them to peoplesfriend@dctmedia.co.uk for a chance to be shared on social media or in the magazine!
---
Find the full knitting pattern in our June 4, 2022 issue of "The People's Friend". On sale this Wednesday!
Plus, for more crafts, visit our Craft section. Or you can subscribe to "The People's Friend" here, to make sure you'll never miss another one of our great patterns and projects.