Editor's Diary: Podcasting In Person
---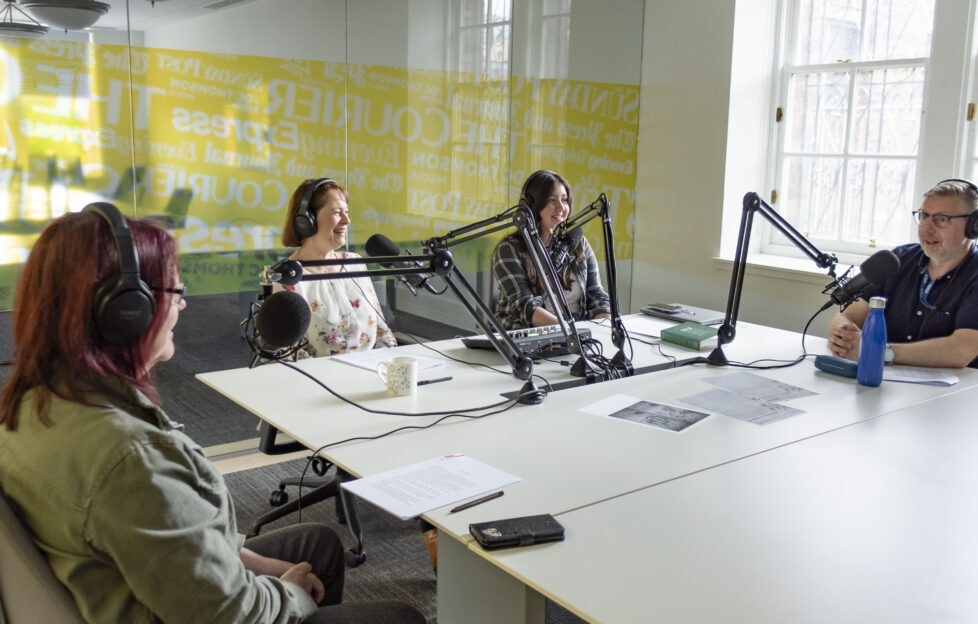 Photography by Chris Phin.
The subject of this week's Editor's Diary is our fabulous The People's Friend podcast, Reading Between The Lines.
Regular readers will know that it's already an award-winner. It scooped the prize for Podcast of the Year at the PPA Scotland Awards last year. We're very proud of that fact!
More importantly, it's been a huge hit with "Friend" readers, who loved having a new way to connect with the magazine during lockdown.
Its success is even more remarkable when you think that every episode to date has been made remotely. All the participants have taken part from home. Which has involved lots of posting of mics and other equipment around Scotland. And some creative editing, too!
But with our return to the office, finally things can change. And recently, for the very first time, we recorded a podcast episode together, in person!
What's more, we did so in a very nice podcasting studio newly installed in our building.
So, instead of huddling round kitchen tables and hunching over laptops, we found ourselves in the same room, at the same time. Quite a novelty . . .
Also a novelty was speaking to real people instead of into a computer. But that brought its own snags. We had to remember not to turn to face each other when speaking — unless we took our mics with us! And Dundee's seagulls definitely added to the recording, but maybe not in a good way.
It was also Digital Content Editor Jacky's first time hosting a podcast. She did a great job of keeping Barry, Judey and me in order!
The format was a little different, as we were making a special episode about our latest Classics Collection book. So, instead of a short story, we read and then discussed an extract from "A Maid Of The Isles" by Annie S. Swan.
What was the panel's verdict? Did we love it — or loathe it? And did Barry from Archives have any secret discoveries to reveal?
You'll not find any spoilers here! You'll have to listen in to the episode to find out how it all went. It's released on June 20th.
And don't forget you can buy the book, too, from the DC Thomson Shop.
---
Read more from "The People's Friend" editor, Angela.