Birthday Honours For Sandringham Estate Knitter
---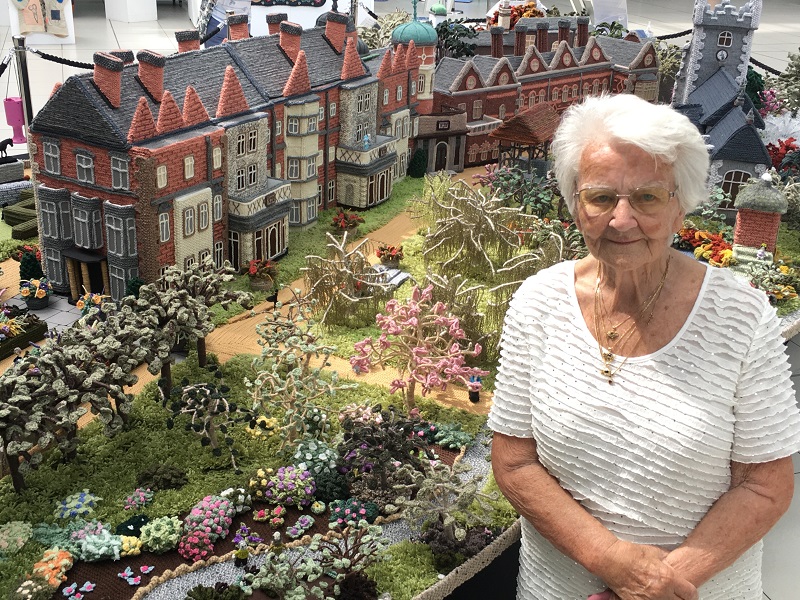 Margaret Seaman. Photograph by Jayne Evans.
Do you remember the article in our May 21 issue about Margaret Seaman, the Sandringham Estate knitter? Well, we've got some exciting news to share, courtesy of the Norwich Forum…
---
93-year-old Margaret Seaman, Norfolk's famous charity knitter, will be awarded a British Empire Medal in the Queen's Birthday Honours! It's an acknowledgement of her phenomenal talent and generous charitable fundraising.
The great-great-grandmother, from Caister-on-Sea, has raised more than £100,000 for local charities over the past seven years. Margaret's intricate knitted and crochet installations have been shown at events and exhibitions throughout the UK.
Margaret is receiving her honour, in the Queen's Platinum Jubilee year, for her services to her local community.
Making Headlines
Margaret's most famous work, the Knitted Sandringham, made headlines around the world in 2021. The Queen herself viewed it when it went on show at the real Sandringham House in North Norfolk.
Margaret has also knitted Great Yarmouth's seafront, depicting the promenade during its 1970s hey-day. NHS Knittingale was another of her masterpieces, a tribute to the work of NHS and care workers during the pandemic. All of Margaret's creations have made their public debuts at the annual Norfolk Makers Festival, at The Forum in Norwich.
"It still amazes me that people are so interested in my knitting" says Margaret. "I just love a big challenge and I like to keep myself busy. I never dreamed it would lead to all this excitement."
"It all started about seven years ago when I started knitting for charity and I decided to knit things that were important to local people and to me. Fortunately, the Makers Festival at the Forum gave me plenty of space!
Margaret's British Empire Medal will be presented here in Norfolk by the county's Lord-Lieutenant. Later in the summer Margaret will attend a garden party at Buckingham Palace.
The next opportunity for the public to see the famous Knitted Sandringham is at the Royal Norfolk Show, on June 29 & 30.
All For A Good Cause
She is currently fundraising for Norfolk's three NHS hospital trusts, the Norfolk & Norwich, the Queen Elizabeth and the James Paget. They'll split all the money raised equally and direct to specific projects helping local people.
Other charities that have benefited over the past six years from Margaret's imagination, industry and creative skills are a hospice in Great Yarmouth – the Louise Hamilton Trust – Addenbrookes Children's Hospital and a young girl called Anna Poppy, who needed funds to treat a rare cancer.
---
This press release was shared with us by Rowan Whiteside from The Forum's Communications Team. We're delighted to share Margaret's success with you – she really is an inspiration.
For more inspiring individuals, read the "Friend" or subscribe now and have it delivered right to your door.