Heart Healthy Recipe: Lemon Cod with Oat Crumb and Spinach
---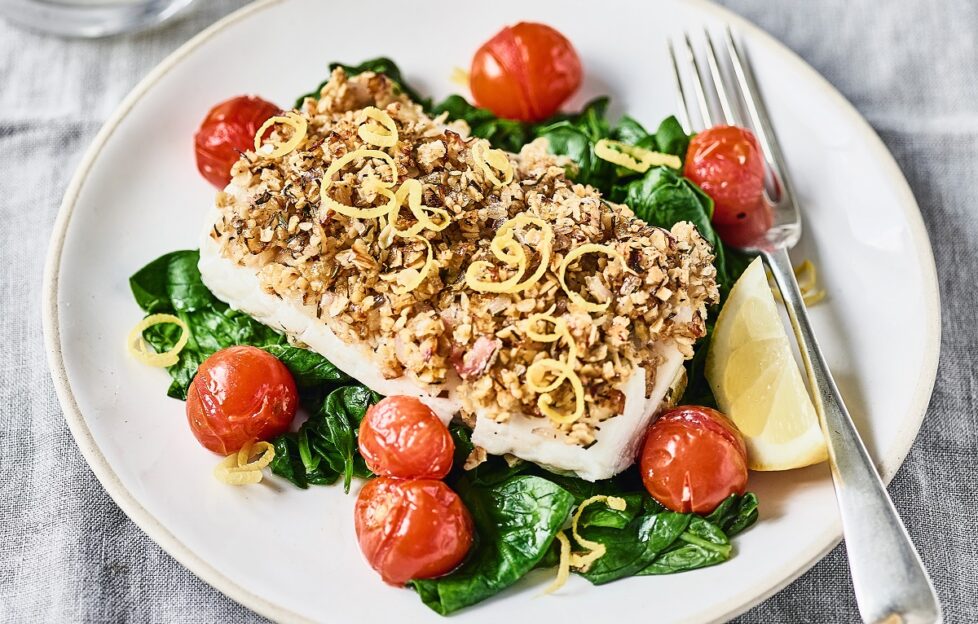 Provided by LoSalt.
Ingredients
1 lemon
½ tbs olive oil
3 shallots, about 100 g (3½ oz), chopped finely
25 g (1 oz) oats
2 tbs chopped chives
1 tsp LoSalt
Freshly grated black pepper, to taste
2 cod loins, about 200 g (7 oz) each
200 g (7 oz) cherry tomatoes
250 g (9 oz) spinach
Recipe and image courtesy of LoSalt.
To round off British Heart Week, we're sharing a heart healthy recipe from LoSalt.
---
Serves: 2
Method:
Pre-heat oven to 200°C/400°F/Gas Mark 6. Line a baking tray with foil. Zest and juice half the lemon and reserve the remaining half.
Heat the oil in a small frying-pan and fry the shallots for 3 to 4 minutes until golden. Add the oats and cook for 1 to 2 minutes. Stir in the chives, LoSalt, lemon zest and juice, season with black pepper.
Press the oat mixture on top of the cod loins and place on the prepared tray. Add the cherry tomatoes. Bake for 15 to 20 minutes or until the cod is cooked through.
Meanwhile, place the spinach in a large bowl with a splash of water, cover with clingfilm and microwave on
high for 2 to 3 minutes until just wilted. Divide between 2 plates and top with the cod and tomatoes. Serve with the remaining lemon cut into wedges.
Send it in!
The People's Friend team would love to see your creations. You can send them to peoplesfriend@dctmedia.co.uk for a chance to be shared on social media or in the magazine!
---
For more recipes, visit our Cookery section. Or you can subscribe to "The People's Friend" here, to make sure you'll never miss another one of our great patterns and projects.