Features Sneak Peek: June 25, 2022 Issue
---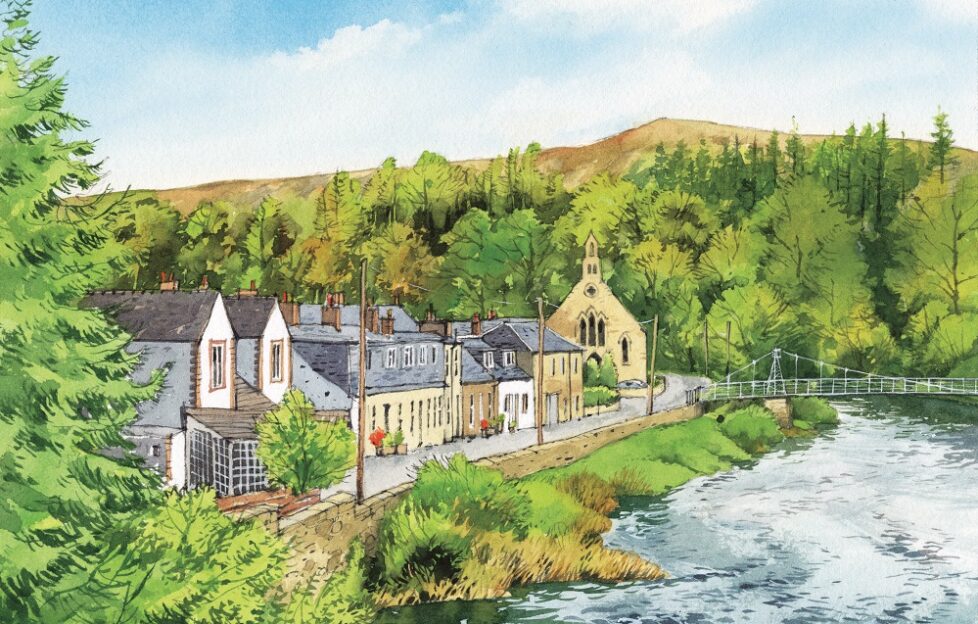 Illustration by DC Thomson Ltd.
Morag Fleming visits lovely Langholm, in the June 25, 2022 issue of "The People's Friend".
The burgh of Langholm dates from 1621 and the mill town was created to support a thriving textile industry.
Langholm is proud of its history. And rightly so, because the town is currently the talk of not just this area, but the environmental world in general.
Join Morag as she takes us on a tour of this burgh.
FareShare
Every year, two million tonnes of good-to-eat food is wasted across the food industry. However, an estimated eight million people in the UK struggle to get enough to eat.
That's why FareShare, the UK's biggest charity fighting hunger and food waste, is trying to bring an end to food poverty.
Gilly Pickup finds out more in the magazine.
Royal Highland Show
What is now the Royal Highland Show can trace its origins all the way back to an 18th-century get-together in an Edinburgh tavern.
Now, after a couple of pandemic interruptions, it's back in all its glory and set to mark its milestone 200th anniversary.
Although the show is celebrating its bicentennial, the Royal Highland and Agricultural Society of Scotland was already going strong for years before.
Bill Gibb finds out more.
Black Britain
Bernardine Evaristo is known for her Booker-Prize-winning novel "Girl, Woman, Other". However, it was only the latest in a series of widely acclaimed works of fiction, poetry and prose that had seen her work turned into radio plays.
As a result, her presence is in demand on talk shows and at live events.
Bernardine loves telling stories about the African diaspora, so Penguin recruited her to curate a choose titles in a new series called "Black Britain: Writing Back."
Features Ed Alex reveals more in the magazine.
Elsewhere in the June 25, 2022 issue, we have a collection of budget-friendly recipes! Plus we have a craft project to make a versatile top.
We hope you enjoy it. Let us know what you think.
---
Has this sneak peek at our June 25, 2022 issue encouraged you to subscribe to the "Friend"? Click here. If you do, your "Friend" will come straight to your doorstep! 
You can also take out a digital subscription, meaning your issue will come straight to your computer, tablet or phone! And it's great value for money. Click here for a sneak peek at that!