Features Sneak Peek: July 2, 2022 Issue
---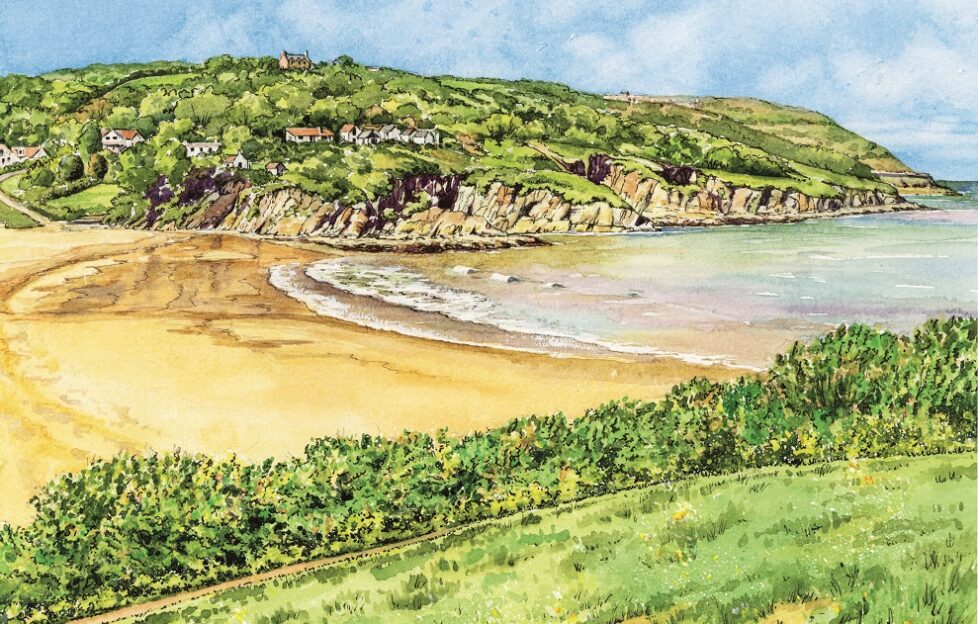 Illustration by DC Thomson Ltd.
Neil McAllister visits Aberteifi, in the July 2, 2022 issue of "The People's Friend".
Join Neil as he reminisces to half a century ago, when he admired the falls and watched fishermen on the river using curious circular boats.
These days, coracles are a much rarer sight. However, the river still forms the boundary between Pembrokeshire and Cardiganshire – or Ceredigion, as this coastal county is mainly known.
We'll stay in Cardigan Castle while we're here. Instead of draughty battlements, it has converted houses within its compound into lovely modern B&B rooms. Staying at the castle has a number of advantages, not least the views!
The narrow Strand is home to the town's most interesting craft shop. Old Forge Crafts is the brainchild of woodturner Jason Wilkins, who shares his shop with local artists, weavers, potters and other talented folk creating with their hands.
However, even if you aren't a fan of such handicrafts, visit to appreciate the slate-built cottage opposite, whose garden is filled with colourful flowers that seem to enjoy the dry climate.
There is much to see in this beautiful area.
Bamber Gascoigne
Bamber Gascoigne was a documentary maker, author and broadcaster who founded an opera house in his eighties.
However, for many he will always be remembered as the host of Britain's brainiest quiz show, "University Challenge", which he presented for 25 years from its inception in 1962. He hosted 913 episodes of the quiz show.
Douglas McPherson pays tribute to Bamber in the magazine.
Veterinary Support Co-ordinator
There's no such thing as a typical day for Dr Natalie Arrow. However, the Veterinary Support Co-ordinator for the British Divers Marine Life Rescue charity in Cornwall loves the unpredictability.
Natalie has abseiled down cliffs to rescue seal pups, helped stranded dolphins and even assisted a wandering walrus that ended up in Cornish waters.
Holly Crawford discovers that no two days are the same for a Veterinary Support Co-ordinator.
Chefs In Schools
A report from Jamie Oliver's Bite Back 2030, a youth-led charity, revealed many schools ignore the School Food Standards requirements and serve up less-than-healthy options.
This could mean school lunches consist of sausage rolls, chips, pizza, cakes, biscuits and "loads of canned and bottled fizzy drinks".
Enter businessman Henry Dimbleby, one of the founders of Chefs In Schools, launched after he tweeted a request for a chef to run the kitchen at Gayhurst Primary in Hackney.
Nicole Pisani got the job and retrained the cooks how to make everything from scratch. Now they work on changing the perception of school food.
Read more about Chefs In Schools in the magazine.
Elsewhere in the July 2, 2022 issue, we have a collection of delicious barbecue recipes! Plus we have a craft project to make a stunning sweater.
We hope you enjoy it. Let us know what you think.
---
Has this sneak peek at our July 2, 2022 issue encouraged you to subscribe to the "Friend"? Click here. If you do, your "Friend" will come straight to your doorstep! 
You can also take out a digital subscription, meaning your issue will come straight to your computer, tablet or phone! And it's great value for money. Click here for a sneak peek at that!