Crochet A Waistcoat Preview: July 9, 2022
---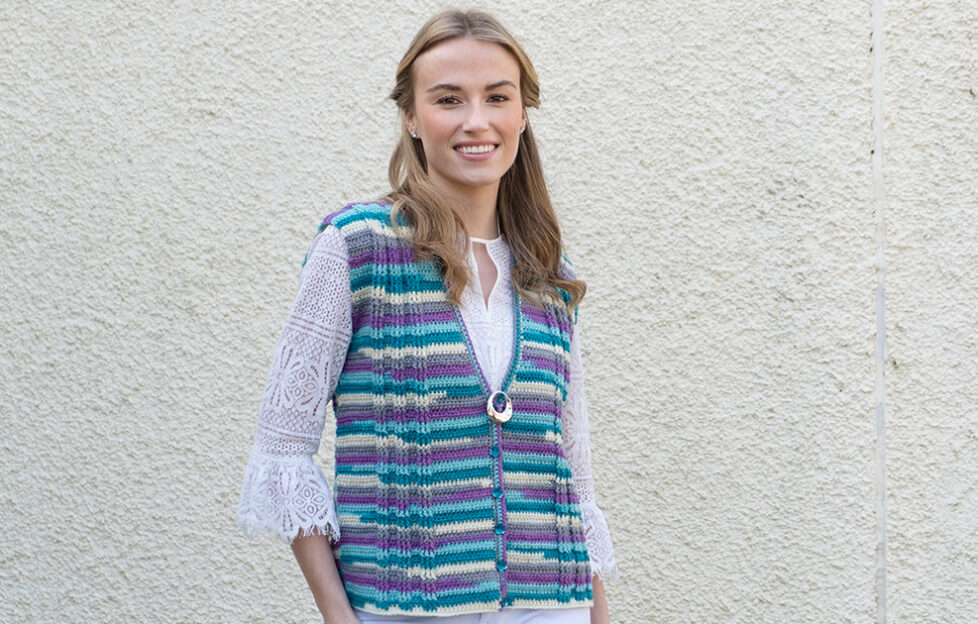 Photography by Ally Stuart.
Crochet A Waistcoat: How To
Difficulty: Easy
We have a fun crochet waistcoat for you this week.
---
Crochet is very popular at the moment, and if you want to be in fashion, then this waistcoat is the answer.
It is worked in West Yorkshire Spinners ColourLab DK in the shade Purple Rain. The yarn is 100 % British wool and is self striping, creating a stunning effect every time.
The waistcoat comes in six sizes ranging from 76/81 cm (30/32 ins) to 127/132 cm (50/52 ins). Actual size is around 15/10 cm (6/4 ins) larger giving you a comfortable fit over a layer.
We have graded this as an easy design. The pattern is formed over two rows throughout. If you are a novice and unsure, why not work a practice square first?
To complete the waistcoat you will need six buttons and ours came from www.duttonsforbuttons.co.uk. They have a huge range of buttons available.
Finally, we use British crochet terms throughout. If you are used to using the American terms, you can find easy conversion details online.
We think this colourful waistcoat will be a winner!
Send in yours!
The People's Friend team want to see your creations. Send them to peoplesfriend@dctmedia.co.uk for a chance to be shared on social media or in the magazine!
---
Find the full instructions for the crochet waistcoat in our July 9, 2022 issue of "The People's Friend". On sale this Wednesday!
Plus, for more crafts, visit our Craft section. Or you can subscribe to "The People's Friend" here, to make sure you'll never miss another one of our great patterns and projects.