Vegan Chocolate and Coconut Cake Recipe For World Chocolate Day
---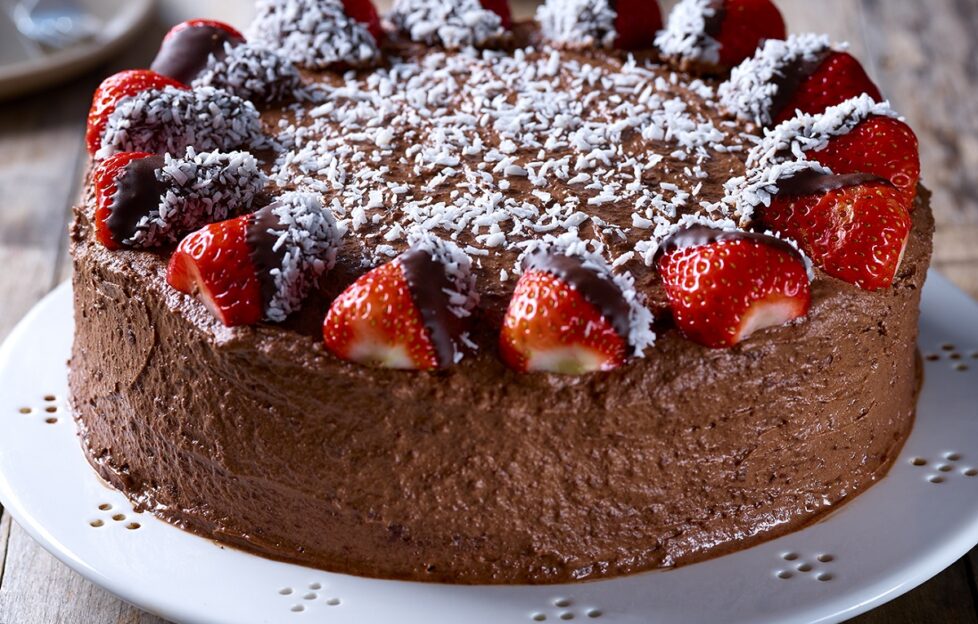 Courtesy of Crazy Jack Organic.
Ingredients
350 g (12 oz) almond milk
250 g (9 oz) golden caster sugar
150 g (5½ oz) coconut oil, melted
175 g (6 oz) plain flour
75 g (2¾ oz) cocoa powder
2 tsp baking powder
75 g (2¾ oz) Crazy Jack Ground Almonds
50 g (1¾ oz) Crazy Jack Desiccated Coconut, plus 25 g (1 oz) for decorating
For the Frosting:
200 g (7 oz) vegan plain chocolate, broken into pieces
8 medium strawberries, hulled and halved
2 x 400 g cans coconut milk, chilled
2 tbs golden syrup
Recipe and image courtesy of Crazy Jack Organic.
A Vegan Chocolate and Coconut Cake for World Chocolate Day? Yes, please, we say! Courtesy of Crazy Jack Organic.
---
Serves: 6-8
Pre-heat the oven to 180 deg. C, 350 deg. F., Gas Mark 4. Grease and base line 2 x 20 cm (8-in) cake tins. Line a baking tray with parchment.
In a bowl or jug, mix together the almond milk, sugar and coconut oil.
Sift the flour, cocoa powder and baking powder into a large bowl and mix in the ground almonds and coconut. Make a well in the centre and whisk in the milk mixture to give a smooth batter.
Divide between the 2 tins and bake for 20 to 25 minutes, until a skewer comes out clean. Cool slightly before removing from the tin then cool completely.
To make the frosting, place the chocolate in a bowl over a saucepan of simmering water until melted, then allow to cool. Dip the halved strawberries until coated halfway up and dip the tips in the remaining coconut, place on the prepared tray and chill to set. Take the coconut milk tins from the fridge and scoop out the set coconut cream, discarding any liquid. Weigh 300 g (10½ oz) of this into a bowl and whisk in the remaining chocolate and golden syrup.
Place 1 cake on to a serving plate and spread over a third of the frosting, top with the other cake and spread the remaining frosting over the top
and sides until smooth. Decorate with the chocolate strawberries around the edge. Sprinkle the rest of the coconut in the centre of the cake.
Send it in!
The People's Friend team would love to see your creations. You can send them to peoplesfriend@dctmedia.co.uk for a chance to be shared on social media or in the magazine!
---
For more recipes, visit our Cookery section. Or you can subscribe to "The People's Friend" here, to make sure you'll never miss another one of our great recipes and projects.