The Big Butterfly Count 2022
---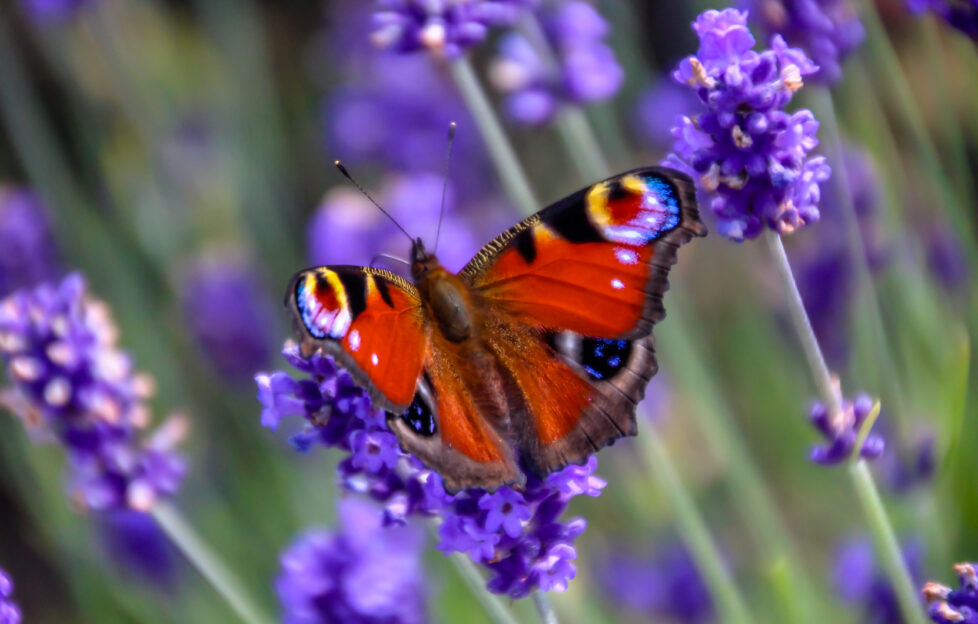 Shutterstock.
Are you ready to help with the Big Butterfly Count? Running from Friday July 15 to Sunday August 7, it's easy to get involved.  
And to help get you ready ahead of the UK-wide survey we revisit this article by Janey Swanson. So, if you don't know your red admirals from painted ladies, then read on.  
Spectacular Splashes Of Colour
As they flutter from flower to flower, butterflies bring spectacular splashes of colour to window-boxes, gardens, parks and countryside.
Eye-catching species such as peacocks and painted ladies are a visible reminder of the true beauty of nature. And they also provide vital information about the health of the natural environment.  
"Sadly, three quarters of butterfly species in the UK are in decline," Dr Zoë Randle, lead scientist at Butterfly Conservation, the UK charity dedicated to saving butterflies, moths and the environment, says.  
"As butterflies are well recorded and studied, they're considered an indicator species. So their decline is a warning that nature needs a helping hand."
The Big Butterfly Count UK-wide Survey
Every year, Butterfly Conservation carries out the Big Butterfly Count, a UK-wide survey which records changes in the UK's butterfly population. And, in the process, assesses the health of the natural environment.
This year, the Big Butterfly Count takes place between July 15 and August 7.
"To take part, all you have to do is sign up as a citizen scientist at www. bigbutterflycount.org. Then at some point during the three weeks of the survey, find a warm, sunny spot outside," Dr Randle says.
"For fifteen minutes, make a note of the amount and type of butterflies you see, and then submit your results to the Big Butterfly Count website.
"To help identify butterflies spotted, the Big Butterfly Count website has a beautifully illustrated identification chart," Dr Randle continues. "Look out for the gardeners' favourites – the small white, the large white and the green-veined white."
Favourite Species
"There's also the marbled white, which looks a little like a chess board, with its chequered wings.
"Then there's the peacock butterfly, with its blue eye spots to ward off predators. And the comma, which has a mark like a white comma on the underside of its jagged orange wings."
Dr Randle's favourite species of butterfly is the bright yellow brimstone, which is one of the first butterflies of the year. "Seeing that dash of yellow on the primroses in my garden completely rejuvenates me," the butterfly expert reveals. "It's my personal sign that spring is on its way."
And, Dr Randle reveals that, depending on the species, the average lifespan of a butterfly can be anything from a few days to several months.
Invaluable Information
"Some longer-living butterflies such as the brimstone, small tortoiseshell and peacock go into hibernation in winter. Which explains why you might come across a butterfly basking on a south-facing wall on a sunny winter's day," Dr Randle adds.
There are two migratory species involved in the Big Butterfly Count – the painted lady and the red admiral.
"These butterflies fly to the UK from Europe, North Africa and the Middle East at the start of summer and return in autumn.
"However, it appears that red admiral butterflies are now able to survive our winter and sometimes hibernate," Dr Randle explains.
"Every year, the Big Butterfly Count provides us with invaluable information about the UK's butterflies and moths. And, in 2020, over 11,000 people counted a whopping eleven million butterflies.
"However, the average number of butterflies seen per count was down by thirty-four percent.
"This large drop may have been caused by a number of factors, including weather conditions and an early start to the butterfly season.
"Overall, our combined survey results show a definite decline in butterflies.
"This is caused by the usual suspects. Such as habitat loss, land development, increasing urbanisation, intensive farming and climate change.
"Nevertheless, some species are benefitting from climate change. Peacock butterflies are regularly seen in Scotland. And our survey shows that the almost-black ringlet and the holly blue are also moving north."
"Effective Way Of Checking Nature's Pulse"
The Big Butterfly Count takes place during the peak time for butterflies in the UK, when the most widespread and numerous species are on the wing.
"No two years are alike, and different years see different species come to the fore," Dr Randle continues. "It's so important that we take a snapshot of the UK's population every year.
"Butterflies are an important part of the food chain and play just as important a role in pollinating plants as bees.
"Areas rich in butterflies are rich in plants and wildlife, and counting butterflies is an effective way of checking nature's pulse." 
Tips To Help Boost Butterfly Numbers
Encourage butterflies to pay a visit by growing nectar-rich flowers and plants.

Buddleia (the butterfly bush), verbena, lavender and wallflowers are very attractive to butterflies.

Plant butterfly-friendly flowers in sunny, sheltered spots so they're warm when they're having lunch or laying caterpillar eggs.

Plan your garden so there's a constant stream of flowers throughout spring, summer and into autumn, so butterflies that hibernate or migrate can build up their winter reserves.

Deadhead flowers to prolong flowering and maintain a steady supply of nectar.

If possible, avoid using insecticides and pesticides – and don't be too particular about weeding. Butterflies prefer a natural-looking garden.

Transform a patch of your garden into a wildflower meadow.

Butterflies – and bees – love herbs. To attract small whites, try rosemary and chives; the small tortoiseshell and peacock will stop off to drink the nectar of marjoram/oregano; while mint is irresistible to red admirals and painted ladies.

Don't forget the caterpillars. Nasturtiums are a nutritious treat for caterpillars, and might even tempt them away from your vegetable patch.

When mowing the lawn at the end of summer, leave a patch of long grass as winter habitat for caterpillars.
---
Read more from our Gardening section.