Greek Feta and Olive Salad with Lamb Chops Recipe
---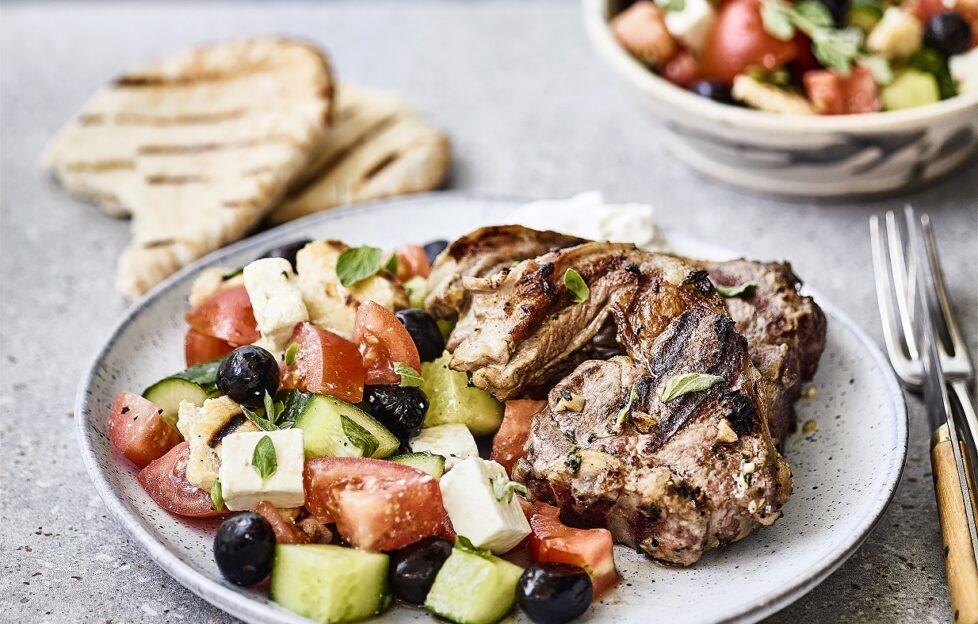 Courtesy of Crespo Olives.
Ingredients
4 sprigs oregano, leaves only
1 clove garlic, crushed
Salt and freshly ground black pepper, to taste
1 tbs extra virgin olive oil
4 lamb loin chops
1 pitta bread
2 tomatoes, cut into small chunks
¼ cucumber, cut into small chunks
50 g (1¾ oz) Crespo Black Olives Greek Style
50 g (1¾ oz) feta, diced
½ tbs white wine vinegar
To Serve: Greek yoghurt.
Recipe and image courtesy of Crespo Olives.
This Greek Feta and Olive Salad with Lamb Chops recipe from Crespo Olives makes such a tasty, satisfying meal for two!
Serves: 2
Chop half the oregano and mix with the garlic, black pepper and half the oil. Toss in the lamb to coat evenly and set aside.
Brush the pitta with a little oil and griddle or fry for 1 minute each side. Tear into bite-sized pieces.
Mix together the tomatoes, cucumber, olives, feta, pitta and remaining oregano.
Add the marinated lamb to the hot griddle or frying-pan and cook for 3 minutes each side.
Meanwhile, whisk the remaining oil with the vinegar and toss into the salad, season to taste and serve with the lamb with a spoonful of Greek yoghurt.
Send it in!
If you try our lamb chops recipe, "The People's Friend" team would love to see your creations. You can send them to peoplesfriend@dctmedia.co.uk for a chance to be shared on social media or in the magazine!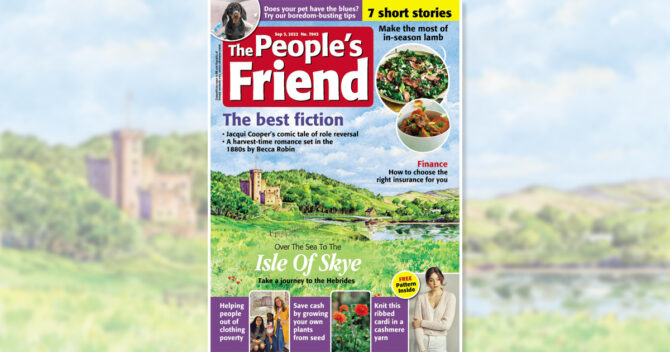 You'll find more delicious lamb recipes in this week's issue of the "Friend". Available online or from most major supermarkets and newsagents. Or, to make sure you never miss our delicious recipes, you can subscribe to get every issue delivered straight to your door each week.
Check out our Cookery section for more recipes.