Willie's View: Visiting Findlater Castle
---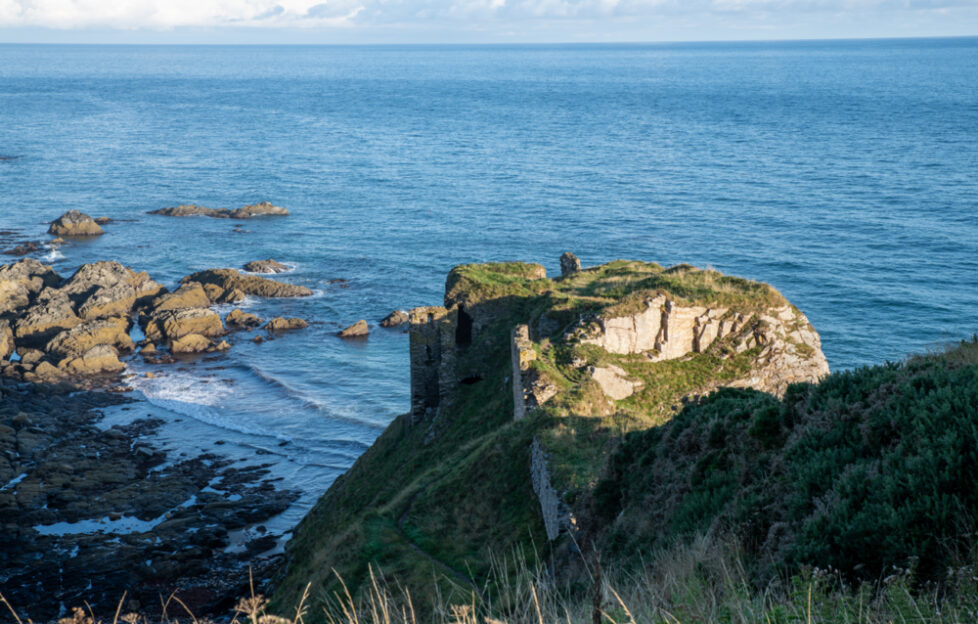 Willie discovers a former fortress in a dramatic location when visiting Findlater Castle.
---
In times long past, choosing a site to build a stronghold most often welcomed a helping hand from Nature. Some, like Loch Leven Castle or Lochindorb, made use of islands.
Others, like Dunnottar or Duntulm, enjoyed the protection of the sea and high cliffs.
To unwelcomed visitors, few though must have appeared more impregnable than that of the ruins I visited today on the coastal walk between Cullen and Sandend on the Moray Firth.
Not a lot remains of Findlater Castle – just a few remnant crumbling walls teetering on the edge of hundred feet high sheer cliffs rising above the crashing Atlantic breakers. Built in the late 1300s by Sir John Sinclair, it's modelled on the Sinclair stronghold of Rosslyn Castle. Findlater is guarded by these high sea cliffs on three sides. The only access is across a narrow and somewhat exposed foot-track dropping steeply from the mainland cliffs.
Viking Occupation
Impregnable as this rocky headland may appear, during our struggles against the Norsemen around 1,000 years ago, the predecessor to Sir John's castle was captured and occupied by the Vikings.
Abandoned in the mid 1600's by the then Ogilvie family, today the only residents of Findlater are the seabirds.  The slippery and unstable ground makes access, even for friendly visitors, both difficult and dangerous.  This is one castle best appreciated from a safe distance.

---
Catch up with Digital Ed Jacky's road trip around the Highlands.