Use Your Leftover Pumpkins With This Pumpkin Soup Recipe
---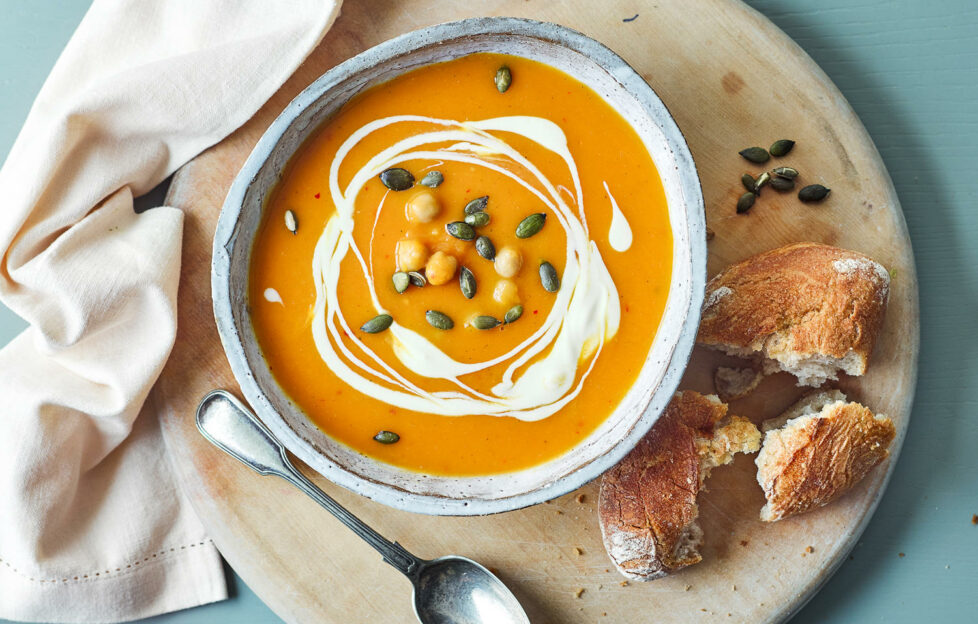 Courtesy of Gousto.
Ingredients
A large knob of butter
1 finely chopped garlic clove
1 chopped onion
2 chopped carrots
½ tsp chopped thyme
Salt and freshly ground black pepper, to taste
500 g (1 lb 2 oz) pumpkin puree
3 cups of pumpkin or vegetable or chicken stock
1 cup of cream
Recipe and image courtesy of Gousto.
Did you know that a terrifying 14.5 million pumpkins will be left uneaten this Halloween in the UK alone? Give your pumpkin purpose with this delicious, hearty pumpkin soup recipe from Gousto:
Serves: 4
Pumpkin Soup Recipe Method
Melt the butter in a large saucepan, then add the garlic, onion, carrots, thyme and a pinch of salt and cook for 5-8 minutes or until softened.
When cooked, transfer to a food processor and blitz together with the pumpkin puree until smooth, then return to the saucepan, add in the stock.
Bring to the boil, then lower the heat and simmer for 15 minutes, stirring occasionally.
Reduce the heat to very low and add the cream and simmer for a further 5 minutes. Season to taste and serve.
Send it in!
If you try the pumpkin soup recipe, "The People's Friend" team would love to see your creations. You can send them to peoplesfriend@dctmedia.co.uk for a chance to be shared on social media or in the magazine!
Find more recipes in our Cookery section.