Easy Floral-Themed Christmas Crafts
---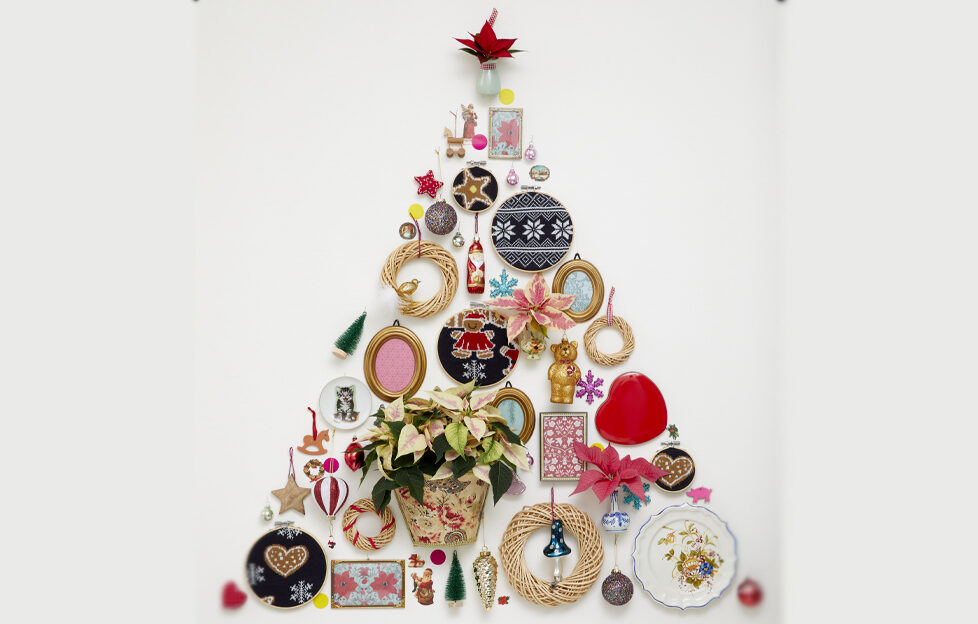 Provided by Stars for Europe.
As Christmas draws nearer and it's time to start thinking about putting the decorations up, Stars For Europe have some easy floral Christmas crafts for you to try using poinsettia growers. Cosy up with the family, little ones or a quiet evening to yourself!
Embroidery Hoops
For these nostalgic embroidery hoops you will need an old Christmas jumper, scissors, embroidery hoops and hot glue and glue gun.
Step 1: Place the inner ring of the embroidery hoop in the centre of your chosen motif on the jumper and mark a circular cutting line at least two centimetres larger than the hoop. Cut out the motif along this line.
Step 2: Place your circle of jumper centrally over the inner ring. Place the open outer ring on top and tighten the tension screw. When the motif is in your desired position, attach the excess to the inside of the frame with hot glue.
This homemade wall-mounted Christmas tree offers space for several embroidery hoops in different sizes using Christmas motifs.
Poinsettia Floating Wire Christmas Tree
For this mini hanging Christmas tree you will need craft wire (1-2 mm thick), a pair of wirecutters, a pair of flat nose pliers, juniper twigs, mini baubles, fine ribbon, silver reel wire, three test tubes and three mini poinsettias.
Step 1: Cut a 50-60cm length of wire using the wirecutters. Use the flat nose pliers to make a small loop at one end for hanging.
Step 2: Starting from the loop, form the wire into a spiral one circle at a time. Add another loop at the end.
Step 3: Attach juniper branches onto the craft wire with silver reel wire.
Step 4: Attach the mini baubles and the test tubes to the juniper-wrapped wire with ribbon and hang the mini Christmas tree in your chosen spot. Then fill the test tubes with water and place cut poinsettias inside. Tip: The poinsettia stems will stay fresh for up to two weeks if,immediately after cutting them, you first dip them briefly in 60°C hot water and then in cold water.
Hanging decoration as an alternative Christmas tree: You can find a suitable spot anywhere for this wire spiral covered with juniper twigs and decorated with poinsettias and small baubles. This cute hanging decoration is very easy to make with a little skill.
---
Check out our list of Christmas gifts for "Friend" readers.