Margaret Greenwood: Return To Muck
---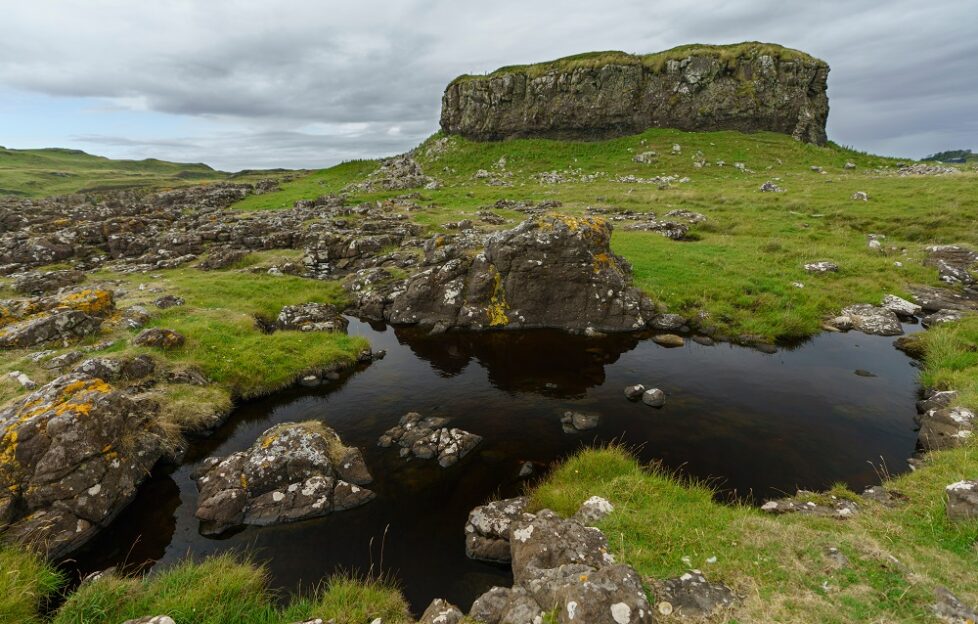 Shutterstock.
Author Margaret Greenwood shares her love for the Scottish Isles, and tells us why she decided to return to Muck.
---
Why do I keep on going back to the Scottish islands? I've visited and stayed on over thirty. The answer is simple – there's a surprise round every corner. My trips last for up to five weeks at a time. I go for walks, watch and listen to wildlife, explore shores and hills, ruins and ancient stones, get waylaid by folk tales and local legends, and talk to almost everyone I meet. This is easy when you are on your own.
My love of walking has led me to many wildlife surprises. I've had a face-to-face encounter with an otter on a deserted beach (exciting). Once I was attacked from behind by a bonxie (great skua – scary). Another time I found the delicate white-flowered Grass of Parnassus growing in profusion (lovely).
Once I came across two whales within a mile of each other. One was a carcass of a recently-beached fin whale which I had to step around to reach some caves. The other was a huge outline of a whale on an expanse of grassland. A sculptor had used stones taken from a nearby cove, and the idea was for people to add a stone or two to "fill in" the outline. I added a stone as I passed by, and I hope that the whale has a full body by now.
Comfortable And Clean
I keep costs down wherever possible, by self-catering in hostels and bunkhouses. Most hostels are comfortable and clean. But I'm not keen on bathrooms where facilities are shared by all sexes, and dorms with bunk beds crammed with bodies! I much prefer having at least a little privacy. Sometimes I am woken up by roommates who have barged into the dorm while I've been asleep. My latest hostel experience was marred by having to go out in a howling wind and freezing rain in the middle of the night to an unheated washroom.
Yet communal cooking in the kitchen is fun; food–and drink–sharing is commonplace. Fellow hostellers are always up for a chat and often very helpful. More than one has helped me with I.T. issues, and all are interested in recommending their favourite local spot to visit.
Similarly, islanders have been informative, kind and welcoming to me.  I've been invited into islanders' houses for cups of tea on many occasions. I was moved by Ian's account of growing up as a 'boarded out' child, one of many who were brought to his island to be fostered in the 30s and 40s; and I was fascinated by Donald's description of a great storm when, in fear of his life, he ducked under a flying shed.
Mud, wind, rain, and lack of phone signal have often impeded me. Despite my good map-reading skills I've got lost. Once I found myself at a school which I'd visited the previous day. I had to hitch-hike, which felt safe enough, back to my hostel. Twice I've been really brave and walked on wet sands for more than a mile to a tidal island at low tide, and hurried back again before the tide came in.
Repaying The Generosity
I've been able to repay islanders' trust and generosity in a small way. I've written five songs, one for each of the small islands of Muck, Tiree, Colonsay, Lismore and Gigha. They're based on folk tales relevant to the particular island, and I've taught the songs to local schoolchildren. I was thrilled to hear the songs come alive, and listen to the background accompaniment on triangles, tambours, and chime bars. On one island I ran a workshop in the local church, and a small group of children rushed to the back of the altar to act out their version of the folk tale.
I've learned a great deal along the way. At a Gaelic weekend on Lismore where I was the only non-Gaelic speaker, I joined in a singing workshop of Mary-Ann Kennedy. She explained intricacies of Mouth-music, or dance music (Puirt à Bheul), which I found fascinating but struggled to get my tongue muscles round the Gaelic sounds.
There's not one island I wouldn't return to, and for different reasons. I'd love to go back to Gigha and see the Squirting Cave on a rough day; and to be taken by small boat to Cara Island to search for the resident ghost known as the "Brownie".
My favourite island, though, is the Isle of Muck. Why? Because I've made friends there.
---
You can buy Margaret's book "Return To Muck", direct from the publisher here for £13.99.