Mince And Tatties The British Cookbook Recipe
---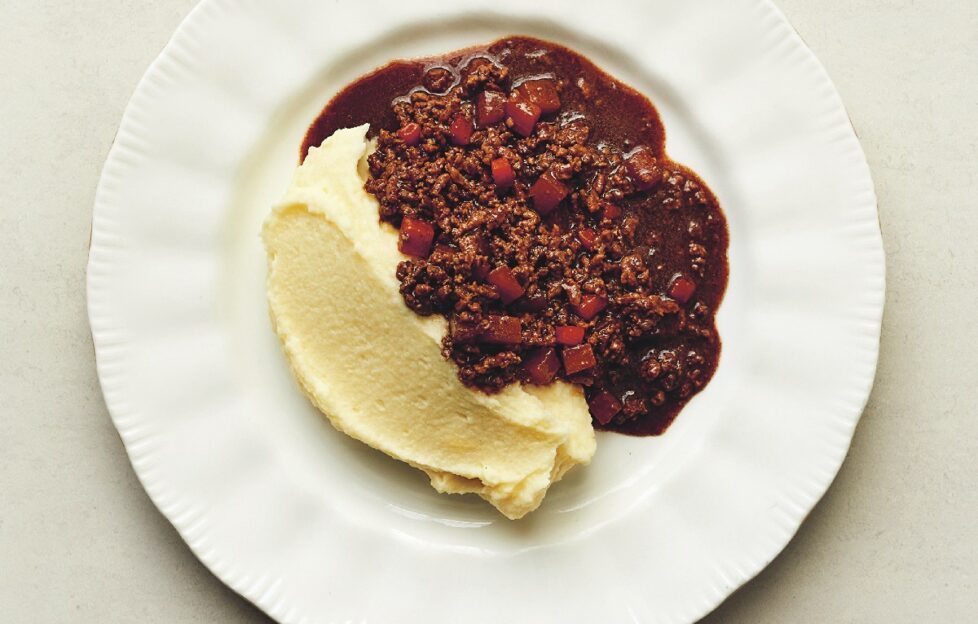 Ingredients
1 tbs rapeseed oil or beef dripping
1 large white onion, diced finely
1 small carrot, diced finely
½ small swede (neep), peeled and diced finely
350 g (12 oz) good-quality steak mince, about 15% fat
Good pinch of finely chopped thyme leaves
15 g (½ oz) fine oatmeal
1 tsp ground white pepper
260 ml (9 fl oz) porter
Strong beef stock made from shin bones, reduced to 570 ml (19 fl oz)
1 bay leaf
1 tsp Bovril
Dash of Mushroom Ketchup
Dash of Worcestershire sauce (optional)
350 g (12 oz) floury potatoes, such as Maris Piper, peeled and cut into large chunks
30 g (1 oz) butter
Salt
The recipes in our Special 235, now on sale, are a real treat. Taken from Ben Mervis's marvellous tour of British traditional cookery, they're some of our own childhood favourites. Of course, here at the "Friend" there's one dish that has a special place in all our hearts: a mince and tatties recipe. Food researcher Ben sums it up beautifully . . .
"Mince and tatties is a traditional Scottish dish, one of those deceptively simple ones where, as you eat, you think to yourself, 'How can this be so good?' The key is well- browned fatty beef mince (ground beef) and onions. They are cooked in a little oatmeal, then simmered in a rich beef stock and dark beer until the mixture is thick. A friend once asked me for a recipe recommendation – something 'dark and ambrosial', he said. This is just what he was after. The sort of recipe that makes you pine for cold, dreary days, just as an excuse to make this. Serve over creamy mashed potatoes."
Serves: 2 Prep time: 10 mins Cook time: 1 hour
Heat the oil or dripping in a large frying-pan or skillet over a medium heat, add the onion, carrot, swede and a good pinch of salt and sauté for 4 to 5 minutes until beginning to soften. Increase the heat slightly and add the mince and cook for 10 minutes, or until very well- browned, breaking up the meat with a wooden spoon as you go. Add the thyme, oatmeal and white pepper and stir in well, then cook for 5 minutes. Pour in the porter and stir over the heat, scraping up all the bits stuck on the bottom of the pan, then add the stock, bay leaf, Bovril, Mushroom Ketchup and Worcestershire sauce, if using. Reduce the heat and simmer for 40 minutes, until the sauce has thickened and taken on a deeper colour. Check and adjust the seasoning, if necessary.
Meanwhile, bring a large saucepan of well-salted water to the boil. Carefully add the potatoes and boil for 15 to 20 minutes until tender and a fork pierces easily through them. Drain, return to the pan and leave to steam-dry.
Add the butter to the potatoes, then mash together. Check the seasoning and add salt and more butter to taste as desired. Serve the mince and tatties inelegantly.
This recipe and image is from "The British Cookbook" by Ben Mervis, published by Phaidon, £39.95 Photography by Sam A. Harris.
Send in yours!
If you try our multicooker spaghetti and meatballs recipe, "The People's Friend" team would love to see your creations. You can send them to peoplesfriend@dctmedia.co.uk for a chance to be shared on social media or in the magazine!
Get the magazine!
Get this issue in most major supermarkets and newsagents, or buy it online. To make sure you never miss an issue again, subscribe to The People's Friend Special to get every issue delivered straight to your door. 
Get more recipes from the "Friend" to try.