Avoiding Heartburn And Having A Healthy Christmas
---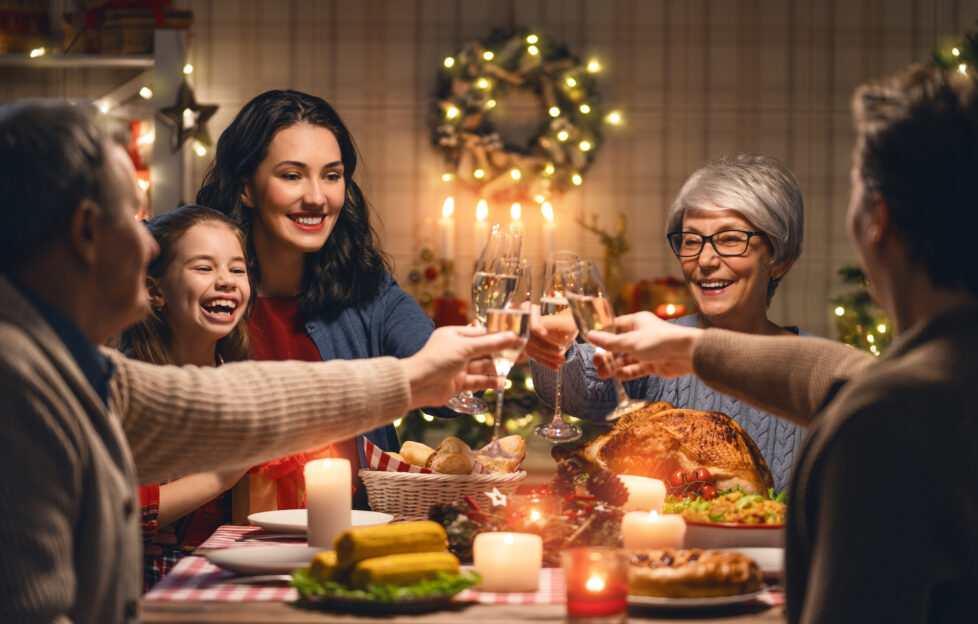 Shutterstock.
We wish you a healthy Christmas. From ensuring the turkey is cooked properly through to avoiding heartburn and checking you have enough medication to see you through the festive season.
Heartburn is a pain – literally. Thankfully, it's something I personally haven't suffered from very often. The occasional mild bit of discomfort which soon abated once I'd propped myself up on pillows for a bit. [Note to self; avoid chef's special curry and garlic naan an hour before turning in for the night]. 
Surely This Wasn't Heartburn?
Of course, heartburn and pregnancy go hand in hand and I recall experiencing that tell-tale burning pain behind my breastbone fairly regularly as my due date loomed, again hardly surprising with an 8lb-plus baby elbowing for room, something's got to give I suppose.  
Fast forward a couple of decades and that baby, now fully grown, anxiously hovered over me one Christmas evening a couple of years ago. I was clearly in pain and it was more intense than any heartburn I'd ever felt before. It was on a whole new level that almost took my breath away. Surely this wasn't heartburn? It had to be something more serious…  
Well, some antacid medicine and a few years of being in fine fettle has assured me that it was indeed "just" heartburn. But I shall keep this in mind when I'm tempted to go in for extra helpings of those roast potatoes or a few extra pigs in blankets. 
Typical Symptoms Of Heartburn
While Christmas is a day for enjoying guilt-free treats – rich sauces, puddings and a glass or two of fizz. Overindulging obviously comes at a price. Leftover recipes are created for a reason . . .
Anyway, without wishing to put a dampener on the Christmas feast – a real highlight of the day for me – I think it's also good to be armed with some knowledge to avoid the gripping clutches of heartburn that could ruin a great day. And our health writer, Jackie Mitchell, caught up with Julie Thompson, Information Manager at Guts UK, to find out all about this very subject. And you can read all about it in our December 3 issue. Find out who is more at risk and what the typical symptoms are and how to relieve it.  
There are some lifestyle choices that can increase the risk of heartburn, too. And Julie also says it's helpful to avoid triggers such as fizzy drinks, spicy food and tomatoes, as well as food high in fats. 
You can get all our Health advice every week in The People's Friend. Available in most major supermarkets and newsagents, or order online. Get every issue delivered straight to your door by purchasing a subscription.
We Wish You A Healthy Christmas
You may be surprised to learn that stress can also be a trigger for heartburn. So our other great health feature in this bumper issue – 7 easy ways to improve festive stress – should come in handy. 
The NHS also has great advice: 
Eat smaller, more frequent meals

 

Raise the head end of your bed by 10 to 20cm, so your chest and head are above the level of your waist, which can stop stomach acid travelling up towards your throat

 

Don't eat food 3 to 4 hours before bed

 

Try to find ways to relax

 

Don't wear clothes that are tight around your waist

 
Personally, I'm going to add one more to my list – everything in moderation! So I may take a look at how to beat food cravings. And, don't forget, we wish you a heathy Christmas!