Editor's Diary: The People's Friend Wins Media Brand Of The Year
---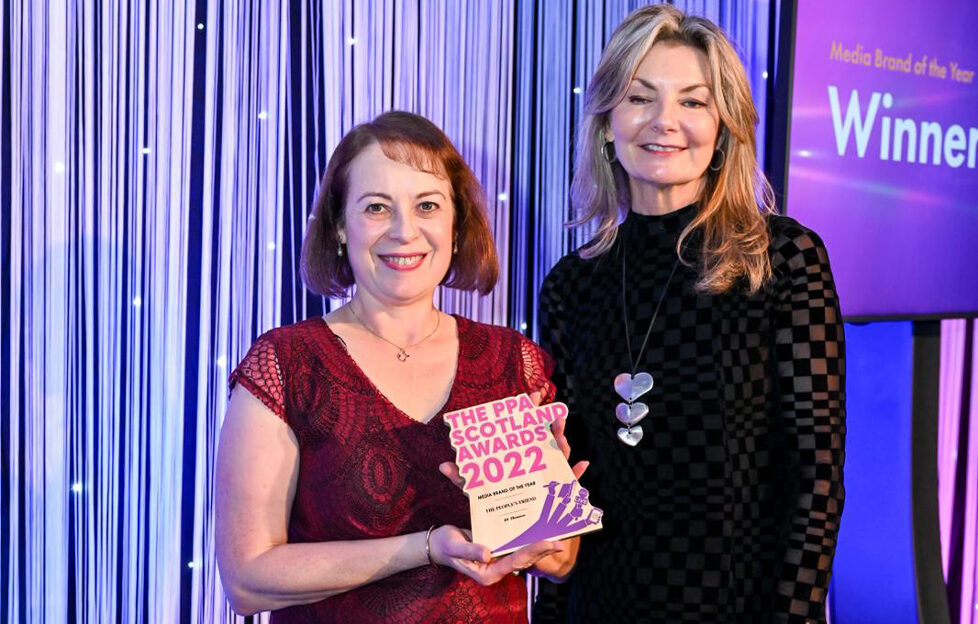 PPA Live/PPA Scotland.
Well, Editor's Diary readers, it's been quite a week!
You see, something very exciting happened.
The occasion was PPA Scotland's Magazine Awards 2022. This event is held annually by the Professional Publishers' Association and is always a glittering night out.
Magazine teams across Scotland spend weeks perfecting their entries and hoping to make it on to the shortlist.
Deciding which category to enter is always a hot topic in the "Friend" office! This year, we entered Media Brand of the Year.
The judges were looking for "a consumer or business media brand that demonstrates excellence in serving the needs of its target audience across multiple channels (print, online, face-to-face, events, broadcast, mobile, other digital offerings) . . . a brand that has shown outstanding innovation in responding to the changing dynamics of its market."
I knew we could make a very good case for meeting those criteria. So, with input from many of my helpful and knowledgeable colleagues, the entry was submitted.
A little later, the shortlist was announced. But not in our category! Instead, it was revealed only that the winner would be announced on the night.
What to do? Should I attend the awards ceremony or not?
I decided to go, of course!
Fever pitch!
And so, on Wednesday November 30 – St Andrew's Day – I put on my best frock and headed to the gorgeous Our Dynamic Earth visitor attraction in Edinburgh.
Several of my DC Thomson colleagues were there, and excitement was at fever pitch. Between us we had made many of the shortlists – but would we be taking home the awards?
Our host for the evening was comedian Jo Caulfield, and before any awards were announced, a delicious dinner was served.
Once the plates had been cleared, we got down to business.
And almost immediately, we were off to a flier! Wullie Marr from DC Thomson's "Press & Journal" and "Evening Express" scooped the award for Editorial Photograph of the Year. It was fantastic to see the first award make it back to our table.
A brace of awards for "Beano" followed – Event of the Year and Children's Magazine of the Year – and our lovely colleagues at "My Weekly" took home the Newsletter of the Year trophy.
Robert Wight, Editor of "The Scots Magazine", was a well-deserved winner of Editor of the Year and looked the part in his tartan suit.
By now, our category was drawing close. Could the "Friend" make it award number six?
Readers, I am very happy to say that we could!
Outstanding
Host Jo revealed that there had been no shortlist in this category because one entry had been outstanding. And the award went to . . . "The People's Friend"!
The judges said, "There was one outstanding winner in the Media Brand of the Year category. It perfectly met each of the five judging criteria points and has shown it has diversified into a multi-channel, multi-layer brand."
Wow! What a ringing endorsement of the team's hard work.
In a daze, I headed up on to the stage to receive the trophy and have my photo taken with Jo.
Every winner was allowed to say just four words after collecting their award. Mine were "Still breaking new ground."
It was a reference to the way the "Friend" continues to embrace the very latest in new technology without compromising the core values its readers hold so dear.
And that, I believe, is the secret to its longevity. As I said in the entry: Since first hitting the newsstand 153 years ago, we've reinvented ourselves time and again to stay relevant in an ever-changing world.
Receiving that award was a wonderful end to a fabulous evening.
I love going to events like this. The atmosphere in the room crackled with positivity as people clapped and cheered and congratulated each other on jobs well done.
Magazine publishing is going through tough times at the moment, so it was great to spend some time celebrating the many good things happening in the industry.
And let's hope there are many more of those to come in future!
---
Read Angela's previous Editor's Diary entries.