Features Sneak Peek: December 31, 2022 Issue
---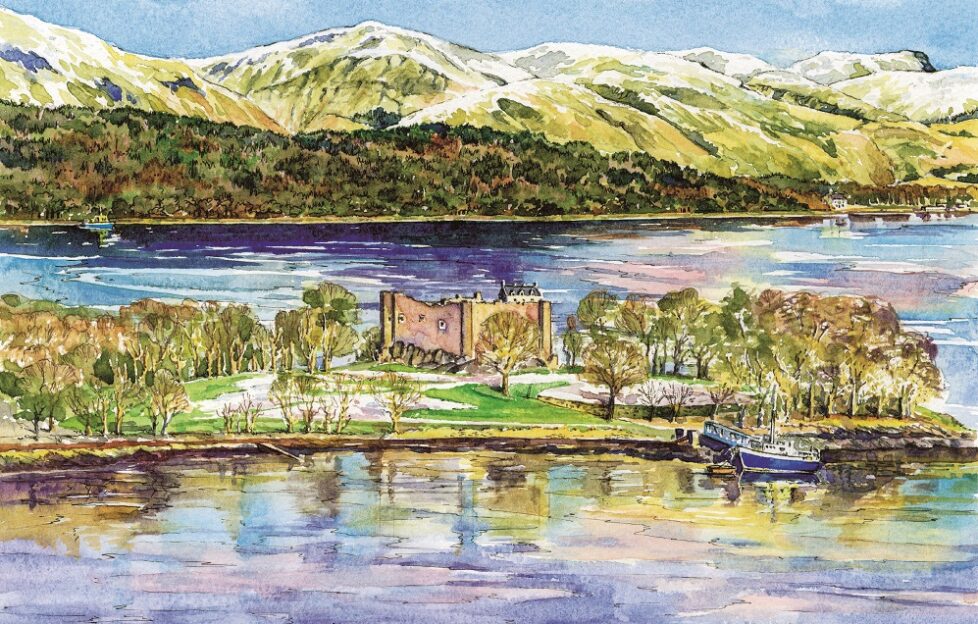 Illustration by DC Thomson Ltd.
Willie Shand makes his way from Ganavan to Dunstaffnage, one of Scotland's oldest stone built castles, in the December 31, 2022 issue of "The People's Friend".
We're in a beautiful part of the world here, as Willie wants to prove to us. To the west, the seaward views reach out to Kerrera, Mull and beyond Lismore to the hills of Morvern. Five miles away, we can see the lighthouse off the southern tip of Lismore. Along the rugged coastline, we pass several lovely pebble beaches backed by a line of high rocky cliffs.
Much of the rock in this part of Argyll is a conglomerate, or "pudding stone", formed with pebbles cemented together by nature , more than 400 million years ago.
There are plenty other stories from Argyll's history, as we'll find out on our visit with Willie. Read more in the magazine.
Canine Wisdom
For many people living alone, dogs provide a lifeline. They bring reason to get up in the morning, meaning you can't just pull the blankets over your head and stay in bed.
Hence it wasn't a surprise to see an increase in the desire to become a dog owner during the pandemic. Though this was a positive for many, it also led to problems.
Lots of puppies weren't properly socialised with other humans and dogs, and training was minimal. As owners returned to work, some dogs suffered from separation anxiety when left at home alone.
If you want to buy a dog this year, there are a few golden rules to help you make the right decision and avoid the misery of being conned, paying too much or buying a dog with health problems.
Polly Pullar welcomes in the New Year with these dog-friendly resolutions.
Postcard From The Past
There's something special about postcards. They sum up a fleeting moment in our lives, a specific point in time, and other people's are a glimpse into their past.
Tom Jackson has always known that postcards hold a special quality.
He set up a Twitter account dedicated to them. In the December 31, 2022 issue, Dawn Geddes finds out more.
The Bubble Foundation
They not only live their lives in a bubble, but their very being depends on it.
These tots, born without an immune system, need a bone marrow transplant to help them celebrate even their first birthday.
During the process, they must be kept in total isolation, nursed in a world of sterile air. It's a process that has proved remarkably successful, and brought blessed relief and sheer joy to so many families.
The charity that has been a source of vital support, the Bubble Foundation, is marking its milestone 30th anniversary this year.
Bill Gibb finds out more about the help provided by the charity.
Elsewhere, we have a collection of Hogmanay party snack recipes. Plus we have a knitting pattern to make a unisex jumper.
We hope you enjoy it. Let us know what you think.
Has this sneak peek at our December 31, 2022 issue encouraged you to subscribe to the "Friend"? Click here. If you do, your "Friend" will come straight to your doorstep! 
You can also take out a digital subscription, meaning your issue will come straight to your computer, tablet or phone! And it's great value for money. Click here for a sneak peek at that!