Welsh Vegetable Oggie (Pasty) Recipe For St David's Day
---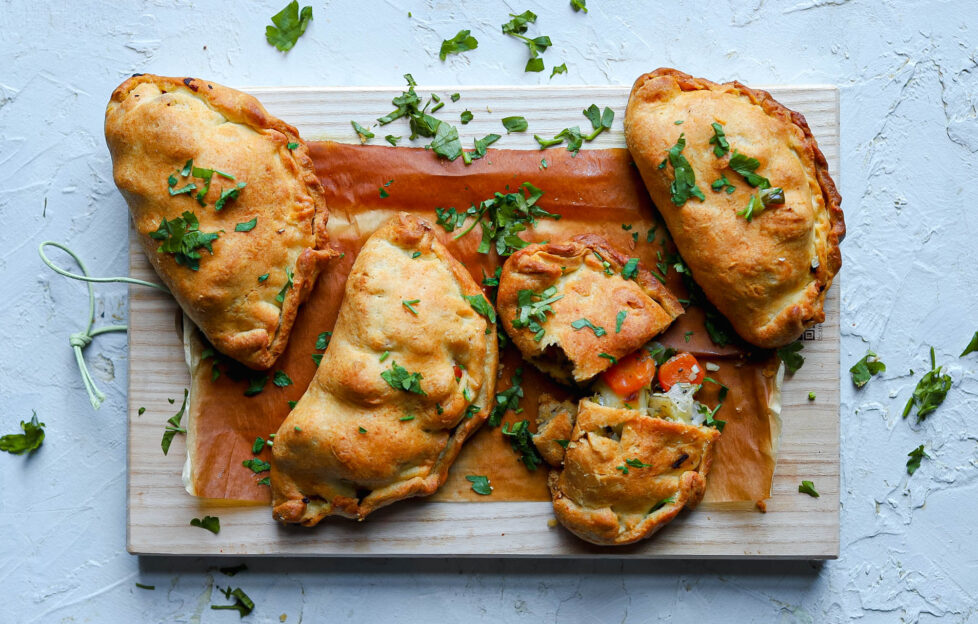 Courtesy of British Leeks.
Ingredients
1 sheet of shortcrust pastry
1 tbs tamari OR 1 tbs melted butter and a pinch of smoked paprika to coat pastry
For the Filling:
1 leek, diced finely
4 Maris Piper potatoes, cut into 3 cm (1¼ in) chunks
2 large carrots, chopped finely
1 tbs butter
3 cloves garlic
Salt and freshly ground black pepper, to taste
Handful of grated cheese for each pasty, optional
For the Herbs:
1 tsp dried rosemary
1 tsp dried thyme
½ tsp dried sage
Recipe and image courtesy of British Leeks.
To celebrate St. David's Day, we have a Welsh vegetable oggie (pasty) recipe from British Leeks for you to try with your friends or family.
Makes: 4.
Add the leeks, potatoes and carrots to a saucepan with the butter and garlic and sweat down on a medium heat for around 6 to 7 minutes before adding the dried herbs.
Stir the mix of vegetables through and season with salt and pepper then remove from the heat.
Pre-heat the oven to 200 deg. C., 400 deg. F., Gas Mark 6 and line a baking tray.
Prepare the pastry by rolling out on to the prepared baking tray. Divide into 4 squares then roughly cut a circle shape in each square.
Once the vegetable mixture has cooled slightly, add a good scoop to each circle, then fold the circle in half and twist the edges together to create a seal.
Using a pastry brush, coat the pastry with the tamari or a mix of melted butter and paprika. Then pop in the oven for 25 minutes, until nicely browned.
Send in yours!
Send in your Welsh oggie recipe attempts to peoplesfriend@dcthomson.co.uk and they could be featured in an issue of the magazine.
---
Get more yummy recipes from the "Friend".