Knitting A Cabled Sweater: Preview for April 22, 2023
---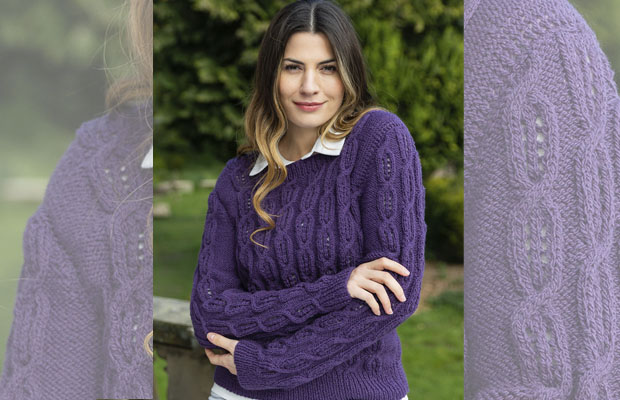 We have a cabled sweater for you this week.
---
Our lovely sweater features a cable pattern which provides texture and interest.
It comes in five sizes ranging from 81/86 cm (32/34 ins) to 122/127 cm (48/50 ins). Actual size is approx. 18/13 cm (7/5 ins) bigger, giving a comfortable fit with plenty of room to wear a layer underneath.
The sweater is worked in Rico Design Creative Soft Wool Aran. This yarn blends 25% virgin wool and 75% luxury acrylic to create softness. It is also machine washable.
We have used the shade Plum (031) but there are plenty of other colours to choose from if you prefer something else.
To find out more about the yarn or order direct, visit www.woolnstuff.co.uk.
Difficulty Level
We have graded this as an intermediate design. The pattern is worked over 22 stitches and 16 rows and features a selection of cable stitches so you will need a cable needle, too.
If you are uncertain, it is a good idea to practise working the cable panel before you begin the sweater.
This is a timeless design, popular with all ages. We hope it has you reaching for your knitting needles soon.
---
Get The Issue!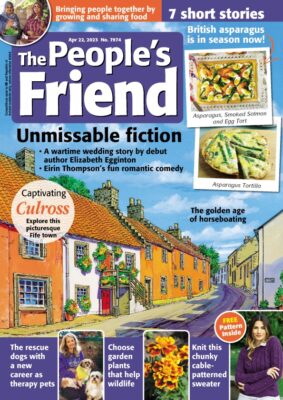 Find the full instructions for knitting this cabled sweater in our April 22, 2023 issue of "The People's Friend". On sale now! Available online or from most major supermarkets and newsagents. Or subscribe to the magazine to get every issue delivered straight to your door, making sure you never miss an issue. 
Get more craft ideas from the "Friend".