Knit A Coronation Keepsake: Preview for April 29, 2023
---
Photograhy: CliQQ Studios
We have fun Coronation makes for you this week.
---
Who could resist our lovely knitted royals?
Our knitted king and queen can be completed as models or you can pop them over Chocolate Oranges to create a tasty commemorative gift.
They are easy to make and a great way to use up odds and ends of yarn.
You will need a selection of DK yarns in Black, Beige, Grey, Purple, Blue, Orange, Light Blue, Red, Gold, Silver, Cream and Lemon, plus a fluffy White yarn.
You will also need 3.25 mm knitting needles, a sewing needle and toy stuffing. If you plan to add a sweet treat, then two Chocolate Oranges, too.
Difficulty Level
We have graded this royal pair as an easy knit. Everything is in basic knit and purl. The facial features and some of the ornamental trim are stitched using a large-eyed needle. We take you through all the steps required.
We think these are a fun way to commemorate the Coronation and a lovely gift for any age.
---
Get The Issue!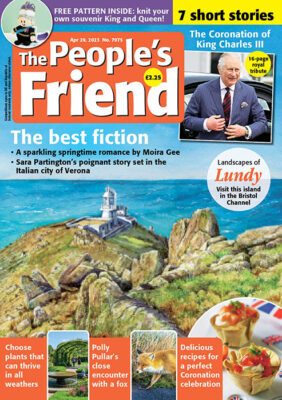 Find the full instructions for making these commemorative gifts in our April 29, 2023 issue of "The People's Friend". On sale now! Available online or from most major supermarkets and newsagents. Or subscribe to the magazine to get every issue delivered straight to your door! 
Get more craft ideas from the "Friend".