Knitting Preview: June 24, 2023 Issue
---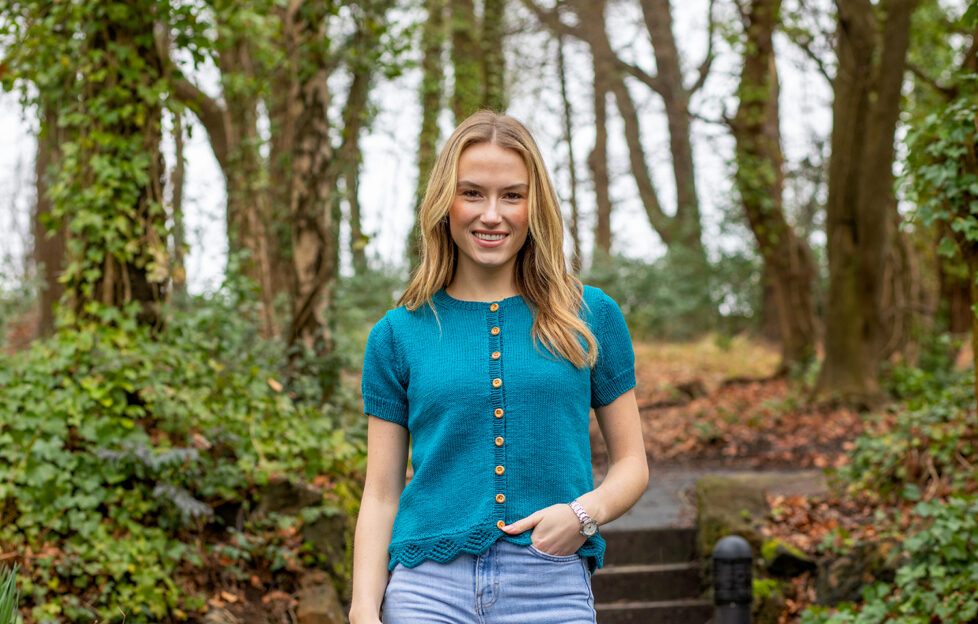 Photograph by Eve Conroy.
We have a pretty little summer cardigan for you this week. 
Our summer cardigan features a round neck, short sleeves and a lace border. 
The cardigan comes in eight sizes ranging from 81 cm (32 ins) to 117 cm (46 ins). Actual size is around 12 cm (4½ ins) bigger giving a comfortable fit. 
We have used Rico Essentials Merino DK in Dark Turquoise (030). This 100% Superwash Merino wool is soft to the touch and very comfortable to wear. 
There is a wide range of shades available and you can view them, and order direct, from www.laughinghens.com.  
In addition, you will need 9 – 11 buttons measuring 1.5 cm across. 
We have graded this cardigan as an intermediate knit.  
The lace border is worked first over 10 stitches. You then pick up stitches along the straight edge of the border and work the main body in one piece until the armholes when the fronts and back are worked one piece at a time.  
You then knit the sleeves separately, then the front bands and neckband are worked to complete the cardigan. Finally, sew the buttons in place. 
With the exception of the lace border, you work the cardigan in stocking-stitch (knit one row, purl one row). 
We think this is the perfect summer cardigan and hope you like it, too. 
---
Find the full knitting pattern for this summer cardigan in the June 24, 2023 issue of "The People's Friend". On sale this Wednesday!
In fact, we have a new knitting pattern in every issue of "The People's Friend" – don't miss out, subscribe to "The People's Friend" today.