Pea, Artichoke & Asparagus Tart
---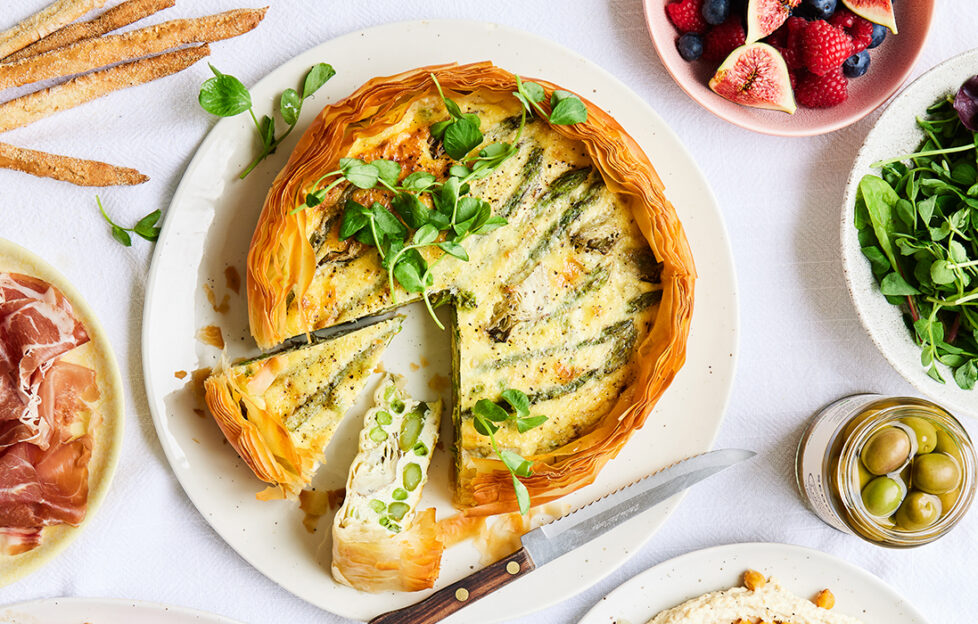 For the filling:
6 eggs
4tbsp crème fraîche
Salt and freshly-round pepper
2tbsp Lunaio Extra Virgin Olive Oil
2 shallots, halved lengthwise and sliced
125g asparagus tips
160g peas
4 Seggiano artichoke hearts, drained and quartered
10g grated parmesan
For the tart case:
30g butter, melted
2tbsp Lunaio Extra Virgin Olive Oil
250g pack filo
To serve:
Pea shoots
Lunaio Organic Lemon Oil
This melt-in-the-mouth tart by Seggiano is perfect for summer entertaining, with a crunchy filo pastry case and soft, delicious filling…
Serves: 8
Cooking time: 50min
Preheat the oven to 160ºC, Fan Oven 140ºC, Gas Mark 3 and place a baking tray inside to heat up.
Whisk together the eggs and crème fraîche until smooth, season with salt and pepper then set aside.
Heat the olive oil in a frying pan then cook the shallots over a low heat, stirring often, until softened and golden. Set aside to cool.
Meanwhile, blanch the asparagus and peas in a pan of boiling water for 2-3min then drain and tip into a bowl of iced water.
Now prepare the tart base. Stir together the melted butter and olive oil. Unwrap the filo pastry and lay between 2 damp tea towels to prevent it drying out as you work.
Brush a 20cm loose bottomed tin with the butter and oil mixture then lay a sheet of pastry into the tin, sticking it to the sides. Don't worry if it doesn't cover the whole surface, you can cover any gaps with the next sheet of pastry. Brush with more butter and oil then repeat the layers until you have used all of the pastry. Use scissors to trim the pastry into an even edge just above the tin. You may find it best to cut the pastry sheets in half to better fit your tin.
Stir the cooled shallots, peas and artichokes into the egg mixture then tip into the tart case. Lay the asparagus on top then sprinkle over the parmesan.
Slide the tin onto the hot baking tray in the oven and bake for 30min or until the filling is just set then leave to cool in the tin.
Serve with pea shoots and a drizzle of lemon oil.
---
Send in yours!
If you try this recipe, "The People's Friend" team would love to see your creation! You can send a photo to peoplesfriend@dcthomson.co.uk for a chance to be shared on social media or in the magazine!
Get the issue!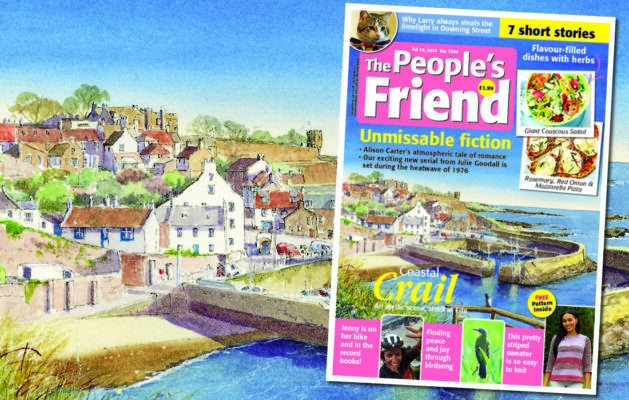 You'll find a whole spread of flavour-filled dishes made with herbs in the July 15 issue of the "Friend", on sale July 12. Available online or from most major supermarkets and newsagents. Or, to make sure you never miss our delicious recipes, you can subscribe to get every issue delivered straight to your door each week.
Check out our Cookery section for more recipes.