British Tomato Tarte Tatin
---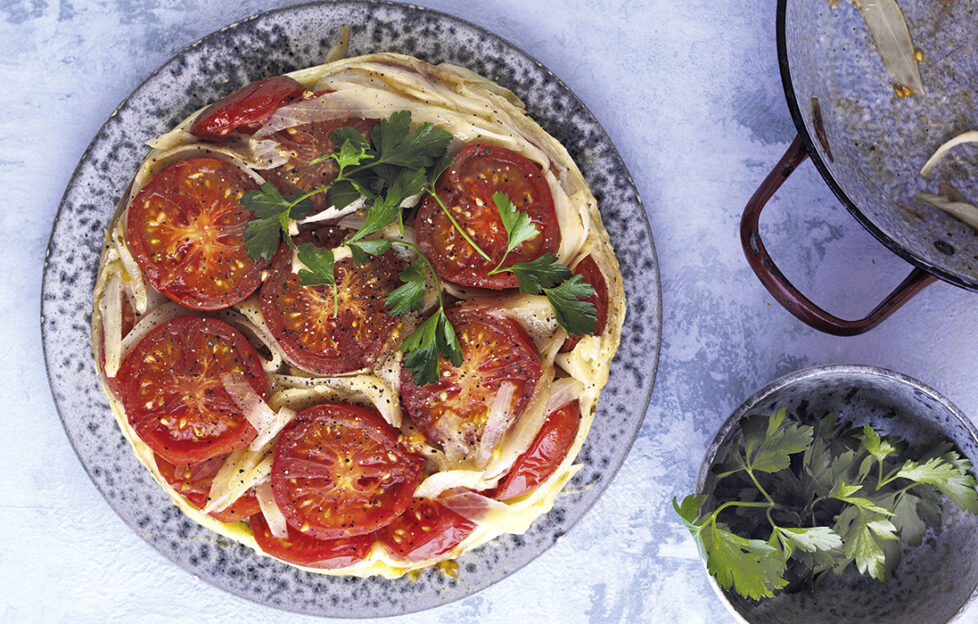 Ingredients:
12 large British vine tomatoes
30g plant-based butter
1 large onion, sliced
1tsp caster sugar
Salt and freshly-ground black pepper
500g pack vegan ready-to-roll puff pastry
A little flour, for sprinkling
2tbsp vegan pesto sauce
Basil or thyme leaves, to garnish
The British Tomato Growers' Association
This sensational savoury tarte is made with caramelised onions and fresh British vine tomatoes.
Serves: 4-6   
Preparation time: 25min     
Cooking time: 25min
Suitable for vegetarians
Preheat the oven to 210°C, Fan Oven 190°C, Gas Mark 7. Halve the British tomatoes and set to one side.
Melt the butter in a frying pan or cast iron sauté pan (about 23cm in diameter) with a heatproof handle that will withstand oven temperatures. Fry the onions gently until soft – about 10min. Add the caster sugar and cook for another few minutes until caramelised. Remove the pan from the heat.
Arrange the tomatoes in the frying pan, cut sides down, packing them in closely. Season with salt and pepper.
Roll out the pastry on a lightly floured surface to a circle a little larger than the frying pan. Trim with a sharp knife to make a neat circle. Spread the pesto sauce on top, to within 2cm of the edge. Put the pastry on top of the frying pan, pesto sauce side down. Tuck the edges down the sides of the pan.
Bake for 22-25min, until risen and golden. Cool in the pan for 10-15min. Place a serving plate on top, hold tightly, then invert and remove the pan to reveal the tarte. Serve, garnished with basil or thyme (or both!).
Cook's tip: You could use any puff pastry, butter and pesto sauce if you don't require a vegan tarte.
---
Send in yours!
If you try this recipe, "The People's Friend" team would love to see your creation! You can send a photo to peoplesfriend@dcthomson.co.uk for a chance to be shared on social media or in the magazine!