Fiction Ed's Blog: "Friend" Authors Who Are Novelists
---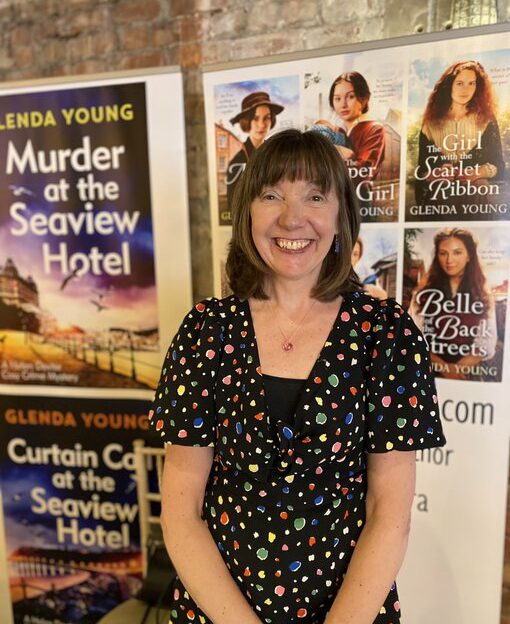 Pic: Glenda Young
Two weeks ago, we looked at some "Friend" authors from earlier times, who were also novelists.
Three present-day "Friend" authors who are published novelists tell us about their journey into writing books – beginning with Glenda Young (above).
Glenda Young
"The People's Friend" has changed my life and I'm now living my childhood dream of being a bestselling author!
After being invited to write weekly soap opera Riverside in 2016, I was snapped up by a literary agent and had three publishers fighting over my debut novel, the gritty historical saga, Belle of the Back Streets. I'm still pinching myself!
As well as family sagas, I also write cosy crimes set in Scarborough. These were shortlisted with Val McDermid and Richard Osman in the Dead Good Readers' Awards for Best New Crime Series.
Thank you to "The People's Friend", a magazine I am hugely proud to write for.
Glenda's website is http://glendayoungbooks.com
Information on Glenda's support package for new authors here.
Eirin Thompson
I love writing short stories for "The People's Friend", weaving tales of female friendship, families and fun.
The "Friend" taught me how to write dialogue, of which I had previously been wary.
Feeling confident in that and gaining experience of writing for the mature reader were key components in deciding to attempt a slightly darker full-length suspense novel with a main character in her fifties.
"I Know I Saw Her" was the result, followed by "Closing In" (with author name E.D. Thompson).
I hope to continue writing for "TPF" and I have completed a further suspense novel.
Best of luck if you decide to go for it!
Angela Petch
Next to family, writing is my passion.
I love using my imagination to create stories. To see my work printed in "The People's Friend" and working with an editor, gave me huge confidence. I see the whole experience as a series of stepping stones.
Over the last four years, I have been working with Bookouture and we've launched six books together. Receiving positive feedback from readers is so encouraging.
Recently, I decided to step back on to my stepping stones to restore my creative energy. Writing a book a year can be hard work.
But I can never stop writing stories.