Sticky Chicken Rice Bowls
---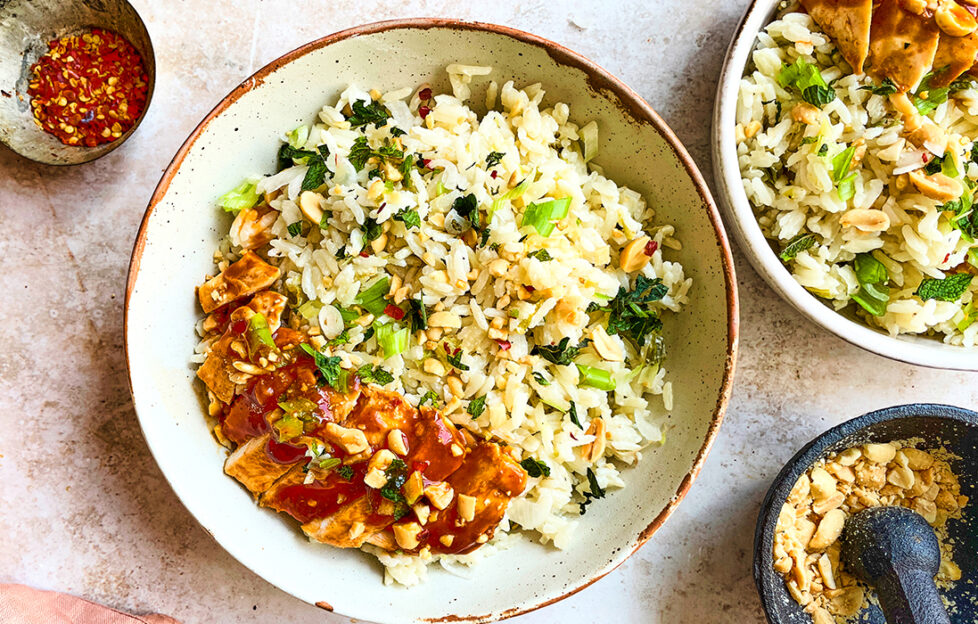 For the rice:
6 spring onions chopped (90g)
1tbsp coconut oil or olive oil
200g Jasmine rice
400ml coconut light milk
200ml water
Salt and freshly-ground black pepper
For the dressing:
1tbsp maple syrup
1tsp brown rice miso
1tbsp soy sauce
1tbsp rice vinegar
1tbsp sriracha
1tbsp toasted sesame oil
For the chicken:
2 chicken breasts, skin removed
1tbsp olive oil
To serve:
2tbsp crushed roasted peanuts
Handful of coriander/mint
1 spring onion, sliced
It's National Rice Week (September 11-17) and this ingredient is one of the few foods that can be enjoyed sweet or savoury. This tangy main course from The Rice Association is so full of flavour, and it can be made with fish, tofu or vegetable instead of chicken, if preferred.
Serves: 4
Preparation time: 10min
Cooking time: 20min
To make the rice, fry the spring onion in a large pan with the oil.
Now add the rice, coconut milk and water.
Stir then cover pan with lid and simmer until the liquid is absorbed (12-14min).
Once the liquid is absorbed, turn off the heat keeping the lid on the rice for 10min.
Season to taste.
For the dressing, add all the ingredients to a jar and mix to combine.
To cook the chicken, preheat the oven to 200°C, Fan Oven 180°C, Gas Mark 4.
Score the chicken breasts and heat the oil in a griddle or frying pan. Cook the chicken for 7-8min on one side, then flip and cook for 4-5min.
Transfer the chicken to a large baking tray and spoon over the dressing.
Bake for 5min until they are bubbling.
To serve, spoon the coconut rice into bowls, top with the chicken and all the garnishes.
Cook's tip: You can swap the chicken for salmon, tofu or aubergine.
---
Pick up this week's issue of "The People's Friend" for fabulously uncomplicated recipes with fantastic flavours – a real treat for the whole family!