Cheesy Pumpkin Soup
---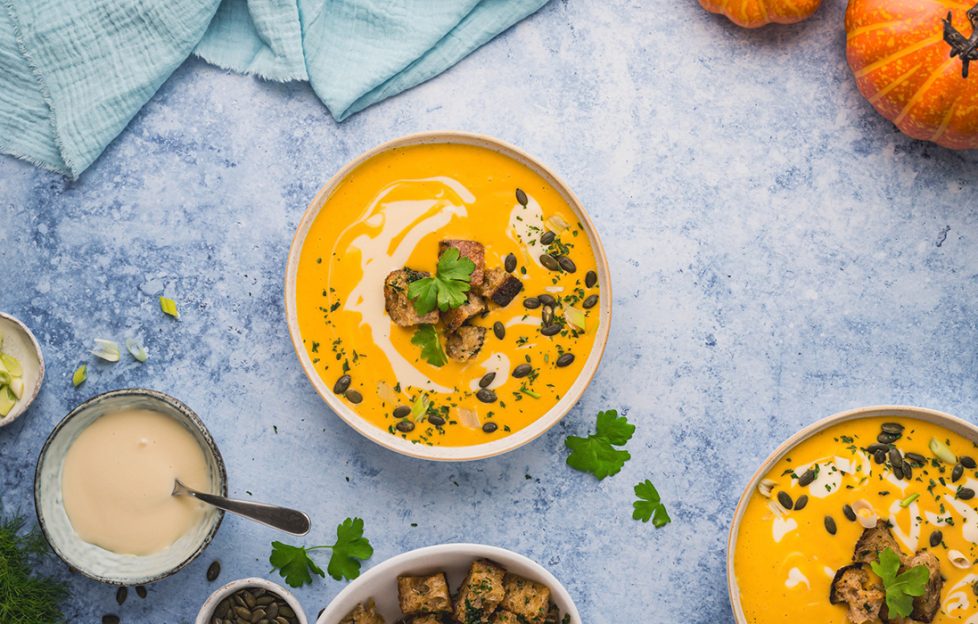 Ingredients:
2tbsp olive oil
1½ white onions, diced
1 carrot, sliced
1 potato, diced
500g pumpkin, diced
½tsp brown sugar
Pinch nutmeg
¼tsp cumin
1tsp smoked paprika
Pinch turmeric
500ml vegetable stock
1 bay leaf
180g bread, cut into cubes
80ml olive oil
2 garlic cloves
1tbsp fresh parsley, chopped
Salt and freshly-ground black pepper
2 Primula Light Cheese tubes
1tbsp pumpkin seeds (shop-bought or homemade)
Coriander, chopped
1tbsp spring onion, chopped
Primula
Served with homemade croutons, it's the ultimate comfort food with a creamy twist! If you're carving up a Halloween pumpkin with the kids or grandkids, it's a great way to use up any leftovers…
Serves: 4
Cooking time: 1hr
Preparation time: 15min
Add 2tbsp of olive oil to a large kitchen pot over a medium heat. Add the onion, carrot, potato, and pumpkin and cook for 2-3min.
Season with brown sugar, nutmeg, cumin, smoked paprika and turmeric. Cook the vegetables for another 3-4min, stirring occasionally, until they soften and brown.
Pour the stock over the vegetables. Add the bay leaf and bring to a boil. Reduce the heat to a simmer and cook for 30-40min.
Meanwhile, preheat the oven to 200°C, Fan Oven 180°C, Gas Mark 4. Place the bread cubes in a large bowl and set aside.
Heat the olive oil and garlic in a small saucepan over medium heat until the garlic turns golden and becomes fragrant for about 4-5min. Be careful the garlic doesn't burn, or it will change the taste. Remove the garlic from the oil.
To make the croutons, drizzle the oil over the bread cubes and toss to coat. Scatter onto a rimmed baking sheet and bake for 10min in the oven or until golden, flipping occasionally. Remove from the oven and add back to the bowl. Toss with the parsley, season to taste and set aside to cool.
When the vegetables are cooked, season to taste, take the pot off the heat and blend the soup until smooth.
Return the blended soup to the pan, and simmer over a medium heat. Stir in one tube of Primula Light Cheese. Warm for 2-3min, then serve hot.
Garnish the soup with homemade croutons, pumpkin seeds, coriander, spring onion and Primula Light Cheese for extra cheesy goodness.
---
Send it in!
If you try our soup recipe, take a pic as "The People's Friend" team would love to see your creation. You can send it to peoplesfriend@dcthomson.co.uk for a chance to be shared on social media or in the magazine!
Check out our Cookery section for more recipes.