11 Ladysmile Lane – Episode 03
---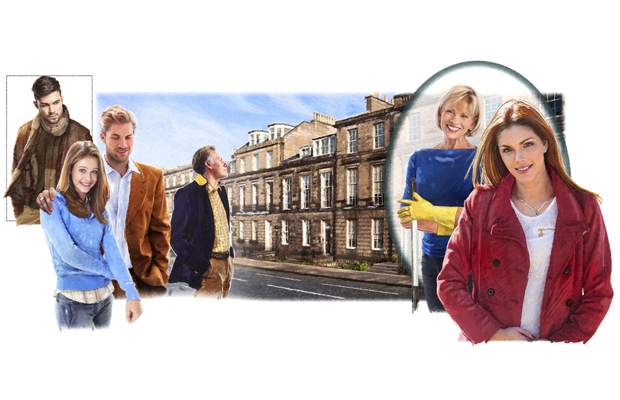 Illustrated by Mandy Dixon.
This time it wasn't Mel he was berating, Georgia was pleased to note. A dog, a bit like an Old English sheepdog only a lot smaller, had seized the dainty handles of the little carrier in its mouth and was now running off with it.
"That's my lunch! A salami and caramelised red onion sandwich, with wholegrain mustard, on their special seeded bread!"
Brett broke off his lament to turn to a woman who'd arrived on the scene and appeared to be the dog's owner. She wore about three rings on every finger, it seemed to Georgia.
Partway through a heated exchange with her – for the woman was every bit as excitable as Brett – he noticed Georgia.
"Our new landlady, I assume! Look, will you tell her not to bring that animal to the office? It's a menace – I can't work for it barking! Oh, and there's something else. I need some extra power points fitted for my lighting, so do I pay for them, or do you? I seem to have lost my copy of the lease."
"Assuming you ever had one," the woman interrupted. "That agent never gave me one, though I kept asking. Legally, we should have copies."
Georgia looked from one to the other, suddenly feeling overwhelmed. After all, she'd only had about four hours' sleep!
"Come on," Mel intervened. "Let Georgia get settled in before bombarding her with problems!"
Georgia smiled.
"That's OK. I'm waiting for all the paperwork from the agent. They're sending it round, so if you give me just a couple of days, I'll get everything sorted out."
To her relief, Brett and the woman seemed to accept this, if reluctantly, and they flounced out.
"Thanks," she said to Mel.
"I should have known it would be his cheese," Mel confided. "He's somewhat of a gourmet. Obsessed with food."
"How does he keep so thin?"
Mel shook her head.
"I haven't a clue."
"And the woman with the dog?"
"Eloise. She's into alternative stuff. Casts horoscopes and does feng shui which she once explained to me, but I didn't really get it. It seemed to be about arranging your furniture to bring good fortune, peace and tranquillity to your household."
"Peace and tranquillity! Has she ever tried doing it here?" Georgia said and they both started laughing.
"What's so funny?"
Another man had now come in, accompanied by Amy's dad, who, Georgia remembered, was called Alex. The two men were about the same age.
"Just this place," Mel told him.
She formally introduced Georgia to both Alex and the other chap, who turned out to be called Harrison. Neither man stayed long or said much, beyond Harrison arranging to call in on Alex shortly to sign the accounts Alex had prepared for him.
This was, after all, an office building, where people came to work, Georgia reminded herself. Saying goodbye to Mel, she hurried along to her own room, which she'd still to sort out.
Harrison and Alex, at least, seemed nice and normal, she reflected as she went along the corridor. Mel was a treasure and Amy, making for the main door just ahead of her, was sweet.
But Georgia was starting to understand her grandad's "too much hassle" comment. There were other tenants she hadn't yet met who might be even odder than Brett and Eloise!
The building at 11, Ladysmile Lane would clearly be a challenge. Was she going to be up to it?