11 Ladysmile Lane – Episode 09
---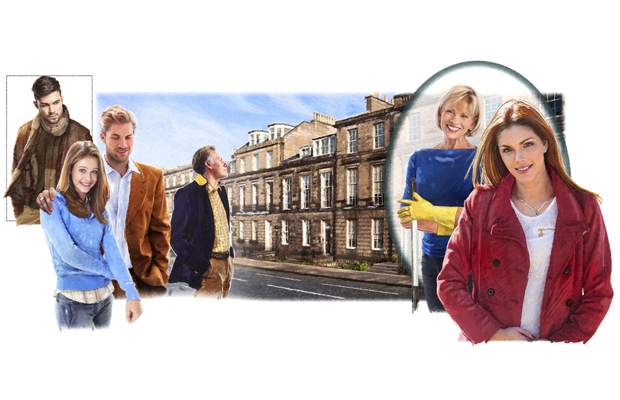 Illustrated by Mandy Dixon.
As Georgia put the phone down, she remembered something her gran had said to her: "Sometimes things go wrong, Georgie."
It had been her much-missed grandmother who'd given her the tomboy nickname that her grandad still used to this day.
"But if you look at things the right way, often you can find an unexpected plus side," she had finished.
Losing the big block booking for the Spanish lessons that would have been such a good start for her new enterprise was a real blow. But on the plus side, it gave her an insight into how to handle 11, Ladysmile Lane.
She laughed. It was actually there, in the name. Smile!
Even at this early stage, there was no doubt some of the tenants of the offices were going to be infuriating, to say the least. But the answer was, she was sure, just not to take any of it too seriously. She should just refuse to let it get to her.
It wasn't as though everyone she'd met so far was annoying. Alex, the accountant at the back, seemed nice, and his daughter, Amy, who popped in on her way to school, was very sweet.
Mel had already proved to be a love. And the other chap, Harrison, seemed fine, too.
Glancing at that moment out the window of the large room that she was using as an office, Georgia smiled. For there they were, the pair she'd just been thinking about, standing beside Mel's van.
She'd heard them leave together when she'd been on the phone and now remembered Mel saying Harrison's car was in for its MOT and she was giving him a lift somewhere.
Seeming to know she was watching – well, he was a private investigator, so presumably he missed nothing! – Harrison looked Georgia's way. She gave him a wave, which he returned.
But Mel, with whom she'd thought she had got along well, didn't respond. Her eyes never left the face of a boy, maybe in his late teens, who was standing with them. Who was he?
Something about Mel's face made Georgia hope nothing was wrong.
* * * *
In his late teens; a bit down at heel.
Harrison, by long habit, mentally noted his immediate impressions of the lad who had stopped Mel.
Anorak definitely on the shabby side, but clean.
So he was doing his best, and his tone as he now spoke to Mel was well-mannered and respectful.
"I noticed what you do." The boy pointed at the side of her van. "I just wondered if you needed more staff? I'm looking for a job, you see," he added.
Mel failed to reply and Harrison was reminded of how she'd been in the kitchen earlier – as though she was lost somewhere. But then she collected herself.
"No, I happen to be fully staffed at present, I'm afraid."
"I'm sorry to have bothered you, then," the lad said, disappointment apparent in his voice. "Thank you anyway."
With a polite nod in Harrison's direction, he turned and walked slowly up Ladysmile Lane, putting up his anorak hood against the rain that was again starting to fall.
Harrison was turning up the collar of his leather jerkin when suddenly Mel called out.
"Wait! What's your name?"
"Ewan," the lad said.
"OK, Ewan. I'm in a hurry at the moment, but if you call at my premises…" she pointed to the address on the side of the van "…tomorrow morning, say half past nine, I may have a few hours for you. That's all it will be, though."
"Really? Oh, thank you!"
Harrison smiled at Ewan's obvious delight. Mel explained that Ewan should look for a garage.
"It's my brother-in-law's – my office is in the little building at the back. And don't be late, mind."
Harrison turned to Mel as they both got into the van and set off.
"I think you can rest assured he'll be on time – if not early!"
"Well, I like to give young people a helping hand if I can. Life isn't always… easy for them."
"Indeed not."
Harrison nodded, but his thoughts were on what she'd said when she'd stood at the kitchen window. She'd seen someone who'd reminded her of someone…
Instinct told him not to pursue it, and he asked her instead about her brother-in-law's garage, cars and MOTs being on his mind. From what he had gathered, his bill was going to be scary. Thank heavens for this new job he was going to see Ruth about!