11 Ladysmile Lane – Episode 56
---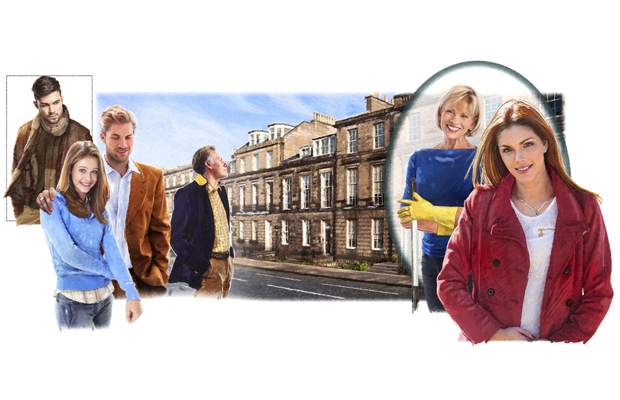 Illustrated by Mandy Dixon.
"You know him?" Georgia looked at Mel in amazement. "You know Neil, who wants to buy Number Eleven from me?"
"Yes. He was a customer of mine – briefly!" Mel had sat down and was frowning, thinking back. "It was that first day you turned up here, Georgia. I got a call from Sandra, one of my best employees, saying that the boss of the company where she was working was being extremely unpleasant to her. I heard him myself, in the background, yelling at her while we were talking.
"I went round there and he was just horrible." She paused for a moment. "Maybe I shouldn't be saying this to you, Georgia, if –"
"No, please, Mel," Georgia insisted. "I want to know."
"OK. Actually, there isn't that much more. When I first met him to discuss taking his contract on, he was very charming in his flash suit and I thought, here's a genuinely nice guy. But, in fact, he was the worst I have ever had to deal with, by a long way. I know someone from the firm who took on the job once I told him to find someone else – I wasn't about to send any more of my staff there – and the new firm only stuck it out for two days!"
"I see." Georgia had sat down now, too, feeling weak-kneed. But there was more to come.
"His fiancée," Mel resumed, "who's in the business with him, is quite nice, however."
Georgia felt her mouth drop open. His fiancée? But Neil had clearly been hoping for a relationship of a romantic nature with her! Hadn't he?
"I bumped into her yesterday in town and she stopped and had a word with me. She said they'd just come back from holiday." Mel suddenly smiled. "Of course she looked as glamorous as ever! But those shoes she wears – they've all got at least six-inch-high heels. I don't know how she walks in them!"
"It's no problem if you're on a main road," Amy said, joining them inthe kitchen.
Although Georgia had been expecting Amy after school for the final fitting of the dress, she'd been too shaken by what Mel had just said to have noticed her arrival.
How Amy knew anything about walking in high heels, Georgia now reflected, she had no idea, since Amy seemed always to be in trainer-type footwear. Oh, to be in your teens again and an expert on everything!
"Yes, you're fine when you are walking on a level surface," Amy continued knowledgeably, "but I do remember seeing someone in shoes that high scrambling down the canal bank recently. This pair was daffodil yellow. She was falling everywhere! The man with her was in a very smart suit, and he was slipping around, too."
"This woman I'm talking about," Mel said, "her shoes are all different colours, too. Yellow, like you say, purple, green, pink, bright blue. And her fiancé is always immaculate. Maybe it was Neil and his fiancée that you saw. I don't know what they'd be doing along the canal, though. No-one goes there much, now all the mills are closed."
Ewan had come in as Mel was speaking.
"Maybe no-one goes there now, but everyone will soon!"