11 Ladysmile Lane – Episode 53
---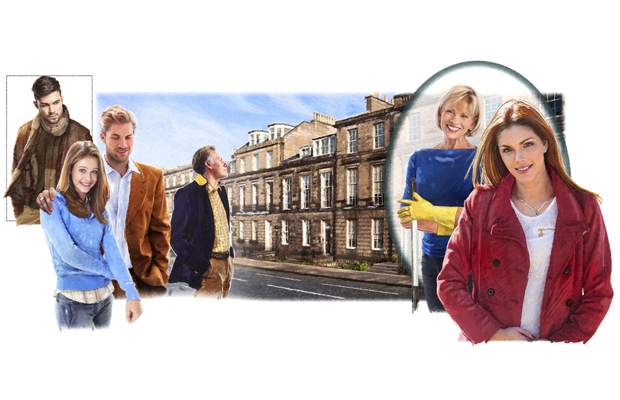 Illustrated by Mandy Dixon.
"There you are."
"Thanks, Jed." Harrison picked up one of the two glasses of beer that his companion had put, along with a couple of bags of crisps, on the table outside the Station Hotel.
It was a popular local venue in the good weather, with a pretty garden – though maybe not quite up to the standard of the one they now had outside Number 11. He smiled to himself.
"Cheers." Jed raised his glass and laughed. "Like old times this, isn't it?"
Harrison nodded. Normally he avoided seeing any of his old contacts from when he was in the police force. But he'd needed help with the situation at Mel's brother-in-law's garage.
He'd agreed to have a pint with Jed – his old boss – and he'd turned down many such invitations in the past.
But this time he'd said yes, partly because he knew Jed was soon to retire and he and his wife were planning to move away to live nearer their only daughter.
Partly, that was why he'd come along. But Harrison was aware there was something else, too. A different way of thinking about himself these days.
They talked generally for a while, then Jed said, "I bumped into that solicitor, Ruth, at the station the other day. Says she often sees you."
"Yes, she passes quite a lot of work on to me."
Harrison kept his voice casual. But he was aware that whilst most people seemed to accept what he said at face value, Jed might be a different kettle of fish. As he knew what people often said about him, Jed missed nothing.
Harrison smiled. Jed had taught him everything he knew. Suddenly he realised that, although he'd resisted doing so for a very long time, he was pleased to see him again.
"Got a lot of time for Ruth, I have," Jed continued. "So, your little enterprise is going OK?"
"It does me." Harrison paused a moment, then spoke. "Better than that, actually – I've got staff now!" He pulled a face as he said it, still in a way surprised about this himself.
"I'm glad it's working for you, I really am. I was sorry when you left. We all were. It wasn't your fault, you know, that that court case collapsed. No-one could have worked harder on it than you."
Harrison smiled. How often had he heard that? As the saying went, if he had a pound for each time, he would be a rich man now – which he most certainly was not.
This time, though – and he realised it immediately – this time it was different. This time, for the first time, he believed it.
He suddenly felt enormously happy. And there was no way it was because of the – he looked at his glass – less than half a pint of very weak beer he'd had.
He hadn't let anyone down in the case that had gone all wrong. He could stop torturing himself about that. He had done his very, very best and he thought Jed was right – no-one could have achieved a better outcome.
They talked a while longer, mostly about Jed's impending retirement and plans for the future. Then, with shaking of hands and patting of backs and promises to keep in touch, Jed set off towards the town centre and Harrison back to Ladysmile Lane.
Or that was what he started doing. Not far along he did an about-turn and also made towards the town.
He was going to do it – he was going to tell Ruth how he felt about her.
"And no chickening out this time," he told himself firmly.