A Croatian Adventure – Episode 02
---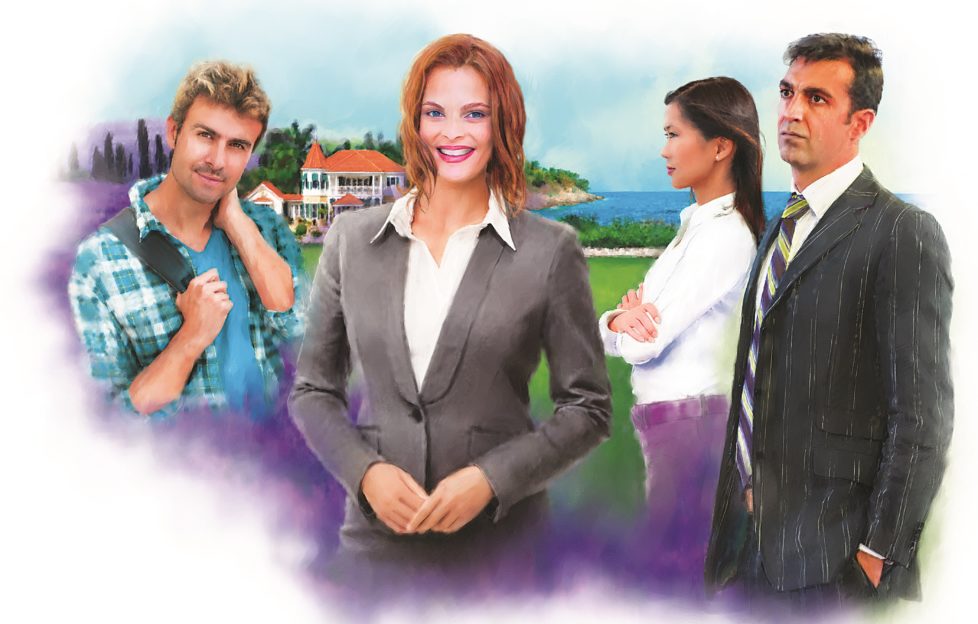 Illustration by Helen Welsh.
Mel's breath caught as she remembered the wonderful Italian policeman who had wanted to marry her, but who she'd had to turn down.
"Yes, but the time wasn't right, Caroline. We all have to move on."
Caroline hastily changed the subject.
"Let's hope this job is right for you. I know you'll love being around a baby again. When is Mrs Yurcich out of hospital?"
Maksimilijan's young Japanese wife was called Hiroko. Mel suspected that she was delicate.
He had asked Mel to call him Makso during the interview over Skype. He had revealed that his wife had experienced a difficult pregnancy and a traumatic birth. But mother and baby boy were doing well.
During the interview, Mel had found Makso to be firm, a man in a hurry. He was fiercely protective of his baby boy and wife.
From the little Mel had seen of him, she guessed she would not like to be on the wrong side of Makso Yurcich.
She thought again of her chat with Caroline.
"Mrs Yurcich is out of hospital, but having to take bed rest. I know it's tough, my going away, but I need to make a new start." Mel smiled to think of Cesare.
She hadn't been able to accept his proposal of marriage as she wasn't ready to settle down. But maybe this trip and a new job would help her forget.
Mel bit her finger as the taxi stopped at the front door. This trip was important to her.
She'd had to turn Cesare down. Not because he wasn't kind, generous or startlingly good looking – he was all that and more – but because it was his wish to settle and start a family right away.
For Mel, meeting a man like Cesare was something she had dreaded. Fate could be cruel. To know you would fail a man like that was awful to contemplate.
She hadn't told Cesare what put her off marriage, as it was too painful. Especially when all Mel wanted was children of her own.
At sixteen, the consultant had told her that her treatment for childhood leukaemia had rendered her infertile. The bombshell rocked her to the core.
Looking after other people's children was the closest Mel would get to having her own.
Mel pictured Caroline and her fiancé, Antonio. They were to be married shortly in the enchanting seaside resort of Sorrento – Antonio's childhood home.
Caroline had confessed to Mel that one of the first things she wanted was a baby. Mel would give up all the riches on earth to have a child with Cesare.
She shook herself from her reverie. He must forget her and find a good Italian woman who could produce lots of bambini. She must knuckle down to the job in hand and enjoy life. This adventure would make her forget.
*  *  *  *
Cesare walked up the Girasole's steps carrying the panettone with dark chocolate filling he had baked that morning.
He was drawn to Antonio's hotel like a moth to a flame. It was all he had left of Mel. She was even more on his mind since she had left. Had he been too direct for her?
"Cesare!" Antonio grasped him in a bear hug.
"Careful, this took me hours to bake. It is a gift."
"Come, have coffee." Antonio led him to where Caroline sat by the pool. Ever busy, she was sorting invoices in date order.
"Cesare." She pecked him on the cheek. "Can I pour you an espresso?"
As she cut the cake, chocolate sauce oozed.
"I was wondering . . ." Cesare began, licking his lips. "Have you heard from Mel?"
"Not since you asked yesterday." Caroline smiled.
"Mi dispiace. I worry for her. Do you think she is OK?"
Caroline placed her hand on the back of his.
"I think she'll be fine. But she misses you."
"She does?" A bud of hope opened at her words.
"She told me so." Caroline refilled his cup.
"Maybe I should write. I thought she did not wish me to be in contact."
"Not at all, Cesare. I can't tell you why she left, but I do know she'd love to hear from you. Antonio and I shall be visiting her soon. Maybe you might consider popping over with us?"
He was being thrown a lifeline. Antonio looked at him, nodding approval. All was not lost.
"Only if she wants," Cesare said, but his heart was lighter.
He picked up a second slice of panettone and ate it with gusto. Today was turning out to be a good one.