A Croatian Adventure – Episode 18
---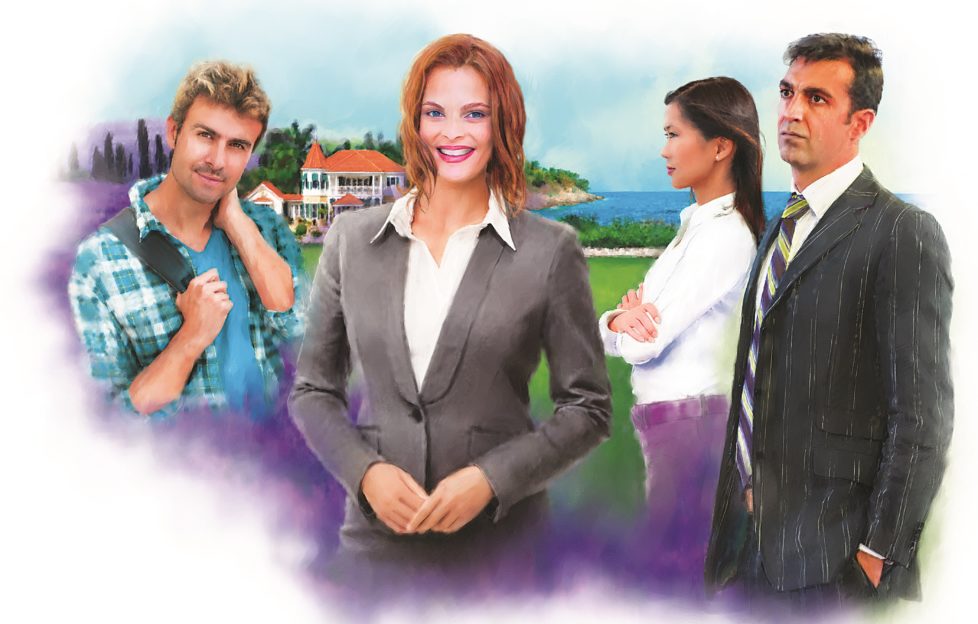 Illustration by Helen Welsh.
She felt her pulse quicken. Surely it was too soon after Cesare and she had split up. She hesitated, not knowing what to say.
"Hey, no pressure!" He laughed. "It's just it would be nice to have you along to do some sightseeing with. It's a beautiful country, but it's not much fun sightseeing on your own.
"Have you been to Pula yet? There's a wonderful amphitheatre and a great market. We could go tomorrow after lunch, then stay on for supper." He leaned down and plucked a sprig of rosemary, crushing it for the scent and waiting patiently for her answer.
The rosemary was intoxicating, the air still and heavy. Music wafted down through the pine trees, the murmur of voices was low and distant.
Mel thought for a moment.
"I've been given the day off tomorrow. Makso and Hiroko are taking the baby to visit his parents. I would love to join you."
As they walked up back to the garden, she turned to look at the sea.
"Ryan, I saw something earlier . . . I just wondered."
"Hmm?"
"Do you know anything about that bay where Makso moors his yacht by the trulli houses? It's just there was something going on earlier."
"Like what?"
"That's just it, I don't know. But there were lights and a couple of boats and people loading things on and off. Why would people be doing that in the dark?"
"Could be fishermen."
"They didn't look like fishing boats. They were too smart and modern, and anyway, why would they be landing fish there? Somewhere there isn't even a proper road, just a dirt track. Surely they'd be unloading stuff in a harbour next to the market and shops."
He stopped and gave her a concentrated stare.
"This is clearly worrying you. Do you think someone's up to no good?"
Mel's head swirled. That was exactly what she'd thought, though she didn't like to gossip.
"There's another thing. I had a note thrown on to my balcony."
Ryan stopped in his tracks. He suddenly looked serious; all his usual softness had hardened.
"Go on."
"It's probably nothing. But it said, 'Please help me'."
He rubbed his chin.
"Do you still have it?"
"Yes, but not on me."
"When we go to Pula tomorrow, bring it with you. I'd like to see it."
*  *  *  *
Back at the house, everyone was saying their goodbyes. Makso looked pleased, a broad smile across his face. When the house was finally cleared of guests, he closed the door and turned to Mel.
"Well, that was a very successful evening. I have taken a number of orders and an excellent one in particular from Ryan Peacock. I was surprised to see you know him."
"I don't really. We simply got chatting at the café in Vodnjan. It's a small place. We hit it off immediately."
"Well, you did excellently. I am pleased."
You could have knocked Mel over with a feather. This was praise indeed from a hard man.
"Thank you. I'm tired so I think I'll turn in now." Then she remembered. "Is Hiroko OK?"
In a moment, his good nature dissolved.
"Of course. Do not worry about her. She doesn't get out enough, so a day at my parents' tomorrow will do her good."
With that he turned and left Mel to wonder whether that would be the case.
The next morning, Mel was at a loose end. All her paperwork was up to date and with Makso, Hiroko and baby Ivo having made an early start, the house was eerily quiet.
The last thing Mel wanted was to stick around to bump into Greg Brodie. She needed some exercise after the heavy meal the night before, so decided to put on some flat shoes and enjoy the early morning air.
As she negotiated her way round the lavender fields, she found herself drawn inexorably towards the sea, to the cove and the trulli houses.