A Croatian Adventure – Episode 19
---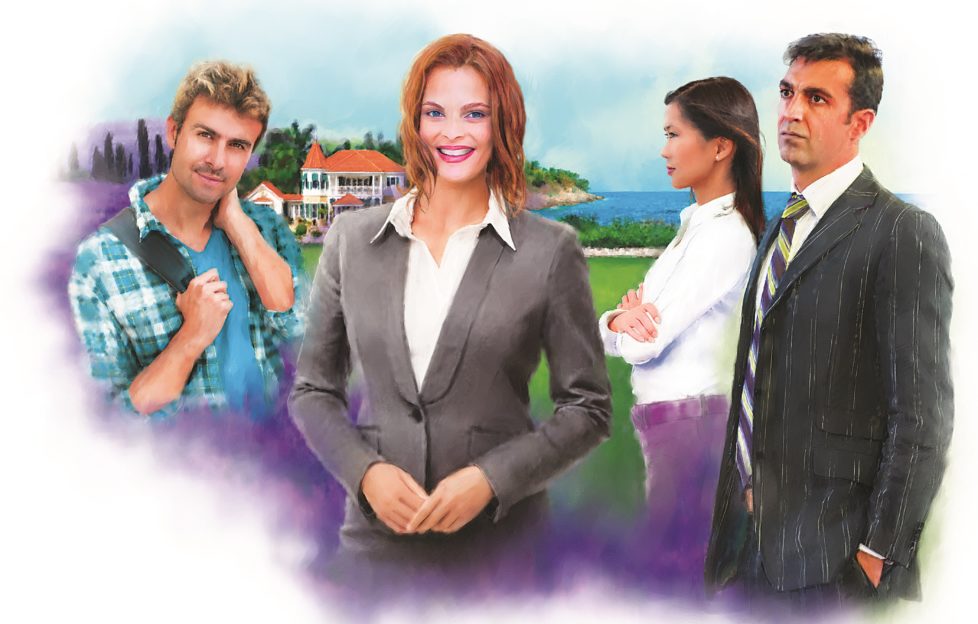 Illustration by Helen Welsh.
Greg almost didn't see Mel leave, though he'd stuck close to the house to keep tabs on her. But as soon as he realised she'd gone, he set off with his binoculars to look for her.
Rushing out of the back of the house, he only just caught a flash of her dress in the fields in the distance and he knew immediately where she'd gone and why. It was annoying she'd run into him last night on the roof.
If Mel started getting in the way, she could scupper so many carefully laid plans.
He set off at a run to follow her route down to the cove. He was careful as he ran to keep to the grassy undergrowth and not the dusty path.
If she looked back and saw a dust cloud she might guess someone was following her. He still didn't know for sure what she was doing here, and in his position you had to be wary of everybody.
When she reached the tiny pebble beach, he kept a distance away and lay down to observe her, shielded by a myrtle bush. He watched as she approached the locked beach house, standing on tiptoes to peer in at the window.
Hopefully, she might just content herself with looking in there and not venture further across the rocks.
"Curiosity killed the cat," he whispered under his breath, willing her not to go any further.
But then he saw her step on to the rocks and start climbing up, trying to get a look beyond the edges of the cove. She must have got a glimpse last night of the boats' lights drawing near, disappearing for a time then reappearing.
Had she guessed about the cave? If she climbed round any more she'd see the mouth of the cave and then they'd be done for. He had to stop her.
Quickly searching around near his hiding place, Greg spotted a rock the size of a large grapefruit. He picked it up and hurled it.
He was a good shot; he'd been a rugby player in his teens. The rock scudded past the steep cliff face about ten feet above her head and chipped off a shower of stones and pebbles.
At the same time, a gull which had been sitting unseen on one of the ledges flew off with a great squawking and clattering of wings. Mel looked up at the bird, obviously thinking it had disturbed the rocks. Greg was in luck.
As he watched, Mel thought better of exploring any more, obviously fearing a further loosening of the rocks. Shaking the dust out of her hair, she backed off.
She stood for a while, looking out to sea at Makso's yacht, the breeze blowing her dress, and he was struck by how small she looked in her flat beach shoes, and vulnerable all on her own.
She was a problem, that was for sure, and one he had to keep an eye on. He could have done without a nosy woman on his hands.
With relief he saw her turn around and head back for the Villa Lavanda.
He and his accomplices would have to get moving. They simply couldn't afford to hang around.