A Croatian Adventure – Episode 39
---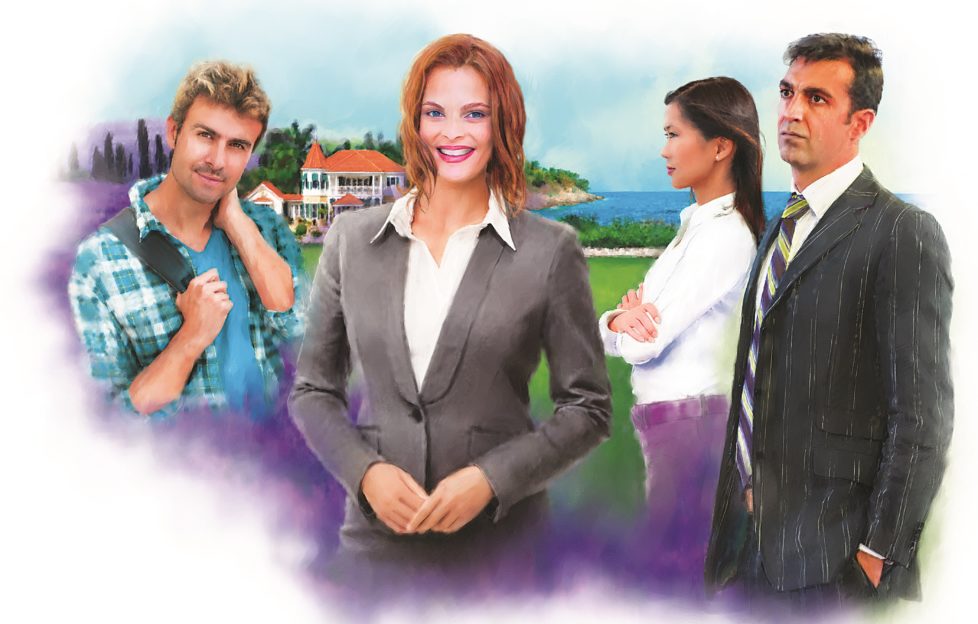 Illustration by Helen Welsh.
The designer looked delighted to see them and showed them to a comfortable room with cream carpets, silk curtains, bowls of lilies and a small round stage in the centre.
"Please, sit down, sir. You are the brother of the bride, maybe?"
"Just a good friend," Cesare replied as the girls were ushered over to a long rail full of ivory, brilliant white and cream meringue confections.
Cesare was brought coffee which was just what he needed, and the trying on began in earnest.
It was a whirl of satin shoes and jewelled tiaras, veils, pearls and sequins. The girls were in their element.
It was a different world. Far from police work – a charming, sweeter world.
Caroline tried on dress after dress, veils and trains were fussed over, sleeves admired, layers of petticoat smoothed down and arranged.
Measurements of waists were taken, hair designs and complexions discussed, earrings were tried on and fine silver chains sparkled on flawless skin as a whole ensemble was put together for both the bride and for Mel as the bridesmaid.
Finally, the winning styles were chosen.
"One last thing," the designer said to Mel. "Come with me."
He ushered Mel and Caroline back into the dressing room.
Unsuspecting, Cesare sat wondering if the designer was going to try to change Caroline's mind, persuade her to purchase a more expensive dress.
He hoped not. He had liked the dress she had chosen for herself and the dazzling lemon yellow one for Mel.
Then suddenly, as the curtain moved aside, there was Mel. She seemed to glow. Cesare was so astounded by what he saw, he stood up and felt himself take a sharp intake of breath.
"Cara mia." The words came involuntarily from his lips.
There stood the woman he loved – the woman who had filled his head with thoughts of marrying since the day he met her; the woman who had stolen his heart completely – dressed as a bride.
She looked ravishing. Her dark hair had been swept up on either side of her face and fastened with pearl clips. Tiny tendril curls dripped down to nestle against her ears.
The dress was perfect for her. Capped sleeves of gossamer lace, lighter than mist and studded with pearls, sat like a layer of morning dew across her shoulders.
The designer's voice skimmed over Cesare's consciousness.
"This dress is of the most perfect Croatian lace. It will become an heirloom, to be passed to future generations. The sweetheart neckline is of brilliant white lace made by our craftswomen in the traditional motifs of leaves and flowers.
"See how beautifully it hugs the lady's figure and then dips down to a skirt of such timeless magnificence, falling gently over the hips to the floor in a delicate train. She looks like she is floating on air, does she not?"
She did. She was the most gorgeous woman in the entire world. Cesare was mesmerised.
He felt a tug at his heart so palpable it almost jolted him from where he was standing, and as Mel turned full circle, glittering under the lights, he knew there and then she was the only woman he could ever love.
"I always feel," the designer droned on, "that the bridesmaid should be given a chance to think of her own magical wedding one day, as well as the bride."
But Cesare heard nothing. He felt nothing but the way he was drawn to Mel, as if two ends of a silk ribbon had been passed round his waist and hers and was being drawn together.
He felt himself step towards her until he was standing next to her. She looked up at him and smiled, and for one brief moment he imagined her standing by his side at the altar.
Then she stepped away. She gave him a look of profound sadness, and looked down. It felt like a rejection and he was lost.
Cesare gritted his teeth. Tonight they were going on the boat trip Mel had arranged. Tonight he would ask her straight out why she had rejected him.
In a moment of impulse he beckoned to the designer and thrust a bundle of notes into his hand.
"I will take that dress, but it is a secret. I want it delivered to my address in Italy, and whatever you do, do not tell the ladies."
*  *  *  *