A Croatian Adventure – Episode 54
---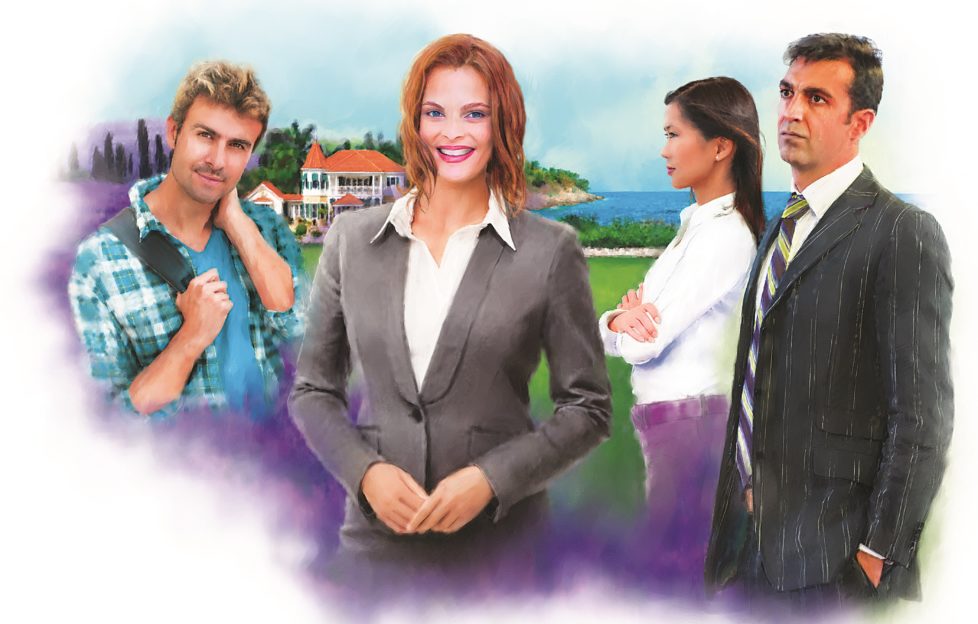 Illustration by Helen Welsh.
Four weeks had passed since that fateful day. It all seemed a million miles away now, as Mel gazed in the mirror. There she stood, next to Caroline.
They wore wedding dresses, lace and silk confections they had tried on back in Croatia.
"A double wedding with my best friend." Caroline beamed as she adjusted Mel's veil. "It's amazing that Cesare bought your dress in secret and put it away hoping this day would come. Who'd have thought that under that serious exterior there could be such a romantic man?"
Mel couldn't stop smiling.
"He's always surprising me, and he's nothing if not persistent. He always gets his man."
"And his woman, so it seems." They both laughed. "Are we ready to go down?" Caroline asked.
"Yes, as long as I can stop these butterflies whirling around my tummy."
They were at the Girasole, the hotel in Sorrento which Caroline now ran alongside Antonio.
"I can't thank you enough, Caro, for suggesting I be allowed to hijack your wedding day," Mel told her best friend. "I wouldn't have wanted to get married anywhere other than in Sorrento where our whole adventure began. Where I met Cesare, and where you met Antonio.
"I can't believe how much has happened since we came here to do up the beach house. Now here we are, preparing for a double wedding."
"It was the boys' idea," Caroline reminded her. "They cooked it up together and I agreed it would be brilliant. You've always been like a sister to me.
"Besides, how could I have any nerves when you're here sharing this wonderful day?"
A small whirlwind entered the room in the shape of Izzy, whom Mel had cared for over the years as her nanny.
Izzy looked like a young lady now, especially in the beautiful bridesmaid's dress, bought from the Croatian designer and altered to fit.
In that wonderful phase between childhood and turning into a woman, Izzy still had her buoyant puppy-like enthusiasm for life.
She had been rushing back and forth, peering over the banister to check progress downstairs.
"They're ready for you. They're playing 'The Wedding March'. Oh, don't you look gorgeous, my two most favourite people in the whole world."
Izzy handed each of the brides their flowers – waxy gardenias, heady-scented jasmines, sunshine-yellow rosebuds, decorated with tiny wired pearls. She clung to her own bouquet, pretty as a princess.
Dressed in a sharp suit, Izzy's father Oscar appeared at the door. For a second, he couldn't catch his breath, but just stood there nodding.
If Mel wasn't mistaken, might that be a tear at the corner of this usually professional lawyer's eye?
Oscar offered his arms to the two women.
"I have never seen my sister so radiant." He beamed at Caroline. "Mel, you look superb. Cesare is lucky to have you. Now I'm going to give you both away, to new lives, with wonderful husbands."
They set off together, slowly walking in procession down the stairs.
A roomful of happy guests turned their faces upwards to greet them. Mel was overwhelmed.
There was Mihovil and his father, for once out of his working clothes, all scrubbed up and proud of his son who was destined for great things. Severina was between them and glowed as she looked upwards.
Even Hiroko, delicate as a reed, dressed in a green dress and summer coat, was there, with baby Ivo fast asleep, good as gold.
As they reached the bottom of the stairs, Mel's gaze alighted on Antonio.
Looking youthfully elegant, his unruly hair smoothed down for once, he only had eyes for Caroline.
Next to him stood his friend Cesare, as proud as a peacock to see Mel heading towards him.
The ceremony passed in a whirl of vows and smiles, blossom and hugs.
Once the formalities had been completed, the wedding party processed out of the hotel, down the road towards the lemon grove.
"Did you know," Cesare began as he waved at Hiroko, "that Hiroko is going to open her own charity for trafficked women in Croatia? She looks so much stronger."