A Croatian Adventure – Episode 55
---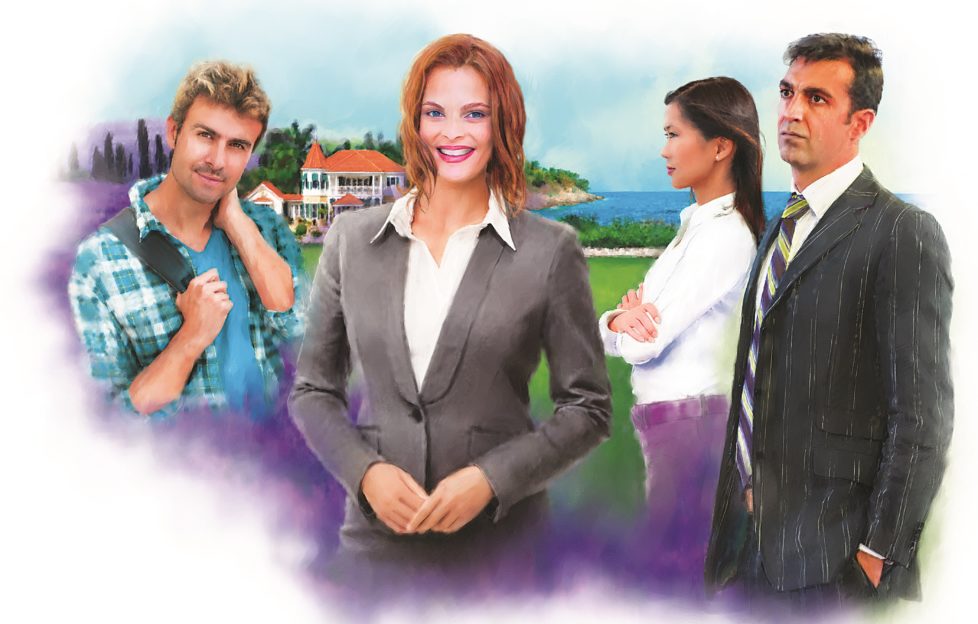 Illustration by Helen Welsh.
"It's turning into a magical day," Mel commented. "There are no guests as noisy as Italians. Caroline, who put up these bowers of jasmine and lemon blossom over the road? It's gorgeous, like a flowered arch."
"Beatrice and Rafaele put up the flowered bowers, and the staff at the Hotel Girasole. Look, there's Beatrice coming out to meet us!" Caroline cried.
As Beatrice approached, Caroline threw her bouquet into the air for her to catch.
Impulsively, Mel threw hers up in the air towards Izzy, who jumped for it, then blushed as pink as a bougainvillea blossom.
Beatrice had been cooking all the day before, and as they entered the lemon grove, there were tables laid out under starched white cloths.
They were laden with a delicious antipasti of salami, tender asparagus, roasted peppers and tomatoes in olive oil, plump olives stuffed with anchovies and crisp, golden zucchini.
Sparkling wine frothed into long-stemmed glasses and toasts were delivered.
Ravioli filled with crabmeat and lobster was served with spaghetti sprinkled with the best parmigiano.
Vast dishes of curly baby squid with piquant dressing made from the lemons hanging from trees above them were followed by melt-in-the-mouth osso buco in a rich sauce.
Finally, Beatrice wheeled out her final dish.
The torta mimosa alla Bavarese was greeted with a crescendo of applause.
Banging on the table, Antonio's father, beaming from ear to ear, called for the raucous guests to raise their glasses in a toast.
"This wonderful cake, cooked with affection, will now be cut. In our very special Italian tradition, the brides and grooms will feed each other with the first piece to signify a lifetime of sharing in one meal and the pledge to care for and love each other for all time."
There was a moment of silence, a bird singing in the lemon tree above, the gentle rustle of Mel's and Caroline's silken skirts as they rose and each opened their mouths and took a piece of the sweet confection from their new husbands and fed them in return.
The light sponge cake filled with Bavarian cream and flavoured with vanilla melted on Mel's tongue and the deed was done. A tumultuous roar broke out among the guests.
Rafaele took out his mandolin to play Neapolitan love songs. Even Antonio's father broke into a lusty baritone rendition of "O Sole Mio."
The guests did not filter away until the sun dropped low in the sapphire sky and the first stars appeared.
Mel and Cesare hugged everyone, and thanked Beatrice and Rafaele and Antonio and Caroline profusely. Oscar was standing, waiting for Izzy to say goodbye to her friends.
Mel, tired but happy, spoke with a hint of sadness.
"Shall we make our way up to the hotel? I don't want the day to end. I don't want to stop dancing, I don't want to take off my beautiful dress. It's all been too wonderful."
Cesare stroked her cheek.
"Then let us make it last a little longer. Let's walk down to the shore, dip our aching feet in the cool waves and watch the sun rise over the sea."
As he raised a hand in farewell to Oscar and Izzy, Mel saw Oscar give her new husband a conspiratorial wink and wondered what that meant.
Oscar was so generous – had he arranged a special breakfast treat for them for tomorrow morning back at the hotel?
The honeymoon was a secret to Mel. Cesare had said he was going to take Mel somewhere lovely, but he wanted to surprise her.
She had no idea where they were going. Perhaps Oscar had persuaded one of his international friends to lend them a flat somewhere exotic?
As they made their way to the shore, kicked off their shoes and paddled in the water, Mel found herself looking at the beach house.