A Croatian Adventure – Episode 56
---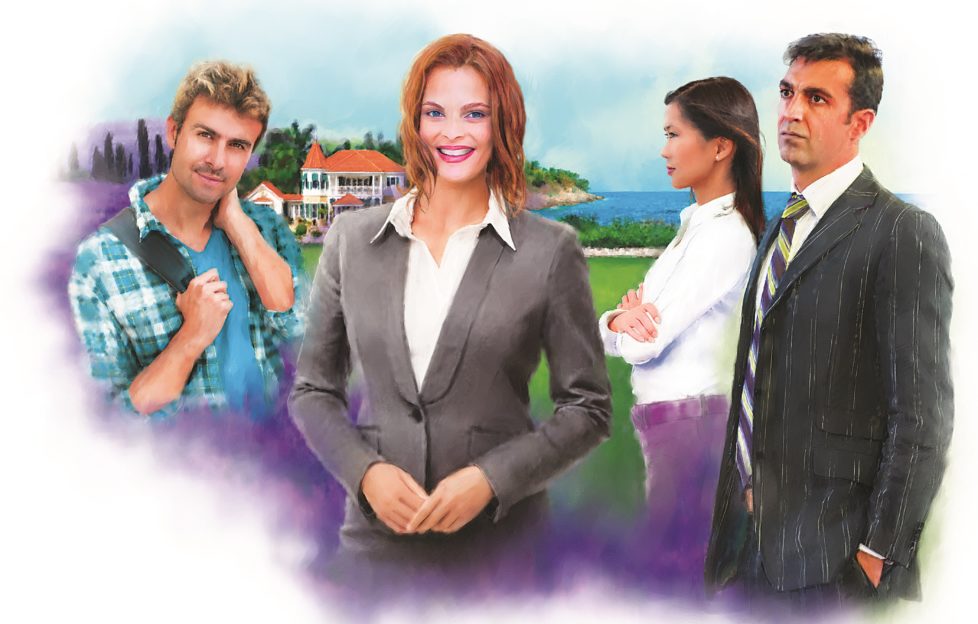 Illustration by Helen Welsh.
The Casa di Spiaggi, nestled at the bottom of Beatrice's lemon grove, looked over the wide ocean.
"It is a beautiful house, is it not?" Cesare murmured as his warm hand cradled her shoulder.
Mel rested her head on his chest. She could hear his heart beat.
"It's the best house in the world, because it's the reason I came to Sorrento. Without coming here I wouldn't have met you.
"It looked such a sad little house when we came, with its shutters hanging off, and its tiles missing.
"It was neglected and waiting for someone to make it whole again. That house reminds me a bit of myself."
"How so, cara mia?" Cesare kissed her head.
"Well, I was in need of someone to come and repair me. I had a super job and a loving family, but I was always like that beach house, waiting for someone to make me whole."
They'd reached the beach house now. It stood with its windows reflecting the twinkling stars. Outside was a little bench.
"Let's sit for a moment."
Cesare helped her up on to the stone verandah and the two of them sat, looking to the left of them at the house, then to the right at the gently lapping waves.
"Can you smell these gorgeous lilies?" he asked. "They are symbols of Venus, the goddess of love. And this pomegranate tree is like the ones planted by the Romans to signify marriage."
Basil flourished in a tiny flower-bed. He pinched it between his fingers.
As the aroma teased her nose, it reminded Mel of the wife in Fazana who had joyfully held out her scented fingers to her husband as she was tending their plant pots and cooking him dinner.
"Cesare, do you think Izzy might have planted this basil to send good wishes? I'll bet Oscar put in these new plants. Lavender symbolises devotion."
"It was not Oscar or Izzy." Cesare cupped her face in his strong, protective hands. "It was me."
"Have you taken to doing their gardening, among all your other talents?" She held his arms as he drew her closer.
"No, my darling. I have never been much of a gardener, but I think I can learn, if it means creating a garden for my darling wife in our own little house."
"What do you mean?" She held him tighter, as if today had all been so wonderful, she might lose her grip on reality. This had all been such a dream.
"You must have been wondering where we were to spend our honeymoon. Well, I hope you do not mind spending it right here, at the Casa di Spiaggia, at our own little house."
"Ours?"
"Yes. I have bought it from Oscar. He gave me a very good price, on the condition that he and Izzy can come and stay whenever they want, which I was most happy to promise.
"I give it to you, my darling. I love you with all my heart. Here it is, our own house by the sea."
Mel's eyes welled with tears of joy, which Cesare kissed away as he handed her the key.
Her hand trembled as they opened the door and moonlight blessed them as they shared a kiss, the first of many on the threshold of their beautiful house by the sea.
The End.