A Time To Reap – Episode 52
---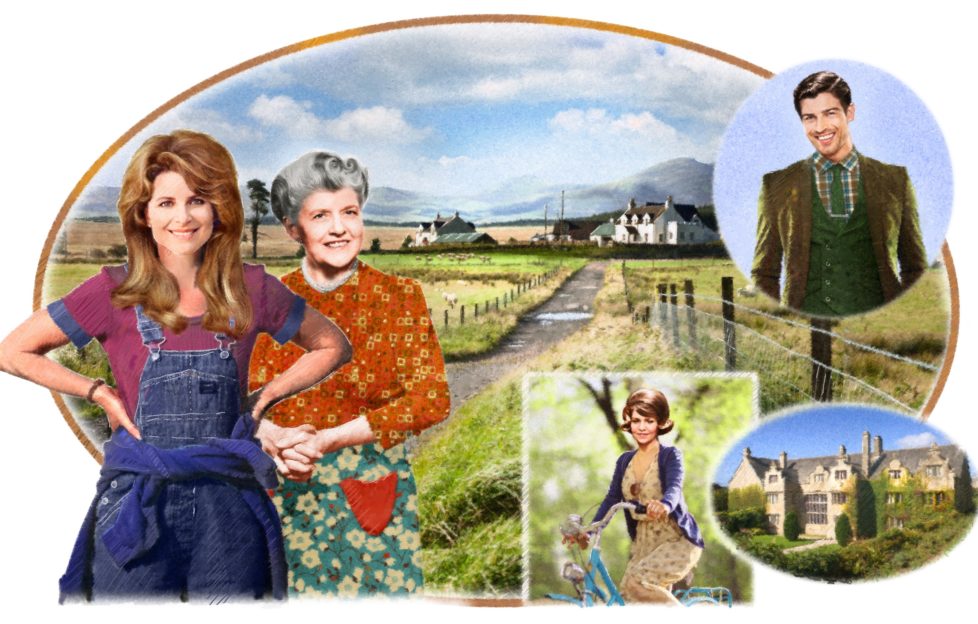 Illustrated by Mandy Dixon.
Peggy opened Elizabeth's front door.
"Yoo-hoo!"
Crys hurtled downstairs, although how she could run in those heels Peggy couldn't imagine.
"Come and see the gorgeous dress I've got for you," she said loudly.
Then she put her mouth close to Peggy's ear.
"Elizabeth's in a funny mood. I hope you can jog her out of it. And Libby's got a temperature. Elizabeth's unhappy about leaving her."
"She'll be fine with Tibbie, won't she?" Peggy whispered back.
Crys shook her head.
"Tibbie's gone to her sister's for the weekend. I'm in charge. But I think Elizabeth's just looking for an excuse not to go to the ball."
"She must go!" Peggy said, feeling panicky. Raising her voice, she said, "Let's have a look at this dress, then."
Upstairs, in Elizabeth's bedroom, little Libby and Flora sat wide-eyed on the bed. Around them were strewn open boxes and piles of white tissue paper. On the dressing-table was an array of make-up, enough for a department store.
Elizabeth stood in front of the wardrobe mirror. She wore a full-length dress with wide shoulder straps and a low neck, in a lovely shade of violet.
The colour was perfect with her fair hair and the style complemented her tall, slim figure.
"I've never worn anything like this before," she said, smiling a welcome at Peggy. "I don't feel like me at all."
"You look beautiful, Mummy, like a princess!" Flora told her.
"You certainly do," Peggy said. "Belle of the ball."
"There will be two belles!" Crys pushed aside some tissue paper. "What do you think of this, Peggy?"
She held up a dress in glorious amber.
"For me?"
Peggy had always loved the colour of autumn leaves. The stiff silk rustled as her cousin handed the dress to her.
"Crys, it's gorgeous! Too good for me."
"Nonsense. Get out of that old tweed skirt. Your fairy godmother is here."
As Peggy disrobed as far as her petticoat Crys unzipped Elizabeth's dress.
"I'll hang this up and do your hair and face. Sit at the dressing-table.
"Girls, do you want to help? You can pass me the hairpins and those sparkly combs. Wait a minute, Peg. I'll give you a hand."
She manoeuvred the amber dress over Peggy's head.
"It fits perfectly," she said, with satisfaction, leading Peggy over to the mirror.
Peggy's first instinct, which she hoped didn't show in her face, was to be disappointed. The dress was gorgeous but she was still Peggy Mackay inside it, with her reddish complexion and untidy hair. What had she expected? A miracle?
Behind her, Peggy could see her cousins. No-one would believe they were related to her. It was like comparing racehorses with a Shetland pony.
She gave a snort of laughter at the thought.