A Time To Reap – Episode 62
---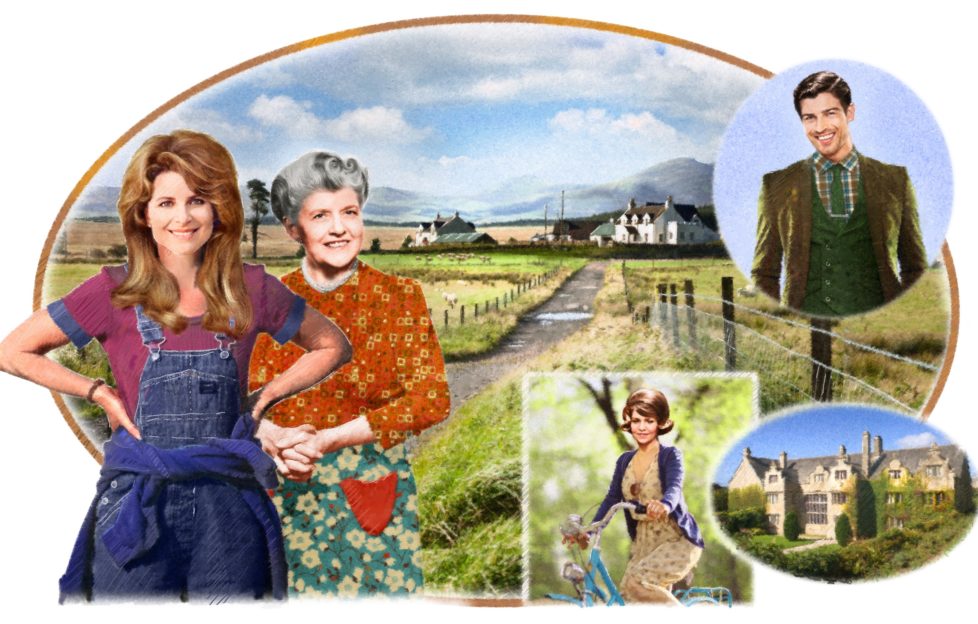 Illustrated by Mandy Dixon.
Elizabeth parked outside the station in Inverness. There was half an hour yet, but what if the train was to arrive early and she wasn't there to meet him?
"Is the Glasgow train on time?" she asked a railway official, who confirmed that it was.
Bill would have travelled all the way across America, then to London, Glasgow and Inverness. And next week she, Libby and Flora would be with him, doing the journey in reverse.
Her parents were putting a brave face on it. Thankfully, there was the possibility that Crys would be moving back north.
Robbie MacLean had left London to join his father's accountancy practice in town, and Crys was finding that life down south was not the same without him.
Tibbie was the hardest person for Elizabeth and the girls to leave, woven as she was into the fabric of their everyday lives.
But she was being positive, too. She'd found herself a small house in the village, next door to Nancy's shop and near the vet's surgery, from where she intended to keep a motherly eye on Andy Kerr.
Elizabeth looked at her watch and at the station clock. Surely they must both be slow?
There came great clouds of steam.
"Glasgow train, madam," the railwayman said.
Two minutes later there Bill was, swinging her off her feet and covering her face with kisses. Behind him came his mother and sister, who'd represent his family at the wedding.
"I can relax now," Bill said in the car, putting his arms behind his head. "No cancelled flights or stormy weather can stop me making Elizabeth Duncan my wife the day after tomorrow."
In the rear-view mirror Elizabeth saw his mother smiling at the remark. It looked as if, on their very short acquaintance, she approved of her prospective daughter-in-law. Elizabeth hoped so.
"Tell me all the news," Bill said. "Has Annabel found a replacement for you?"
Elizabeth nodded.
"Yes, and someone to help her with the factoring part-time. And, of course, there's a new forester. It's all change at Rosland."
A forester with five children, which was good news as it meant the numbers in the village school would be increased by enough to keep it open. The forester's wife and June Morrison were getting on like a house on fire, Tam reported.
Bill and his family would be staying with Lady Annabel. Staff took the suitcases and said her ladyship was waiting to welcome her guests.
"I want to stretch my legs," Bill said. "I've been all cramped up for twenty-four hours."
He held out his hand.
"Let's take a walk."
Elizabeth remembered the last occasion he'd said that – that miserable day when she'd got Frank Robertson's note. The day she had hurt her oldest friend.
This time she joyfully accepted Bill's invitation.
"I wanna see my soon-to-be-daughters. And I'd like to visit the farm office, for old times' sake."
*  *  *  *
"This room is special to me," he said, holding her tight in the cubbyhole office that, as from the end of today, would no longer be hers.
Her heart racing, Elizabeth recalled the day, six months ago, when he'd appeared in the office doorway. She'd resolved to be calm and collected, but when she stood up behind her desk she had felt her knees buckle . . .
"It's been a very long two days." He'd come forward, his presence filling the whole room.
All she'd been able to do was nod.
"I spoke to Annabel and she told me your story," he'd said. "You've had a real tough time."
He'd leaned over to touch her face gently.
"I believe I could make you happy, Elizabeth."
"It's impossible!"
"I can't hear you," he'd said, his eyes mischievous. "Can you come round this side of the desk?"
I won't let him kiss me, she'd told herself. But it had seemed he had other ideas. She'd found herself in his arms, her resolutions forgotten.
"Marry me," he'd said, his cheek against hers.
Bill had had an answer for all her objections – he'd be delighted to have a ready-made family, his folks would welcome her with open arms and he hoped that would make up a little for leaving her own.
If she wanted to keep on working, her managerial skills could be applied in other areas.
"I love you, Elizabeth. If you love me, that's all that matters," he'd said. "Please say yes."
And she had.
Lady Annabel had insisted on them using a room in Rosland House for the reception, with her cook in charge of the wedding breakfast.
Elizabeth wanted only her nearest and dearest to be there, along with Bill's mother and sister, of course.