A Year In France – Episode 14
---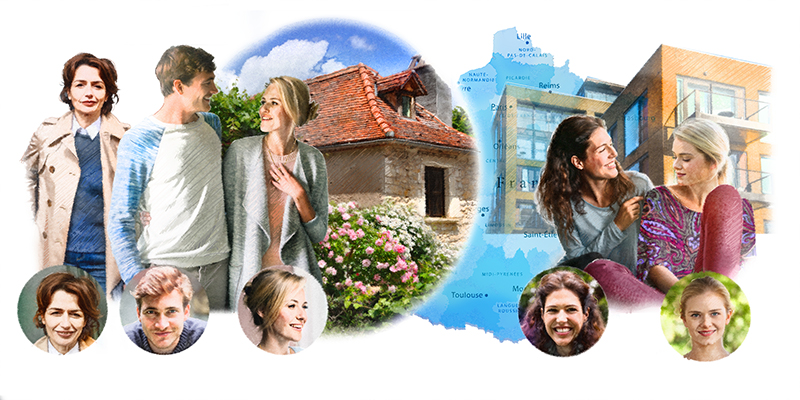 Illustration by Mandy Dixon.
Lunch at the restaurant was lovely, but when they got back to the cottage, Philippe disappeared into his study again.
As he closed the office door behind him, Julia realised she hadn't told him she was thinking of going to London on her own.
Maddy hadn't answered her phone before lunch and Julia really wanted to check with her about staying in the apartment before saying anything to Philippe.
It was evening before Maddy answered her phone.
"Hi, Julia. How's things? Do you know which hotel Philippe's booked you into yet?"
"He's not coming," Julia said. "He's too busy. I'm thinking of coming on my own, though, if that's all right with you."
Maddy didn't respond straight away and in the silence Julia could hear another voice whispering something.
"Sorry, have you got someone there? Shall I call back later?" she asked.
"No, it's fine. Dannie was just asking if she could have another shower."
"Dannie?"
"My new flatmate. Well, for a month, anyway, then we'll see what happens."
Julia remembered Maddy telling her about someone looking at the room on Saturday evening.
"She didn't turn out to be a weirdo, then," she said, "if she's moved in already."
"She'd been sleeping rough and she's far too young and vulnerable to be doing that. I had to help."
"Did she have references?" Julia asked, knowing what the answer would be. "Can she afford the rent?"
"She's staying as a friend," Maddy answered. "Once she's sorted we'll talk about that. She's just a kid who needs a helping hand," she added.
"Oh, Maddy, I hope you're not being taken for a ride," Julia said.
"I'm not," Maddy assured her friend. "Anyway, Dannie's got the spare room now, but the sofa bed's still free if you want.
"I was looking forward to seeing you. I can't take a day off that week but I'll organise you a ticket for the fair and we can maybe hit the town one evening."
"OK," Julia said, coming to a decision. "I'll look into flights and let you know which day I'll be arriving."
Philippe, when she told him her plans in bed that night, hugged her.
"I'll miss you, but I'm glad you're going. I can lock myself away, and who knows, by the time you get back, my book might be finished and we can spend more time together. We might even have the time to start house hunting."