City Of Discoveries — Episode 39
---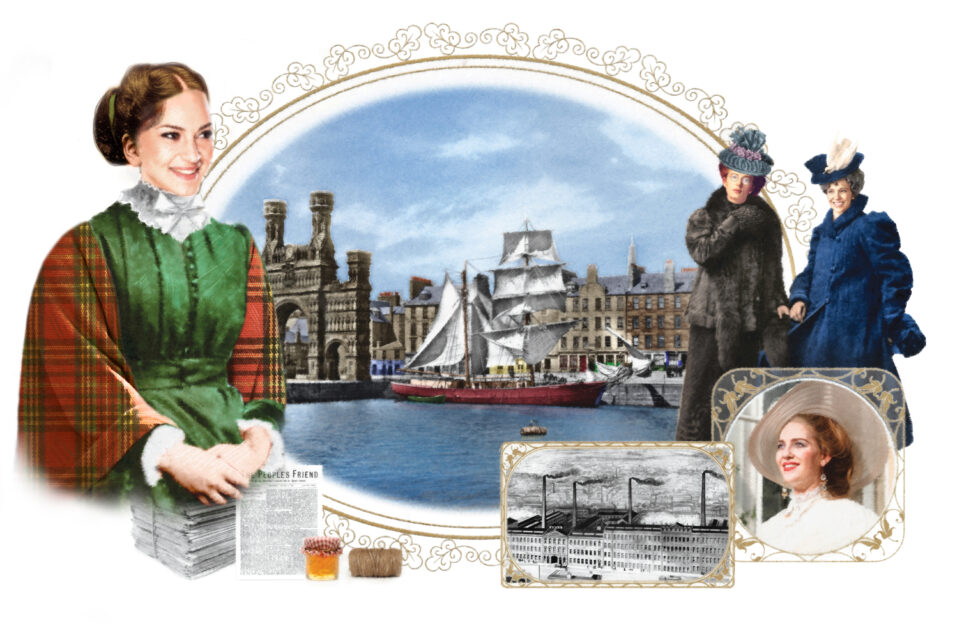 Illustration by Mandy Dixon.
The gesture reminded Hetty of her brother, and also of the recent attack on William Marshall because he, too, had a pocket watch which Lena Johnstone was forced to drop before she ran off.
"However," Bryce continued, "I find that Mr Webster is an honest ship owner and Professor Masson is an esteemed member of the university."
Hetty bit back a sharp rejoinder. Bryce was right, perhaps, and she should be grateful for his care of her.
Even so, she thought it best to change the subject.
"I have been standing in for your distant cousin, Carrie Smith, now Mrs John Crombie," she said.
Bryce grinned.
"Distant in miles now, too. We spent several weeks in London where Anna encountered her," Bryce said.
"Carrie was buying cold weather clothing and Anna, hearing her accent, spoke to her.
"Although Carrie and Anna had never met here in Dundee, they quickly got to the bottom of endless family connections."
"I can imagine. Your Anna is a lively girl." Hetty drained her tea.
"I am standing in for Carrie at Sooth's, and that has brought me into contact with a hard-working young couple called Marshall."
She fidgeted with the keys hanging from her waist, but, gathering courage, described all of her efforts over the Marshalls.
"Mm," he said when she had finished. "I should like to meet these people, Aunt Hetty.
"I am known among the mill owners because I source jute for them from the Indian plantations.
"If there is anything I can do about this man Fleming, I will."
*  *  *  *
Jennet came away from a small mill on the fringes of the town centre where she had been speaking with some of the women workers during their break.
She was elated at doing her first unaccompanied trip from the suffrage office.
As she turned the corner into the market closest to her land, she caught sight of Mr Lochead, the Sooth's mill teacher.
He was checking along the row of closes, and Jennet drew a sharp breath as she saw him enter hers.
Lifting her skirts to step over the worst of the market's rubbish, she entered the close.
In the gloom of the entry-way she could hear someone climbing the stairs.
As she moved forward to follow, she made out a figure towards the back, where there was a door into the shared ground behind the building.
She hesitated as the reek of tobacco fumes reached her nose. What was it about the figure that unsettled her?
Many folk lived in this close, with its three floors rising into the Dundee skyline. It was not unusual to see someone going out the back.
"That you, Mistress Marshall?" a woman asked behind her, startling Jennet. "Glad tae see yer man's awa back tae his work the day."
Jennet turned to the neighbour and her band of urchin children.
"Mistress Cox! Thank you. He's still a wee bitty shaky, but he was determined to get back."
"Aye, the guid workers can always be relied oan," she said.
They climbed the first flight of steps together. Jennet saw Mr Lochead, walking-stick raised, ready to rap on her door.
"Ye hae a visitor, Mistress Marshall; a gentleman," Mistress Cox said in awed tones, and hurried her brood on up the next flight.
Jennet was aware of the door opening upstairs, but she was sure Mistress Cox was listening in.
She stopped on the landing, overwhelmed.