Far From The Island – 03
---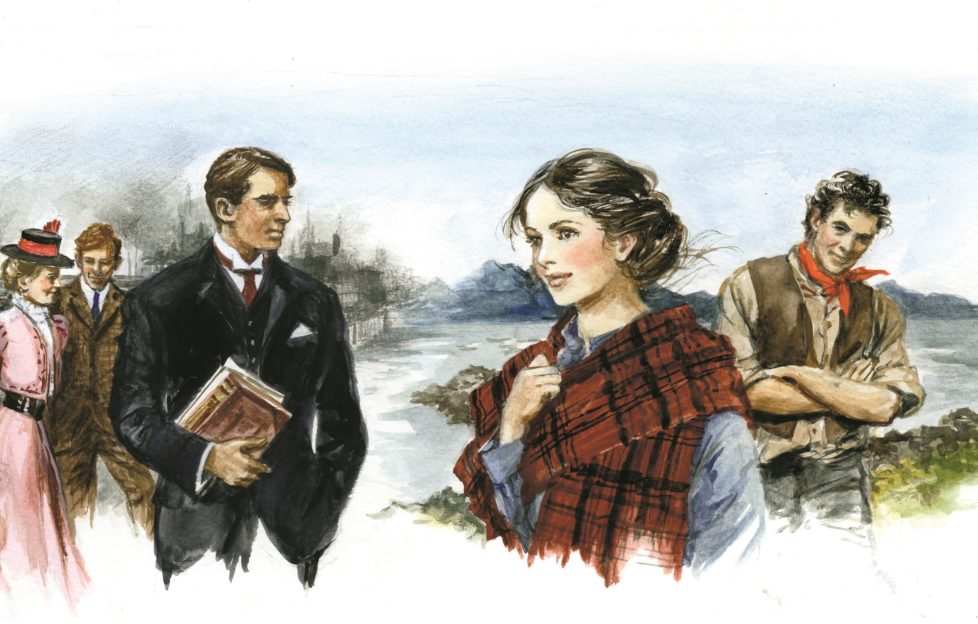 Illustration by Sandy Rose.
Fiona slumped back in her chair, shaking, trying to clear her mind of the sad thoughts Ella's questions had given rise to.
"That's enough about my troubles. Let's talk about you. Imagine it, my own cousin becoming one of the first-ever women to be awarded a degree by Glasgow University," she said, forcing a bright smile. "I'm so proud of you, Ella."
Ella beamed.
"I want to establish my own school. I want to teach girls who want to learn, because you can't imagine how dispiriting it is having to tutor spoiled, rich young ladies who aren't interested."
"Oh, dear, is that how you know the Cunningham family, then?"
"Yes. I tutor their daughter, Victoria."
"In that case, I pray your dream of opening your own school comes true." The smile which tugged at Ella's mouth made Fiona sit up.
"What? What am I missing?"
Ella's grey eyes danced.
"Who's to say that you can only have one dream?"
Forgetting all about her woes in the light of her cousin's excitement, Fiona clapped her hands together eagerly.
"What has happened?"
Ella blushed.
"It's nothing," she said, looking quite the contrary.
"You've met someone!" Fiona exclaimed in delight. "I can see it in your face. Who is he? Where did you meet him? Tell me all."
"There's nothing to tell. Well, nothing much. And I don't like to be talking about my romance when yours –"
"Never mind me, I'll be fine," Fiona interrupted impatiently. "Now, what happened?"
Ella didn't need to be prompted twice. Over a second pot of tea, she recounted the various meetings she'd had with John Harrison, schoolmaster.
"Like I said, there's nothing agreed between us," she finished with a shy smile.
"But you hope there will be. What about your plans for the school, though?"
"Oh, I'm sure I'll be able to convince him to have a wife who works." Ella beamed. "It is possible to have the best of both worlds, you know."
"But . . ."
Fiona stopped herself. Ella was obviously on the brink of falling deeply in love for the first time, and it would be quite unfair for her to voice her concerns. Instead, she stood up and gave her cousin a quick peck on the cheek.
"I'm right glad for you. Just don't rush at it, Ella. You've only known him a short while."
"Miss Caution," Ella replied with a pout. "You were always the same."
"Aye, and now my over-cautious mind is telling me that if we don't get back to the docks sharpish some opportunist will be away with my trunk," Fiona said, shaking out her skirts. "Some start to my new life that would be!"
*  *  *  *
Half an hour later, they were rumbling along the cobbled streets at an alarming rate in a horse-drawn tram with Fiona's trunk stowed under the watchful eye of the conductor.
The city landscape unfolded like a stack of postcards, the bustling docks giving way to various shops and factories, then to tenements of increasing grandeur and stature, and finally to the green space of the Botanic Gardens with its vast circular greenhouse, where the girls alighted from the tram.
"Tell me about the Cunningham family," Fiona said to Ella as they settled into a hackney cab for the short journey to Kelvinside.
Ella pursed her lips.
"To be honest, I don't really know them very well. Apart from Victoria, to whom I try to teach French and German twice a week, that is. Mr Cunningham seems fully occupied by his business interests – he owns several locomotive factories, so they're very wealthy. Mrs Cunningham spends all her time on her various committees.
"There's an older brother, Roderick, whom I haven't met. And then there's poor Francis, who will be your charge. He spends most of his time in his own suite of rooms, but he seems very nice. The family are ever so grateful to have someone with relevant experience. Look, here we are."
The cab rumbled to a stop outside a large townhouse with an imposing set of gates. A uniformed servant ran out in response to the bell, and before Fiona could take in more than a brief impression of polished marble floors, highly waxed furniture, rich drapes and lavish cornicing, she was making her curtsey to her new employer.