Isle Of Second Chances – Episode 28
---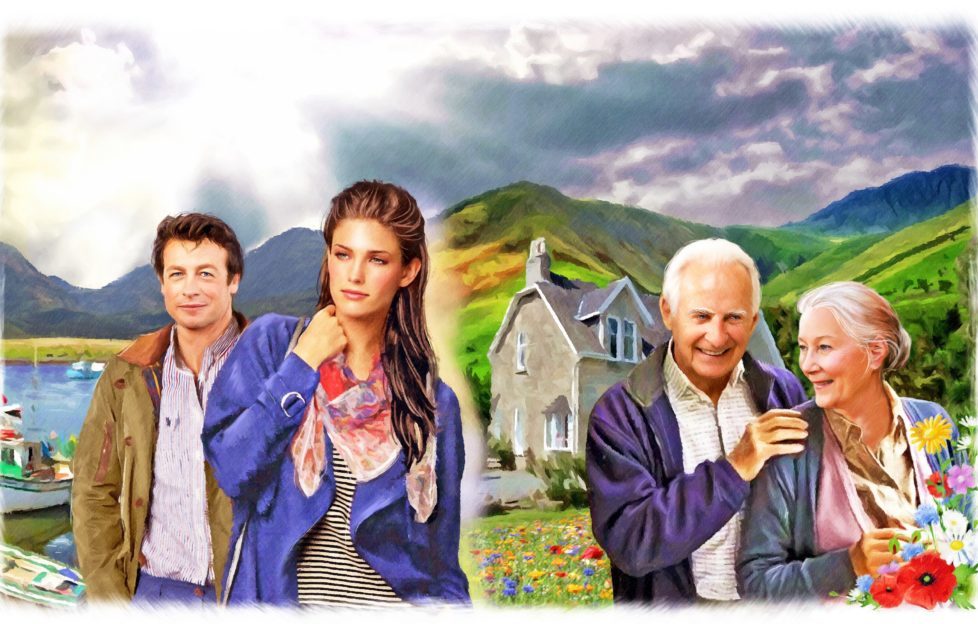 Illustration: Ruth Blair
They walked slowly along the bay, shingle crunching beneath their feet.
"So you're homeless now?" Donnie said quietly.
"No. I have here. Staying with Annie until the future's sorted out."
He walked on, frowning.
"What exactly do you mean, sorted out?" he asked.
Nicola's eyes strayed over the sweep of the bay and scanned the gentle movement of the sea and the clouds. Evenings here were always heavenly, as if the whole world paused for a rest.
"We have to find a balance between patient numbers and treatment. My job will not only involve marketing what we do, but keeping the numbers under control, so that each individual can still have the time and attention needed.
"Then we run the place in a humane way, while generating income to cover costs. I can do the business stuff if you and Annie do the rest."
His frown deepened. She turned to face him, waiting.
"Then I won't need this," he said, drawing an envelope from his jacket pocket.
"What's that?"
Silently, he handed it over.
"It's from the people I worked with back in the trust. They're experimenting with a new way of weaning problem kids from their counsellors at the end of treatment. It's sort of a halfway house for them, a bridge back into the real world.
"It will give them a bit more counselling, a chance to build their confidence with some of the old outward-bound stuff, like sailing and climbing.
"They want me to take over as resident psychologist, up in a property they're buying at Loch Nevis, just around the corner from Mallaig."
"And?" she asked.
The blue eyes came up, steady as ever.
"I'll be needed here on the island, helping you and Annie."
Nicola took his hands, the unopened envelope falling to the beach.
"But this is a wonderful opportunity, exactly what you've been waiting for, even if you weren't aware of it. A chance to give these kids the final help they need, whereas before you had to turn away and counsel others. It's perfect for you! You'd be a father figure, a mentor guiding them back into the world."
"I'd rather be with you," he replied quietly.
Nicola's strength was in her racing mind which could sense a way out of the most complex problems.
"You can be," she told him quietly. "You can do both."
"How?"
"Simple. You won't be working full-time here, so you can negotiate. Bargain with them, because they know your worth and want you! Argue that it would be better to have two part-time counsellors in Loch Nevis, reducing the danger of anyone fixating on one. Do three days a week up there, and four days here."
"But I will still be away from you."
"Not if I come with you."
A slow smile spread over his face.
"Is that a sort of proposal?" he asked.
"Well, this is a Leap Year, after all," Nicola pointed out, smiling.
"True."
"And who am I to flout tradition? Though I'd have asked you anyway!"
Donnie stared at her for long minutes, then threw back his head and laughed.
"Have you business people no principles?" he demanded.
"Not where it really matters," she said, winding her arms around his neck and kissing him.