Like Cats And Dogs – Episode 10
---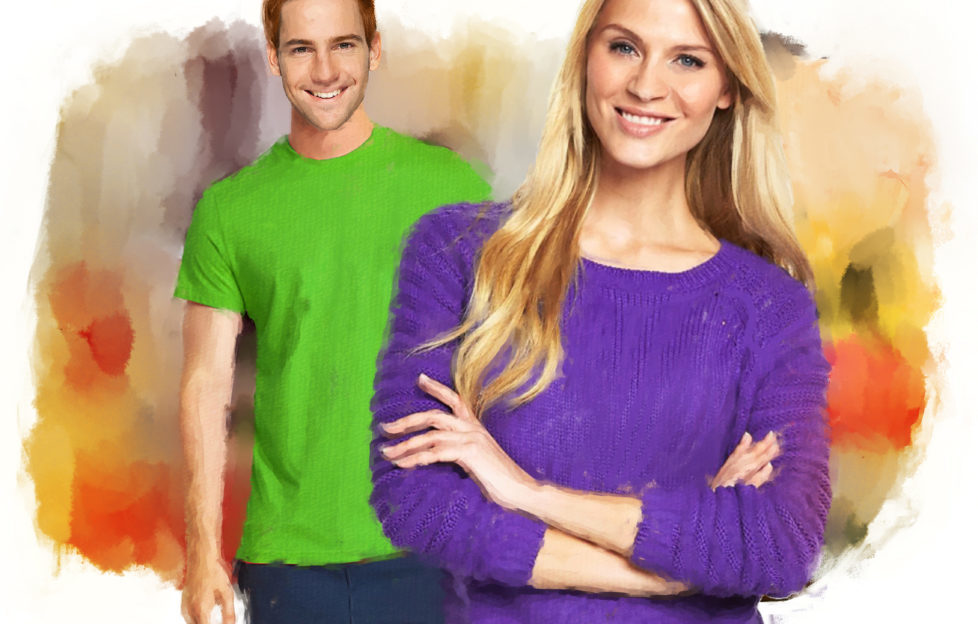 Illustration by Martin Baines.
Outside in the sunshine of the village street, Tim was waiting for Imogen, his gaze fixed on a point further along the road.
"They an item, are they?" he asked, his tone casual.
Imogen squinted against the bright sunshine and saw Ged in the doorway of the pub, his arm draped round Cally's shoulders as she laughed up at him.
"Kind of," she said. "I think they've been dating for a while, but I'm not sure how serious it is."
"Right," he replied non-committally, and turned back to her.
"Well? Do you think you can help Chap?" she asked. "He's such a sweet dog – he really deserves a second chance."
She was annoyed to feel tears pricking at her eyes. She didn't want to come over as a weepy female.
She was relieved to see Tim's instant nod of the head.
"And he'll get it. He's a smashing little guy. He just needs a bit of TLC and the chance to learn that life can be kind to him as well as cruel.
"I'm not saying it'll be easy – for either of you. You'll have to learn different behaviour, too. But we'll do it, don't worry."
Imogen exhaled a breath, releasing the fear that had been gnawing at her.
"Terrific!" But just as quickly another worry replaced it.
"Er – I don't have loads of money. Will it be very expensive?"
He gave her a careless grin.
"I've never been much motivated by money. We'll work out a rate that suits you – call it a special opening month offer."
She couldn't help herself. She flung her arms round his neck and hugged him.
"Oh, thank you! That's such a relief. I feel like you're solving all my problems in one go."
As she released him he was laughing.
"Give me a ring later and we can work out a schedule."
"Can't wait," she called after him as he turned to go, and she was humming as she pushed open the door of the shop.
****
"Give me a ring later" and "Can't wait" were the words that drifted over to Cally after seeing the hug between Tim and Imogen.
She ambled along the road behind Tim, mentally putting one and one together and coming up with a cosy twosome.
Tim wasn't walking quickly, and even at her own leisurely pace she soon caught up with him. He turned at the sound of her footsteps and paused till she drew alongside.
"Hi," he greeted her. "Are you heading back to the car park?"
"Yes." She nodded, glancing at her watch. "It's time I was getting back for the cats. I'm expecting a few arrivals." She glanced sideways at him. "Looks like you and Imogen got on well."
"I suppose. I met Chap – her rescue dog, you know. But he doesn't have any problems that can't be fixed, as far as I can see." He chuckled and rubbed his chin. "She gave me a hug when I told her. I'm not used to that kind of reaction. Not many hugs in the military!"
"I can imagine," she said, while mentally amending her idea of a budding romance.
As they wandered along, they passed the village noticeboard, with its poster about the pub quiz that night.
"Oh!" Cally exclaimed. "I don't suppose they had pub quizzes in the military, either, did they? I'm one short in my team tomorrow night since Sheila's bell-ringing practice clashes . . ."
"Bell-ringing?" Tim's eyebrows rose.
"Oh, yes, we have a very capable bell-ringing team. They enter competitions and everything. It's lovely, actually, to listen to them practise on a summer's evening. They have a competition coming up which is why they're having an extra session this week, which means my friend Sheila has dropped out of the quiz. How's your geography?"
They'd reached their cars, and he grinned as he put his key in the door lock.
"Funny you should ask. Do you know how much travelling we do in the military?" he teased, and she found herself chuckling. "Any questions about Afghanistan, I'm your man!"
In that split second Cally recognised the depth of experience behind his ability to make light of the conflict that had devastated so many lives; the injuries he himself bore without complaint.
But underneath all that, Cally was aware of something else as his gaze held hers, and it was the slight fizz in her veins that she felt at those words, "I'm your man."